Ferguson Officials Deny Police Chief Plans To Step Down
Multiple outlets reported late Tuesday that Chief Thomas Jackson is expected to step down from the Ferguson Police Department as soon as next week. The chief and city mayor deny the report.
UPDATE — Oct. 29: Attorney General Eric Holder said Wednesday he supports "wholesale change" in the Ferguson Police Department.
Holder said that the need for change is "appropriate," MSNBC reported Wednesday. However, Holder declined to comment when asked about Chief Jackson's ouster.
Holder made the comments at a forum in Washington Wednesday. The Department of Justice is currently conducting an inquiry into the Ferguson Police Department. Holder added Wednesday that he would wait until the inquiry is finished to say what type of change may be coming to Ferguson.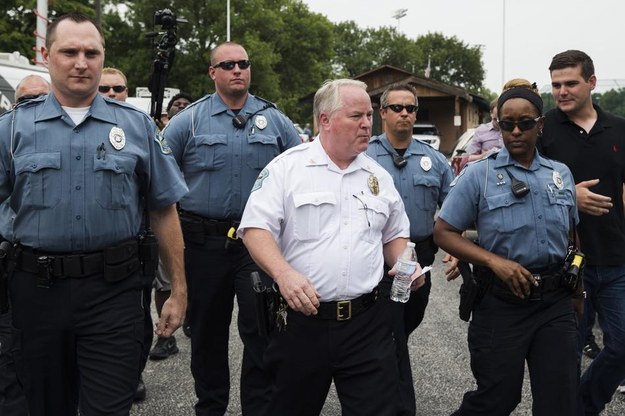 Ferguson Police Chief Thomas Jackson will step down from his position as soon as next week, CNN reported Tuesday night.
The network cited unnamed government officials as saying that Jackson would step down, after which city officials plan to ask the St. Louis County Police Department to take over law enforcement in Ferguson.
However, St. Louis County Police spokesman Brian Schellman told BuzzFeed News Tuesday that his department had not heard about Jackson leaving his job, or about potentially taking over law enforcement in Ferguson.
A Ferguson police dispatcher also told BuzzFeed News Tuesday night that she had not heard anything about Jackson leaving his post. She was unable to point to anyone who had information about a possible resignation.
The city's police department also tweeted Tuesday that no resignation was in the works:
Jackson has repeatedly faced criticism since Michael Brown's death on Aug. 9, but has thus far resisted calls to resign.
In September, Jackson told CNN he would not step down and added, "This is mine, and I'm taking ownership of it."
Jackson denied the report Tuesday in an interview with a St. Louis Post-Dispatch reporter, insisting he had not resigned from his position.
Ferguson's mayor also denied Jackson had been asked to step down.
Despite the denials, two other media outlets reported talking to sources who mentioned the removal of Jackson, as well as officer Darren Wilson.
Fox 2 News reporter Andy Banker said Tuesday night that a "source familiar with discussions" told him about the shake-ups. Banker did not identify his source, but said on air that "local leaders from mayors to state lawmakers, federal officials — including members of Congress — are working on a massive Ferguson reform package." The package could include the possible removal of both Jackson and Wilson, who shot Brown.
Banker indicated later in a tweet that secondary sources also spoke with him about the reforms:
Early Wednesday, MSNBC also reported that "a source within the Obama administration" confirmed the existence of plans to shake up the department. The source said Jackson and Wilson would be eased out of the department and that the plans are "extremely delicate."
Ferguson city government officials did not immediately return requests for comment from BuzzFeed News on Tuesday night.