Ferguson Elects Former Mayor, Two Black Candidates To City Council
Former Mayor Brian Fletcher was among three candidates to win a city council seat in Ferguson, Missouri, on Tuesday. The city also elected two black candidates, Elle Jones and Wesley Bell.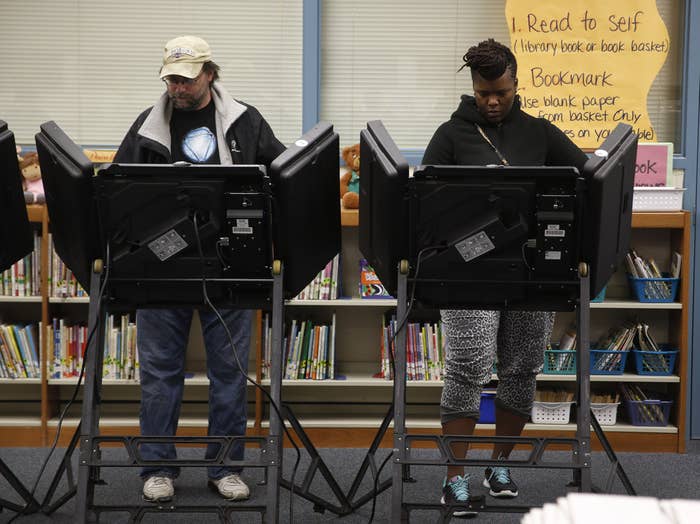 A former mayor and two black candidates won seats on Ferguson's city council Tuesday night in an election that pitted members of the establishment against those aligned with the protest movement.
Former Mayor Brian Fletcher defeated Bob Hudgins Tuesday night for Ferguson's Ward 2 council seat. Both men are white, but Hudgins is a self-identified protester who has regularly participated in demonstrations against police.
The Ward 2 race was perhaps the most closely watched in Ferguson Tuesday because it pitted a former leader against an active member of the protest movement that was sparked in the wake of the police-involved shooting death of unarmed black teen Michael Brown.
Fletcher told BuzzFeed News Tuesday night that he was "ecstatic about the results." He also said that he believes his election is a signal that voters wanted "someone to unite people."
"My background is one of unity and working with all people," Fletcher said.
Hudgins told BuzzFeed News that his race against Fletcher was a "cut and dry" competition.
"You had a protester against the establishment," Hudgins said.
Elsewhere, Ella Jones defeated three other candidates in Ward 1 and Wesley Bell defeated Lee Smith in Ward 3. Both Jones and Bell are black, and their victories signal a historic change in the racial makeup of Ferguson's leadership.
Here's why this election matters:
1. This was the first time people in Ferguson voted since Michael Brown was killed in August.
During the protests that followed Brown's death, one of the biggest complaints was that the city's leadership was overwhelmingly white even as the population is mostly black: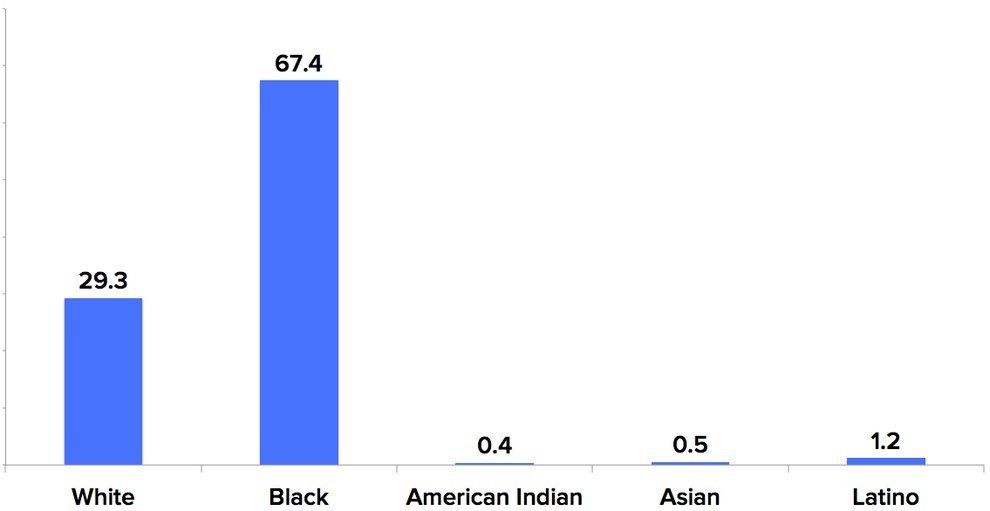 Tuesday's election was consequently a test to see how much of the frustration with conditions in Ferguson would translate into actual political action.
According to the St. Louis Post-Dispatch, about 29% of registered voters showed up on Tuesday — up from an average of about 12% during normal off-year April elections.
County polling data showed that at least 3,886 people voted in the election. Ferguson has a total population of just over 21,000.
De-Andrea Blaylock-Johnson voted Tuesday and told BuzzFeed News the turnout seemed decent when she voted.
"It was steady," she said. "It wasn't crowded. There was a number of cars there."
Blaylock-Johnson was among those who voted for Hudgins, saying she appreciated the way he depicted diversity in his campaign materials.
"It's important that our leaders that we put into office do understand the different viewpoints," she said.
2. Ferguson elected as many black candidates Tuesday as it had during its entire history.
Prior to Tuesday, Ferguson had only elected two black candidates to the council. One of those candidates, Dwayne James, is still in office and was not running in this election.
Bell and Smith — who competed in Ward 3 — are both black, meaning Tuesday's election was destined to change the council's racial makeup.
But with Jones' victory, black candidates now hold half of Ferguson's six council seats. That's a big deal in light of a Department of Justice report exposing rampant racism among the city's leadership.
3. The new city council plays a significant role in shaping municipal policy.
After the scathing Department of Justice report on Ferguson's courts and law enforcement, it was the city council that ousted a handful of officials.
Now, it's up to the council to fill the newly-vacated positions. That includes hiring a city manager, a powerful position that oversees the police and other city departments, as well as a chief of police.
Fletcher told BuzzFeed News that he plans to look for job applicants "with an open mind, who accept diversity." He added that he wouldn't limit potential hires to one particular race, but hopes to "draw from many different backgrounds," including minorities and women.
"We hope in a few years our legacy will be how we rebounded," Fletcher also said.
Hudgins told BuzzFeed News that he would have looked for a black chief of police and city manager.
The council also makes city law, and formed the civilian review board that is tasked with improving relations between police and residents.
All of which is to say that the council plays a significant role in shaping the tone and function of the city's workings.