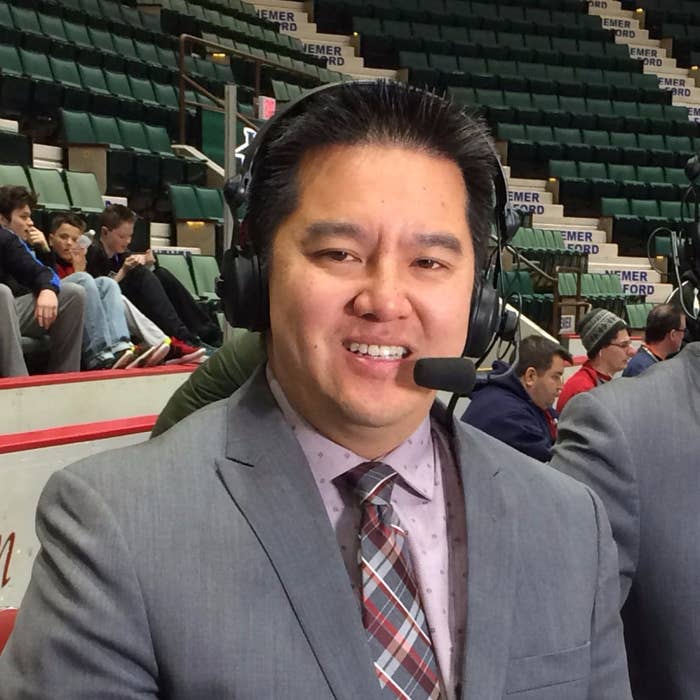 Sports broadcaster ESPN has pulled an announcer off a college football game at the University of Virginia in Charlottesville because his name is Robert Lee.

Lee had been set to announce UVA's home opening game against William & Mary on Sept. 2. However, in a statement to BuzzFeed News on Tuesday, the network said that it "collectively made the decision with Robert to switch games as the tragic events in Charlottesville were unfolding, simply because of the coincidence of his name."
"In that moment, it felt right to all parties," the statement continues. "It's a shame that this is even a topic of conversation and we regret that who calls play by play for a football game has become an issue."
The "tragic events" mentioned in the statement refer to a white supremacist rally in Charlottesville on Aug. 12. A woman died at the rally when a man drove his car into a crowd of counterprotesters.
The rally was originally organized to oppose the removal of a statue depicting Gen. Robert E. Lee, who led the Confederate army during the Civil War.
Wednesday, ESPN provided BuzzFeed News with an internal memo in which network president John Skipper said "there was never any concern — by anyone, at any level — that Robert Lee's name would offend anyone watching the Charlottesville game."
Instead, Skipper continued, the decision to switch Lee to a different game happened after the Charlottesville production staff worried the announcer might be exposed to "social hectoring and trolling." Skipper also said in the memo that Lee himself "expressed some personal trepidation about the assignment" and opted to work a different game, which would also let him visit family.
"I'm disappointed that the good intentions of our Charlotte colleagues have been intentionally hijacked by someone with a personal agenda, and sincerely appreciate Robert's personal input and professionalism throughout this episode," Skipper added.
In a statement to reporters, an unnamed ESPN executive also said the network was concerned about the "memes and jokes" Lee might be subjected to because of his name.

"No politically correct efforts. No race issues. Just trying to be supportive of a young guy who felt it best to avoid the potential zoo," the executive said in the email.
An ESPN spokesperson confirmed that one of their executives made the statement.
Recent months have seen ESPN embroiled in controversy, with conservatives accusing it of pushing a liberal agenda. Instead of attending the UVA game, Lee will now announce the University of Pittsburgh's home opener against Youngstown State University. Dave Weekley and Matt Chatham will announce the game in Charlottesville.
Robert Lee, the sportscaster, joined ESPN in 2016, according to his website. He attended Syracuse University in New York, and speaks Mandarin.