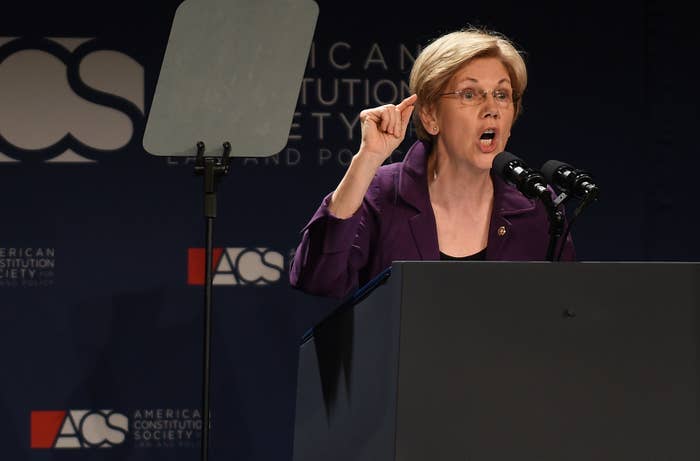 Massachusetts Sen. Elizabeth Warren, who became a darling of the left after being elected in 2012, endorsed Hillary Clinton's presidential bid Thursday evening.
"I am ready to get in this fight and work my heart out for Hillary Clinton to become the next president of the United States, and to make sure that Donald Trump never gets any place close to the White House," she said on MSNBC's The Rachel Maddow Show.
Warren, 66, has not ruled out running as Clinton's vice president if she is asked — though she is not currently interested in the job, Reuters reported Wednesday, citing several sources close to the senator.
On Thursday, Maddow asked Warren if she was prepared to be the vice president, noting that the point of the job is to step into the presidency if the need arises.
"Yes I do," Warren replied.
Warren, who also announced her endorsement for Clinton in the Boston Globe, had initially planned to throw her support behind Clinton next week but decided to move up the announcement, the Globe reported.
Warren's endorsement came the same day that President Obama endorsed Clinton. "I don't think there's ever been someone so qualified to hold this office," Obama said.
Warren's representatives did not respond to a BuzzFeed News request for comment.
Clinton all but locked up the Democratic Party's nomination this week; on Monday, the Associated Press reported that she had enough delegates to defeat rival Bernie Sanders, and on Tuesday she won several primaries, including California.
Despite Clinton's growing momentum, Warren remained silent through the primary season. Last week, however, she tweeted a photo of both Clinton and Sanders supporters with the caption "this is what Democrats united to beat @realDonaldTrump look like."
Warren has often gone after Trump on Twitter, accusing him of racism and saying he "trolls for votes."
Warren continued her attacks against Trump Thursday in a speech at the American Constitution Society 2016 Convention, referring to "Trump's own bigotry" when discussing the Republican candidate's attacks on a judge with Mexican ancestry.
She went on to describe Trump as a "thin skinned, racist bully."
Vice President Joe Biden also spoke at the convention and endorsed Clinton.
"Whoever the next president is, and in my view, god willing, it'll be Secretary Clinton," he said.