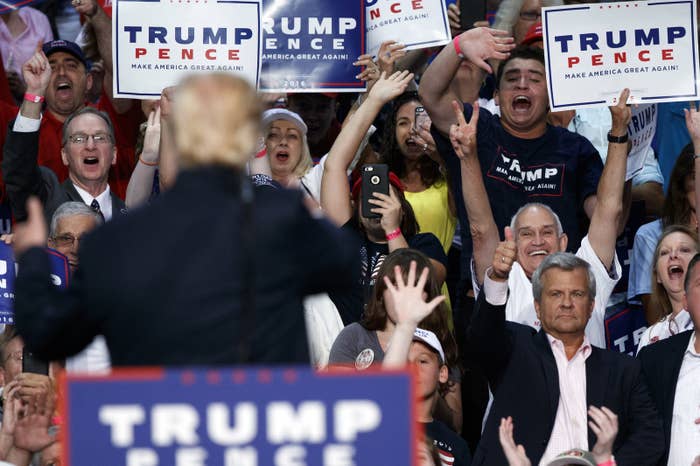 JACKSONVILLE, Florida — Donald Trump is weathering one of the most bruising weeks of his presidential campaign, drawing withering criticism for attacking the parents of a fallen US soldier and facing rumors of campaign disarray, but for scores of his most ardent supporters he remains the only candidate worth backing.

The Republican presidential nominee held two events Wednesday in Florida, both packed with crowds of supporters. At a town hall in Daytona Beach, two separate lines snaked around a convention hall as thousands braved crushing heat and humidity for a chance to see the candidate. At a second event in Jacksonville, thousands more filled an arena to near capacity.
For most of the dozens of attendees who spoke Wednesday with BuzzFeed News, Trump's widely criticized remarks about the parents of Capt. Humayun Khan — a Muslim-American soldier who died in Iraq in 2004 — were non-issues.
Dylan Detoma, a 17-year-old Trump supporter from Palm Beach, said he got his news from YouTube and the controversy surrounding the candidate's comments hadn't reached his radar yet. Another supporter, Tom Russell of Daytona Beach, said he had heard about the feud, but suspected Trump's remarks had been "taken out of context." And Gail Fornino of Ormond Beach said she was focused more on the candidate's key issues.
"I want to feel safe and secure in our country," Fornino added. "And I think that people need to be here legally."
A handful of other Trump supporters said they had been following the Khan controversy, with some saying they were annoyed by their candidate's criticism of a military family. But most of them chalked Trump's comments up to his bluntness and refusal to be politically correct — attributes they otherwise admired.
"He's got a big mouth," Barbara Smith told BuzzFeed News outside the Daytona Beach event. "The Khans are heroes. But I want Trump to be president because we need change."

That seemed to be the consensus Wednesday. April Smith, from the Daytona Beach area, suggested Trump "doesn't need to to respond to every debate that they bait him with." And Rhett Marlow, from Georgia, said Trump "shouldn't get into a one-on-one over social media." But both remained loyal, as did Nancy Shores.

"I think it was typical Trump," Shores said in Jacksonville. "Half of us want to take him behind the woodshed and spank him. And the other half don't care."
In fact, only one person who spoke with BuzzFeed News in Florida said she was seriously considering jumping ship: Chrissy Potak of Jacksonville.
Potak — who cited the 2012 Benghazi attack as the reason she won't vote for Democratic presidential nominee Hillary Clinton — attended the Jacksonville rally in a Trump shirt and said that if the election were going to be tomorrow, she'd vote for the Republican candidate. Still, she said Trump's recent comments were "giving her pause," and she hopes he doesn't continue making controversial remarks.
"I'm really hoping he doesn't just do another big foot in the mouth," she said, adding that she was looking seriously at Libertarian candidate Gary Johnson.
Trump's other recent controversies played an even smaller role in the scene around his Florida events. Though a speaker at the Jacksonville rally mentioned "an intervention" — a reference to rumors of disarray in Trump's campaign and a possible intervention by those in his inner circle — none of the attendees who spoke with BuzzFeed News said they were familiar with efforts by insiders such as party chairman Reince Priebus and Newt Gingrich to reset the campaign.
When asked about Trump's refusal to endorse the re-election bids of Republicans House Speaker Paul Ryan and Sen. John McCain, most supporters Wednesday praised their candidate.

"I don't want him to endorse," Victor Rodriguez said. "They fucked up."
Opinions varied, but most Trump supporters said they thought the candidate would eventually come around and endorse his fellow Republicans. Randy Stewart, for example, called the incident "just kind of a touché," while James Jackson said he believed Trump was simply "trying to make a point."
Still, for the dozens of Trump supporters who spoke with BuzzFeed News Wednesday in Florida, the candidate's refusal to play by the normal rules was far from a reason to abandon him.
"I think he should've supported him," Mike Keys said of Trump's refusal to endorse. "But he speaks from the heart."