Just hours after a federal appeals court ruled Wednesday that Utah's ban on same-sex marriages is unconstitutional, county officials in Boulder, Colorado, began issuing marriage licenses.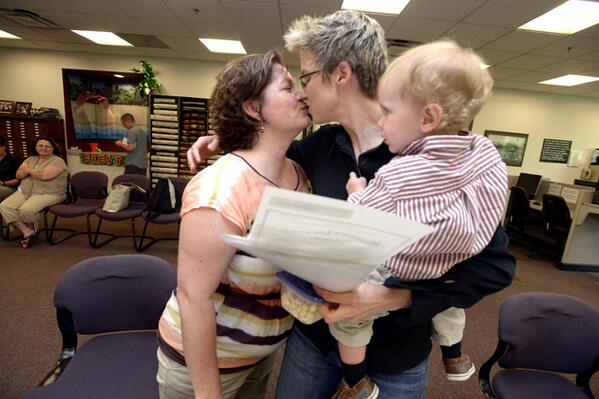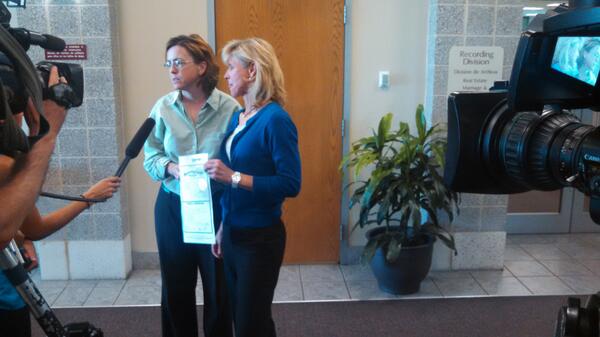 Video from The Daily Camera captured the first same-sex couple to file for a marriage license Wednesday:
Colorado falls within the same judicial circuit as Utah, leading officials in Boulder County to argue that their ban on same-sex marriage was also invalidated by Wednesday's ruling.
In a statement issued Wednesday, Boulder County Clerk Hillary Hall said she would begin issuing marriage licenses immediately in Boulder. Hall also said she would issue licenses in Lafayette and Longmont Friday. Hall's statement explained her justification for issuing the licenses:
Because 10th Circuit decisions are binding in the State of Colorado, the precedent established by Kitchen v. Herbert is applicable to the same-sex marriage ban contained in the Colorado Constitution. The Tenth Circuit found that "those who wish to marry a person of the same sex are entitled to exercise the same fundamental right as is recognized for persons who wish to marry a person of the opposite sex."
However, Colorado Attorney General John Suthers has said the marriages are not valid.
Wednesday's ruling stipulates that while the same-sex marriage ban is unconstitutional, its mandate is stayed. That means same-sex marriages cannot proceed until the Supreme Court weighs in.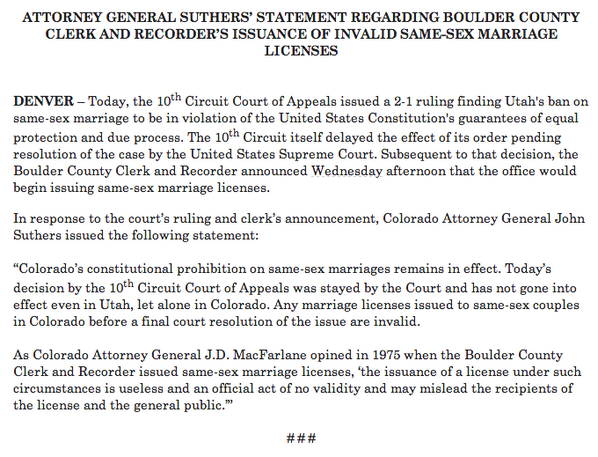 Clerk Hillary Hall spoke with BuzzFeed about her decision Wednesday evening, saying that she believes the marriages will ultimately be upheld as valid.
"I started by reviewing the decision with my county attorney, and after our review, we felt even with the stay that we could move forward. We're basing that on the 10th Circuit's statement that marriage is a fundamental right, and that the stay, really, is for the officials in Utah who were part of the case," Hall said. "Colorado being part of the 10th Circuit, the meat of their decision speaks to our ban and calls it unconstitutional. So, with that, we felt it was important to move forward."
As to their ultimate validity, she said, "And, I do think they'll be upheld, in the long run."
In light of Suthers' statement, BuzzFeed asked Hall whether she thought Suthers would go to state court to try and stop her from issuing the licenses. "We'll see. I hope not," she said. "I think this decision is long overdue, and we'll get there, so let's get there now."
Hall has not spoken with any state officials about her decision, saying, "This is really making a decision on behalf of the citizens that I represent."
This is a developing story. Check back for updates.