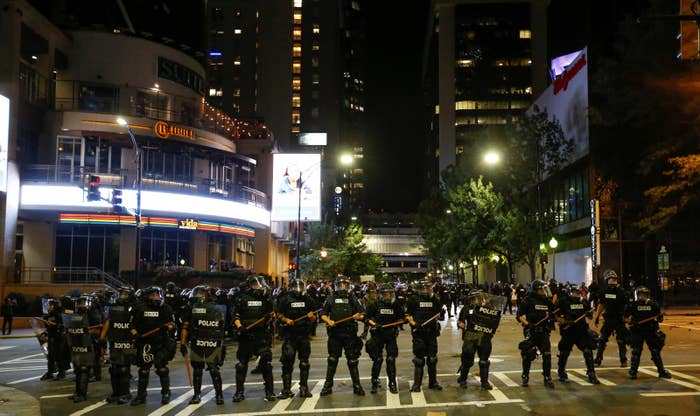 CHARLOTTE, N.C. — After two days of protests saw windows smashed and businesses looted in downtown Charlotte, some community leaders offered what they said was a simple solution: release the video of the police shooting that prompted the unrest.

Charlotte Police Chief Kerr Putney maintained Thursday that despite promising transparency, he would not release the video showing the Tuesday shooting of Keith Lamont Scott. Police have said that Officer Brentley Vinson fired on Scott after the 43-year-old ignored repeated demands to put down a gun.
Putney said during a Thursday news conference that he has seen the video of the shooting, and that it "does not give me absolute, definitive, visual evidence that would confirm that a person is pointing a gun." Still, he added, it "supports the version of the truth" given by officials.

After seeing the video Thursday evening, attorney Justin Bamberg said the family decided it should be released — even though it did not answer their questions about how Scott died.
"It was incredibly difficult for members of the Scott family to view these videos, but as a matter of the greater good and transparency, the Scott family asks that the Charlotte-Mecklenburg Police Department publicly immediately release both of the videos they watched today," Bamberg said.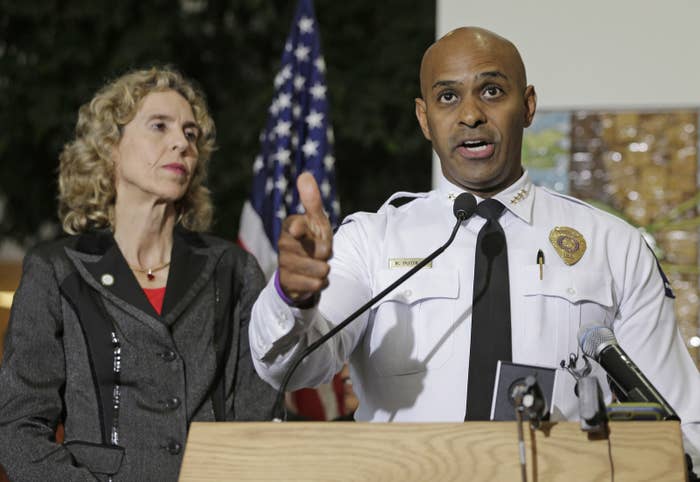 Still, the police chief said earlier on Thursday that he has no plans to publicly release the video.
"We release it when we believe it is a compelling reason," Putney said, "but I'm not going to jeopardize the investigation."
But some members of the community say the unrest itself is a compelling reason to release the video.
"I'm for full disclosure," Toussaint Romain told BuzzFeed News. "The truth is the truth."
Romain — a public defender in Charlotte who has attended both nights of protest — compared the Scott shooting to that of Terence Crutcher, who was fatally shot by police Saturday in Tulsa, Oklahoma. Within days, police released dashcam and helicopter video of the shooting, which Romain suggested could be part of the reason Tulsa has been more peaceful.
"Releasing their video at least put trust in that police department know that they're willing to be upfront," Romain said.
Jonathan Jones, director of the North Carolina Open Government Coalition, agreed. In an interview with BuzzFeed News, Jones said police should release the video and pointed to their refusal to do so as one reason Charlotte's protests have become more violent than those in other cities such as Tulsa.
"I think from a crisis management and a public relations standpoint," Jones said, "the police department needs to release it as soon as possible in order to answer this question that's going to persist as long as the video is withheld about what happened."
If the video supports the police version of the incident — namely that Scott had a gun in his hand — Jones argued it could "take a lot of the air out of the protest movement." Video that disputes the police version might "briefly inflame" protests, but Jones said that waiting years for the video to reach the public could lead to even more chaos.
"My view is that the Charlotte-Mecklenburg Police Department should release the video as soon as possible," he said. "I think this video is the best opportunity for the public to have an understanding whether the police version is accurate. Even if its bad for the police department they need to get out in front of that."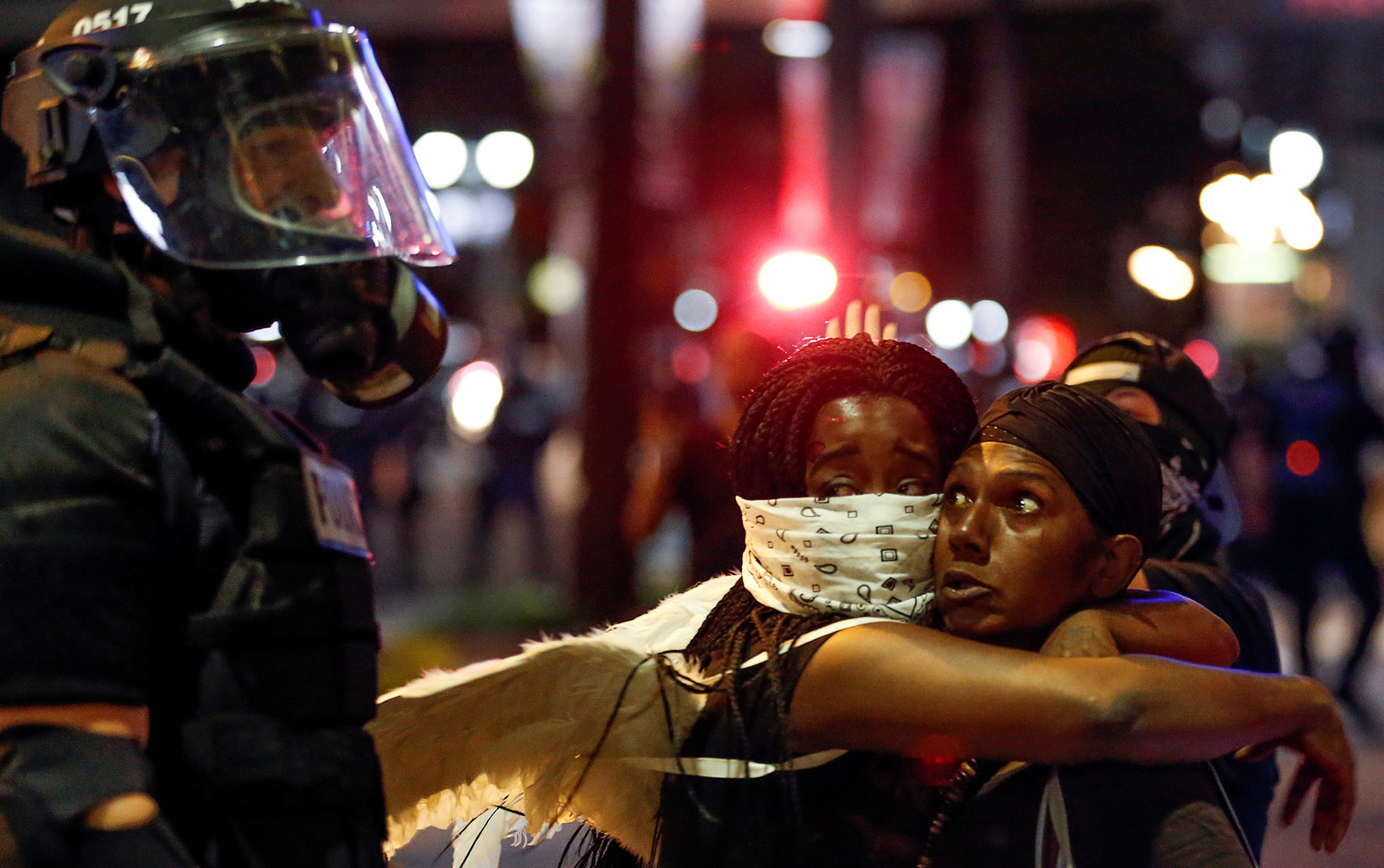 United Methodist Church Pastor Ray McKinnon, who attended both nights of protests, rejected Putney's explanation that releasing the video would somehow jeopardize the investigation.

"We obviously have seen examples recently in the last few days what happens when video evidence is released," he told BuzzFeed News. "This decision is not helping. I think it's a further escalation."

McKinnon also blamed the unrest on economic problems, saying the situation "did not happen in a vacuum." While he doesn't believe the police version of the shooting is false, releasing the video, he said, could still have a calming effect.
"You've got to release the damn video and help bring a level of healing and closure," McKinnon said. "And it will help to tamp down some of the unrest possibly.
Nathan Arledge — a reverend at Meyers Park United Methodist Church who was at Wednesday night's protests — also told BuzzFeed News the video should be released, saying it could help bring "justice and peace."
"I think the police are doing their due diligence but also I think it's owed to the family and the public for those videos to be shared," he said. "I think it should be seen and it should be shown."
Other clergy also called for the video's release Thursday at a press conference held by the North Carolina Chapter of the National Association for the Advancement of Colored People.
"If the governor can send in the troops, he can get involved to release the tapes!" Rev. Dr. William J. Barber said.
Charlotte city councilman Greg Phipps also wasn't pushing for the video's release. In an interview at his office in downtown Charlotte, Phipps said "I think we should follow the process and if that process needs to be adjusted then we should do that."
Still, Phipps said he personally wanted to see the video, and suggested that, depending on what it depicts, releasing it might be one way of ending violent demonstrations.
"There seems to be a lot of distrust," Phipps said. "How do we break through? To the extent that releasing this video might facilitate that, we might have to do that."
Either way, one potential complication is a measure — commonly referred to as the "Body Cam" bill, or HB 972 — signed this summer by North Carolina Gov. Pat McCrory. The law, which takes effect on Oct. 1, requires a court order for video from a body camera or dashboard mounted camera to be released to the public, and not through a public records request.
"Technology, like dashboard and body cameras, can be very helpful," McCrory was quoted as saying when he signed the measure. "But when used by itself, technology can also mislead and misinform, which causes other issues and problems within our communities. So what we need to do is walk that fine line."

Jones said that under his interpretation of both current law and the "body cam" bill, the video is a public record now but may not be after Oct. 1. McKinnon also noted the law, saying there was "some urgency" in getting the video released.

Others said they want the video released because it strikes at larger issues. According to Romain, said there is deep-seated frustration in the community that has been percolating for years. A perceived lack of transparency taps into that frustration, giving the impression that "now it's sort of this cover up where it's not the process working," he said.
"The process doesn't work the same with everybody and police are getting away with murder," Romain said. "If you're in the right just show it. If you're in the wrong, that's why you're covering it up."