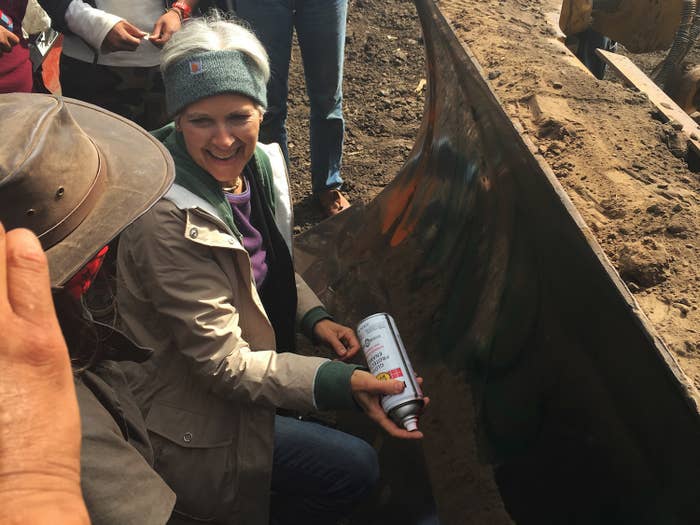 An arrest warrant was issued for Green Party presidential candidate Jill Stein in North Dakota on Wednesday after she was captured on video spray painting a bulldozer during a protest against an oil pipeline.

The warrant, as well as misdemeanor charges for criminal trespass and criminal mischief, were filed Wednesday in Morton County. At a news conference Tuesday, Sheriff Kyle Kirchmeier said Stein was "seen at the construction site actually vandalizing, spray painting, a blade on the equipment."
"This is not the way to protest," Kirchmeier added.
On Tuesday, the Bismarck Tribune posted video to Twitter of Stein spray painting the words "I approve this message" on a bulldozer.

The Morton County Sheriff's Department — which did not immediately respond to BuzzFeed News' request for comment — has also filed misdemeanor charges and a warrant against Stein's running mate, Ajamu Baraka. The Tribune reported that Baraka spray painted "decolonization" on equipment.
Stein allegedly spray painted the bulldozer at a protest over the Dakota Access Pipeline, a project that will transport crude oil 1,172 miles from North Dakota's Bakken oilfields to Patoka, Illinois. The pipeline has been controversial, prompting large protests from Native American tribes, who say it will traverse sacred lands pose environmental risks.
Over the weekend, the protests turned violent as private security guards clashed with demonstrators. One protest leader said six people were bitten by security dogs and at least 30 others were pepper-sprayed.
Stein has publicly opposed the pipeline in the past and Tuesday tweeted that the issue represents a "human-rights crisis."
Though Stein's campaign did not immediately respond to BuzzFeed News' request for comment, on Wednesday — the day the charges were filed — she repeatedly tweet a picture of herself spray painting the bulldozer. In her tweets, she described the pipeline as "vandalism on steroids" and called on authorities to "press charges against the real vandals who bulldoze sacred burial sites."
Though Stein currently trails Clinton, Trump, and Libertarian Gary Johnson by large margins — a recent CNN poll had her getting only 2% of the vote — she has been a vocal presence during this year's election season. At the Democratic convention in Philadelphia, she repeatedly (and successfully) pitched her candidacy to hundreds of disillusions Bernie Sanders supporters.

In a statement Wednesday, Stein stood by her actions at the protest, calling the pipeline "another deadly blow to a climate teetering on the brink. It cannot be allowed to go forward."
"Our campaign supports the courageous Indigenous leaders who are taking a stand to protect future generations from the deadly greed of the fossil fuel industry," the statement added. "We approve of their vision and courage."