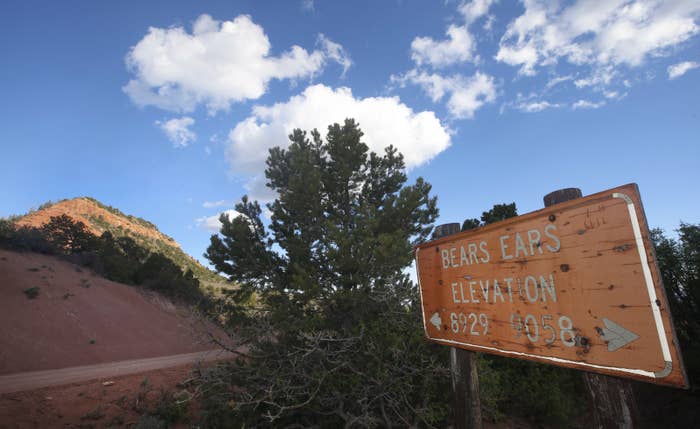 A Trump administration official has recommended shrinking a controversial national monument in Utah that was one of President Obama's final, legacy-defining orders.

Interior Secretary Ryan Zinke made the recommendation on Monday to shrink the Bears Ears National Monument in a five-page report obtained by BuzzFeed News and submitted to the White House. The report recommends revising the boundary of the 1.35 million-acre monument in Utah's San Juan County, and requests "congressional authority to enable tribal co-management of designated cultural areas."
In a conference call on Monday, Zinke said that he did not yet have a recommended acreage for Bears Ears "because we're not at that point of drawing specific lines." He added that he would have a more detailed report later this year.
Monday's report is the first recommendation by Trump's Department of the Interior in a broader review of dozens of national monuments created by presidents over the last two decades. Trump ordered the review in April, with decisions regarding other monuments expected in August. And although the administration has said there were no predetermined outcomes for the review, the president described it as an end to the "egregious abuse of federal power."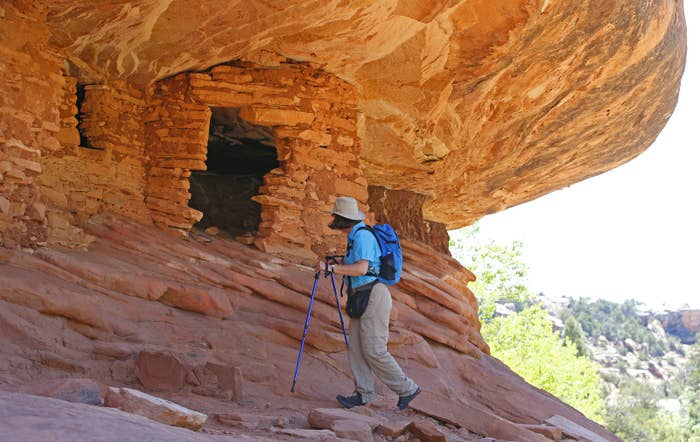 At issue is the Antiquities Act, a 1906 law that gives a president broad power to create national monuments with the stroke of a pen. Though the monuments are typically carved out of land the federal government already owns, critics believe the monument designations often come with new regulations that are a burden on local economies.

Proponents of the national monuments, on the other hand, have argued that they protect irreplaceable cultural sites and fragile ecosystems.
Bears Ears has been a flashpoint in the conflict over national monuments for years. All of Utah's members of Congress opposed turning the region into a national monument, as did numerous local leaders, industry representatives, and Gov. Gary Herbert.
A coalition of Native American groups, conservationists, and outdoor industry retailers like Patagonia were vocally in favor of the monument. Throughout 2016, lobbying from both sides grew increasingly intense.
In December, President Obama created Bears Ears, along with another monument in Gold Butte, Nevada. Utah lawmakers began pushing back, and lobbied the newly-inaugurated President Trump to reverse Obama's decision.
The recommendations from Zinke state that much of Bears Ears is "compatible with multiple-use practices," such as recreation, mining, and grazing, and that it includes "some objects that are appropriate for protection under the (Antiquities Act)." The report, however, ultimately concludes that the monument's creation did "not fully conform" with the "original objectives" of the Antiquities Act.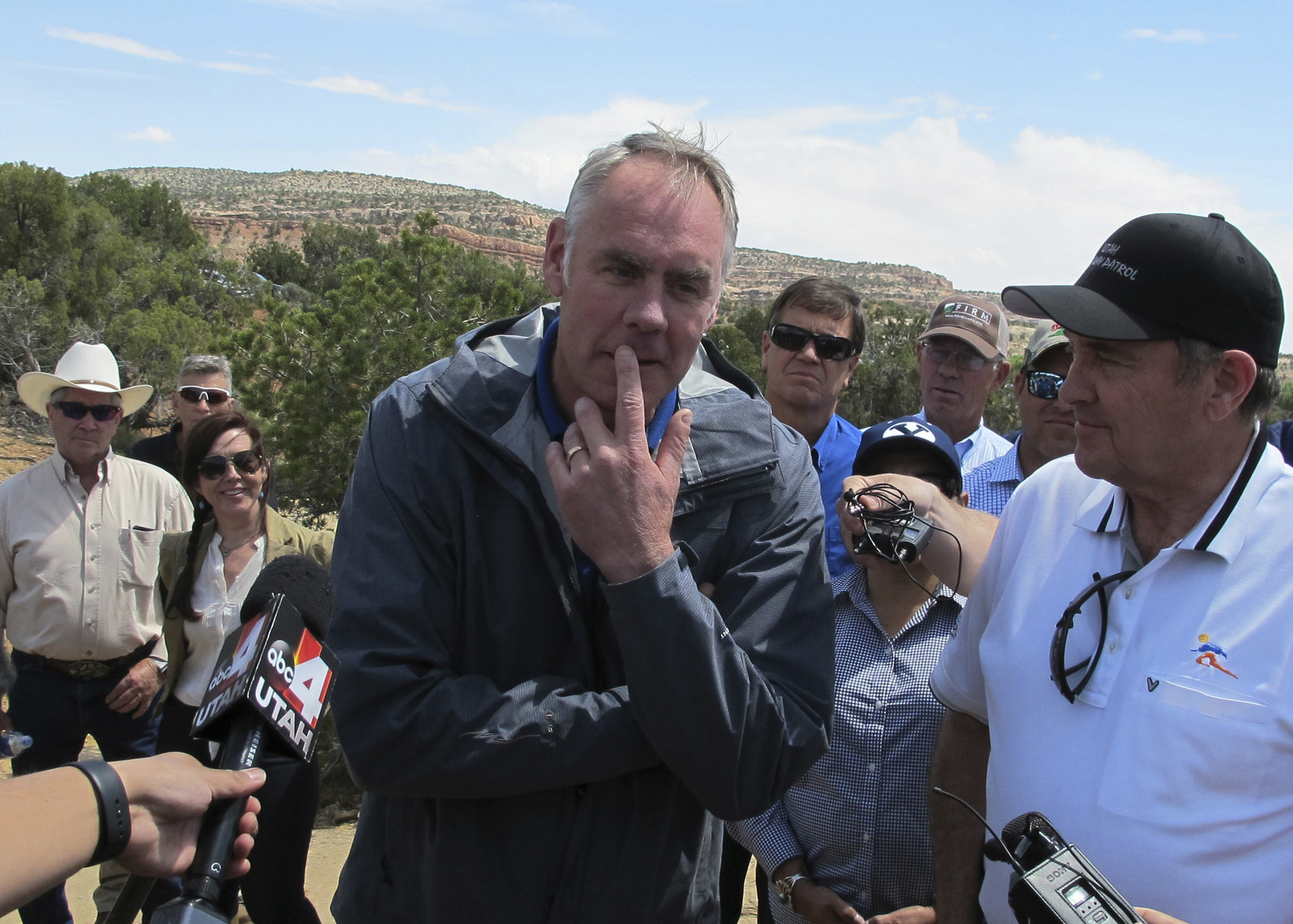 As part of the Bears Ears review, Zinke traveled to Utah in May, meeting with local lawmakers, Gov. Herbert, and some Native American groups — although he was criticized for not spending more time with tribal leaders.
During Monday's conference call, Zinke stressed that he had spoken to all interested parties and that his "recommendations were not made in a bubble in Washington, DC."
"Almost all the people I talked to actually had similar interests," he said, adding later that he had spoken with Native American groups. "They're pretty happy and willing to work with us."
Zinke praised the Antiquities Act itself on Monday. That may put him at odds with some rural conservatives who vowed to dismantle the law following the Bears Ears designation.
"Over the course of time the Antiquities Act has done some great things for this country," Zinke said. "It has preserved some of our finest treasures. The Antiquities Act has been nothing short of an American success."
What happens next is not entirely clear. After Trump's review was announced, Native American and conservation groups ramped up efforts to fight back with lawsuits. Those efforts are likely to intensify after Monday's report, and a period of legal wrangling likely lies ahead.
Native American groups and Conservationists were quick to criticize Zinke's recommendation. In a statement, a spokesperson for Utah Diné Bikeyah, a Navajo non-profit, said "we are deeply upset" and threatened to defend the monument in court.
"The Secretary failed to take the time to listen to the very people who know best what is at stake at Bears Ears and ignored overwhelming support in Utah for the monument," the spokesperson added.

Randi Spivak, public lands program director with the Center for Biological Diversity, called Zinke's report a "slap in the face to the tribes that sought protection for Bears Ears and any American who values our incredible public lands."
Outdoor retailer Patagonia and environmental advocacy group Earthjustice on Monday both threatened to file lawsuits if Trump acts on Zinke's recommendation.
"Unilaterally shrinking the boundaries of Bears Ears National Monument would not only be a slap in the face to the five sovereign tribes who share sacred ties to this land, it would violate both the Antiquities Act and the separation of powers doctrine," said Heidi McIntosh, Earthjustice's managing attorney for the Rocky Mountain region, in a statement.
The Sierra Club said in a statement that "diminishing protections for the Bears Ears National Monument" would be "a thinly veiled attempt to sell out our public lands and an insult to people across the country who love and care about our great outdoors."
However, Utah lawmakers praised Zinke's recommendation to shrink Bears Ears. Gov. Gary Herbert called the report "an important first step toward re-establishing sound land management practices for one of the most special areas in the world."
"I encourage the president to take this recommendation seriously, and I applaud the secretary for his balanced and responsible proposal," Herbert added.
Republican Rep. Jason Chaffetz also praised Zinke on Monday, and referred to the report as a "first step."
"A locally-driven, legislative approach is the best way to strike a balance among the people who love and use the vast acreage surrounding the Bears Ears," Chaffetz said. "Now it is up to Congress to find a win-win solution that will create a balance between conservation and use."