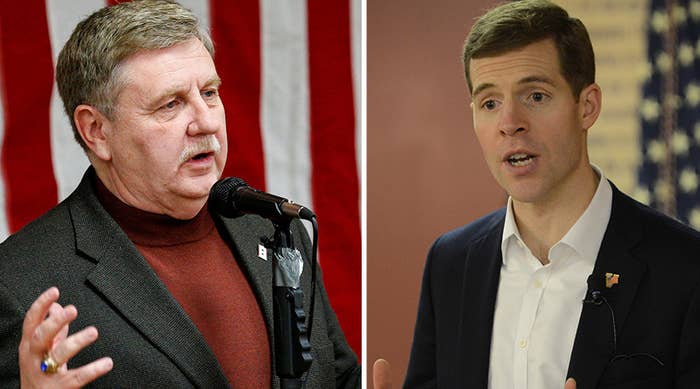 A Pennsylvania Democrat on Wednesday said his opponent conceded a nail-biting congressional race that for days was too close to call, and which many viewed as a prelude to this fall's midterm races.
Conor Lamb tweeted Wednesday that he had spoken with Republican Rick Saccone, "who congratulated me and graciously conceded last Tuesday's election" for Pennsylvania's 18th Congressional District. In a statement to BuzzFeed News, Saccone confirmed that he had conceded, saying "the people of the 18th District deserve to have a voice representing them in Congress."
Lamb had pulled ahead to an early lead on election night, but that advantage evaporated until both candidates were virtually neck and neck. As of Wednesday, Pennsylvania's Department of State showed Lamb ahead by just over 600 votes.
Despite his narrow lead, Lamb had declared victory shortly before 1 a.m. the morning after the election, taking the stage at his election night party after being introduced as "congressman-elect."

"It took a little longer than we thought. But we did it," he said in remarks to supporters. "Our issue in this campaign is common ground. We fought to find common ground and we found it, almost everywhere. Democrats, Republicans, independents, all of us Americans."
The results also raised the specter of a recount, particularly after Saccone appeared at his headquarters on election night and told supporters that "we're not giving up."
"We're going to keep fighting," he said to cheers from the crowd. "Don't give up, and we'll keep it up! We are going to win it! God bless you all!"
Saccone did not immediately respond to BuzzFeed News' request for comment Wednesday.

Lamb, an attorney and former Marine, and Saccone, a member of the Pennsylvania House of Representatives, were competing in a special election for the congressional seat vacated in October when Rep. Tim Murphy, a Republican, resigned amid a sex scandal.

The district lies in the state's southwest corner had been considered solidly red — President Trump won the district in 2016 by 19 points — though some sections are less reliably Republican. Though Democrats were hoping to flip the district, Lamb's showing in a conservative area still offered a positive sign for those hoping for a wave of blue victories in upcoming congressional elections.
During the race, Lamb leaned into the district's blue-collar demographics, saying he wouldn't support House Minority Leader Nancy Pelosi and campaigning as a supporter of unions and the Second Amendment. The strategy appeared to be working in recent days, with a poll on Monday showing Lamb with a seven-point lead.

Saccone campaigned on a platform of Republican staples such as low taxes and overhauling health care. Trump also stumped for Saccone, visiting Pennsylvania in both January and March, as well as sending his son Donald Trump Jr. to support Saccone's campaign.
Saccone has played up his similarities to the president, touting that he ran for state office in 2010 on the same agenda Trump eventually rode to the White House.
"I was Trump before Trump was Trump," Saccone said last November.

Whoever ends up winning the special election won't hold the office for long. After the Pennsylvania Supreme Court redrew the state's congressional districts, Lamb and Saccone will reside in different districts, meaning both men could run again in November against different candidates. The filing deadline for that election is next week.