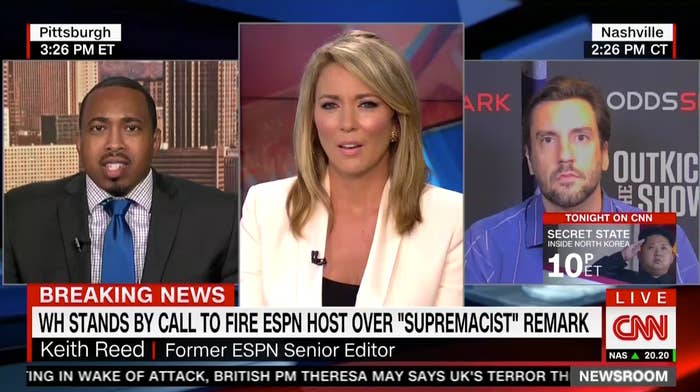 A Fox Sports Radio host said Friday afternoon on CNN that the only two things he completely believes in are the "First Amendment and boobs" — prompting the network anchor to abruptly end the segment and apologize to viewers for his "entirely inappropriate" remarks.

Clay Travis — who hosts a show on Fox Sports Radio, offers commentary for Fox on TV, and is also the cofounder of popular sports website Outkick the Coverage — made the comment while speaking on CNN Newsroom with host Brooke Baldwin. Travis, Baldwin, and former ESPN editor Keith Reed were discussing calls by the White House for ESPN to fire host Jemele Hill after she called President Trump a bigot and white supremacist on Twitter.
"I'm a First Amendment absolutist. I believe in only two things completely," Travis said after Baldwin asked him about the ESPN controversy. "The First Amendment and boobs."
Minutes later, a shocked Baldwin abruptly ended the conversation, saying, "I apologize for him and that."
"I'm done, I'm sorry," Baldwin said. "This is done. This conversation is over. Yanking mics, bye. See ya. That was entirely inappropriate."
Prior to being cut off, Travis spent several minutes defending and repeating his "boobs" comments while Baldwin and Reed watched in apparent disbelief. After the first mention of breasts, Baldwin stopped him and asked for clarification.
"I just want to make sure I heard you correctly, as a woman anchoring the show," Baldwin interjected. "What did you just say? You believe in the First Amendment and b-double-o-b-s?"

"Boobs," Travis reiterated. "Two things that have only never let me down in this entire country's history, the First Amendment and boobs. So those are the only two things I believe in absolutely in the country."
Travis then resumed discussing the ESPN controversy while Baldwin looked on in apparent disbelief. Moments later, Reed said that he was "astonished at almost everything I just heard."
Finally, Baldwin ended the segment.
Though the exchange on CNN ended abruptly, Baldwin soon tweeted that Travis's comments were "never okay."
Baldwin later wrote about the incident, saying Travis was a "guest we should never have booked in the first place." She said that during the broadcast neither she nor the studio crew were sure they had heard Travis correctly, but after he repeated the comment the "newsroom around me fell silent."
"The thing is — this is not okay," Baldwin continued. "Speaking to women like this is unacceptable. It is 2017. Why is this even happening?"
Baldwin added that Travis will never be invited back to her show, and suggested he "learn from folks over at Fox News — being demeaning to women does have consequences."
Travis responded by defending himself again, tweeting that he makes those comments every day and now needs "to make tshirts."
He followed that tweet with several others in which he similarly doubled down on the comment. In one tweet, he indicated it was "great" that he said something that "nearly shut down" CNN.
In a statement issued to reporters Friday night, Fox Sports said Travis' comments "were inappropriate" and that he had not worked for the network for six months. He is a "syndicated talent of Premiere Networks," it said.
Travis published a post on Outkick the Coverage about the controversy, writing, "That sound you just heard was left wing fauxragers losing their minds and screaming as they pull their hair out over me helping to save boobs and end breast cancer and probably win a Nobel Prize too."

He later tweeted that he had already been invited back to CNN for an appearance on Monday.
However, when reached by BuzzFeed News, a CNN spokesperson said that Travis had not, in fact, been invited back.
"Clay Travis was not booked again on CNN," the spokesperson said in an email. "Prior to his appearance with Brooke Baldwin, he had been tentatively scheduled to appear Monday on HLN. That interview has been cancelled."