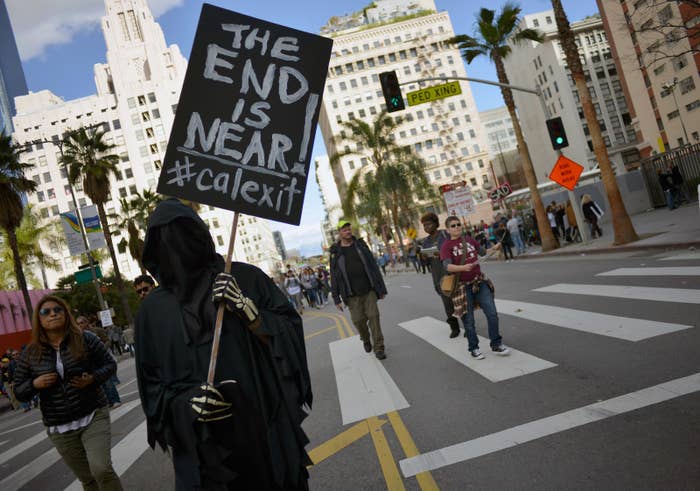 The leader of California secession campaign has decided that he would like to live in Russia permanently, and is therefore abandoning his efforts to make the Golden State its own country.

In a lengthy statement Monday, Louis Marinelli, president of the separatist group Yes California, announced he was withdrawing his petition for a referendum on secession. Instead, he plans to apply to be a live permanently in Russia, where he currently resides.

"I have found in Russia a new happiness, a life without the albatross of frustration and resentment towards ones' homeland, and a future detached from the partisan divisions and animosity that has thus far engulfed my entire adult life," Marinelli wrote. "Consequently, if the people of Russia would be so kind as to welcome me here on a permanent basis, I intend to make Russia my new home."

In the statement, Marinelli explained that he was "primarily motivated" to work toward California's secession due to a "personal struggle" over his wife's immigration status. But his wife now has a green card, and anyway he is disillusioned with the US and doesn't "wish to live under the American flag."
It's a blow to Marinelli's organization, which rose to prominence after President Trump's win in November, when its proposal of a so-called "Calexit" carried at least some appeal for many of the state's liberal voters. Organizers had until July of this year to collect more than half a million signatures to get the issue on the state ballot in 2018.
The end of Marinelli's efforts come after months of news and rumors about his movement's relationship to the Kremlin. Last fall, Bloomberg and other outlets reported on Marinelli's extensive ties to Russia and that he lives in Yekaterinburg, a city about 1,000 miles east of Moscow.
Other stories followed, including reports that Marinelli receiving funding and office space from a Kremlin-backed group. And in December, the Russian media organization RT reported that Yes California was opening an "embassy" in Moscow.
The Russian connections to Calexit prompted speculation about what the Kremlin stood to gain from the movement, and whether it amounted to another attempt by the Kremlin to meddle in the US political system, as it is believed to have done during the 2016 presidential campaign.
In his statement Monday, Marinelli said slammed the media for it's coverage of his connection to Russia, adding that he had always acknowledged "the trouble I bring to the table with my political background and my history in Russia."
"Now the mainstream media, many of which are based in Washington and in New York, have called Calexit a fringe campaign with no chance of ever succeeding," he wrote. "Meanwhile, they have simultaneously sensationalized, exaggerated, and dramatized information about our campaign and particularly about myself in an effort to delegitimize our effort and demoralize our supporters."
The effort to break California off from the rest of the US was always a very long shot, at best, but Marinelli's departure from the movement does not necessarily mean that it's dead. Yes California's vice president, Marcus Ruiz Evans, is joining another separatist organization called the California Freedom Caucus, which promotes "nonviolent actions to establish the country of California using legal and constitutional means to do so."

In addition, there's a California National Party, which forecasts a slower path toward independence. Secession is also a perennial issue in California, with more than 200 such proposals since 1849, according to the Los Angeles Times.
Though any effort to turn California into it's own country faces a steep uphill battle, Marinelli indicated Monday that if any ultimately do succeed — and "after the false allegations about me vanish" — he might be returning.
"When that day finally comes, as it will, I shall look forward with great satisfaction to return to California and to live once again under our bear flag," he wrote. "Until then I will continue to serve as the representative of the Republic of California to Russia."