Donald Trump continued his days-long tirade against former Miss Universe Alicia Machado in a Twitter rant Friday morning.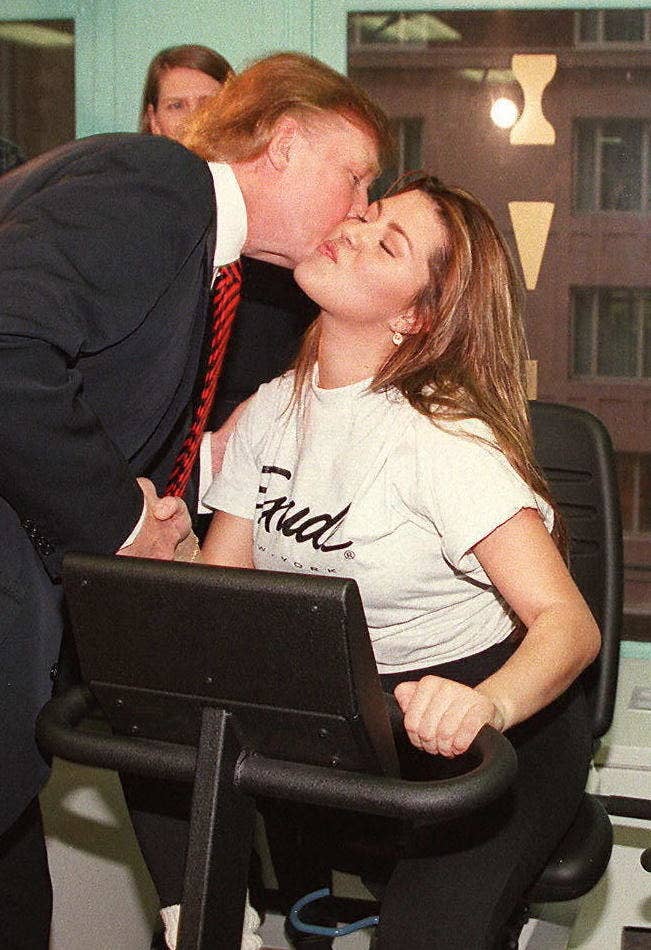 The presidential candidate said that Hillary was "duped" by the "worst Miss U," while calling the beauty queen's credibility into question because of past incidents that were recently uncovered.
In 2005, Machado was on a Big Brother-type Spanish reality show called La Granja (or "the farm"). While on the show, she allegedly engaged in a sexual relationship with one of her co-stars that was caught on the show's cameras and later aired on television, according to a story published in The Sun.
Machado was engaged to baseball player Bobby Abreu, who called off the engagement following the incident.
Trump accuses Clinton of using Machado as a "paragon of virtue" during the debate and says she was "set up by a con."
Machado has said that she's been mistreated and insulted by Trump ever since she won the Miss Universe title in 1996. Following Monday's debate, Trump appeared Fox and Friends to say that Machado's weight gain while she held the Miss Universe title was a "real problem."
Clinton used Machado during the debate as an example of how Trump has treated women, saying that Trump called Machado "Miss Piggy" when she gained some weight.
"One of the worst things he said was about a woman in a beauty contest," Clinton said on Monday. "He loves beauty contests, supporting them and hanging around them. And he called this woman 'Miss Piggy.' Then he called her 'Miss Housekeeping,' because she was Latina.
"Donald, she has a name," Clinton continued. "Her name is Alicia Machado, and she has become a US citizen."
In his final tweet in the morning rant, Trump asked if Clinton had helped Machado become an American citizen just so she could use her for the debate.
Machado fired back at Trump in an Instagram post Friday, saying that Trump was only trying to bring up false accusations from her past and that she would continue to stand up and share her story.
She said that because of the way that Trump has attacked and mistreated her, she believes he's likely treated others the same way, which is why she'll continue to be an activist for women's rights.
"Through his hate campaign, the Republican candidate insists on discrediting and demoralizing a woman, which is definitely one of his most frightening features," she wrote.

Machado says that she became a US citizen in part because her daughter was born here and because she wants to exercise her right to vote.
Here's a translation of her post:
The Republican candidate and his campaign team are again generating attacks, insults, and trying to revive defamation and false accusations about my life. All this in order to intimidate, humiliate and destabilize me once again. The attacks that have come out are cheap lies and slander generated with bad intentions, which have no foundation, that have been spread by sensationalist means.

This, of course, is not the first time that I've faced a situation like this. Through his hate campaign, the Republican candidate insists on discrediting and demoralizing a woman, which is definitely one of his most frightening features. With this, he seeks to detract attention from his real problems and his inability to pretend to be the leader of this great country.


When I was just a young girl, the now-candidate humiliated me, insulted me, publicly disrespected me, as he did privately in the cruelest way. As this happened to me, it's been clear through the years that he has repeated his actions and behavior with other women for decades.

Therefore, I will keep standing, sharing my story, my absolute support for Mrs. Clinton, on behalf of the women, my sisters, aunts, grandmothers, cousins, friends, and the female community.


To my Latinas and to everyone, I want to thank you all for the support, love, and respect for my career, for my identity as a human being and for my family. I became a citizen of this great country because my daughter was born here and because I wanted to exercise my rights, including voting.

I will continue standing strong in my lived experience as Miss Universe and with you supporting me. I've been so pleased with many kind words with so much love. I'm focusing on my busy career, in my work as mother, and I will continue taking positive steps for the Latino community and will continue as activist for women's rights and the respect we deserve. I appreciate all your love and all your support again, thanks. Many blessings.
Clinton called Trump's tweetstorm "unhinged" and asked, "What kind of man stays up all night to smear a woman with lies and conspiracy theories?"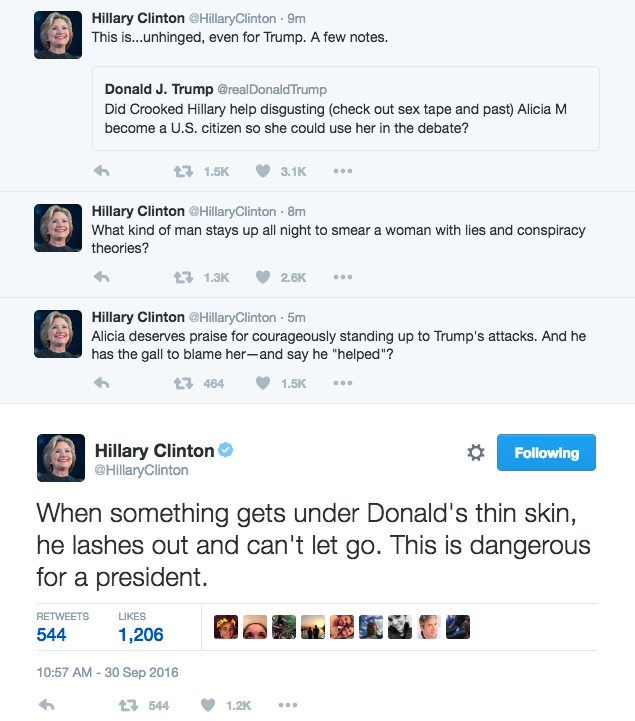 She went on to call him "pathetic" for insulting Kim Kardashian's weight when she was pregnant and for bullying Rosie O'Donnell.