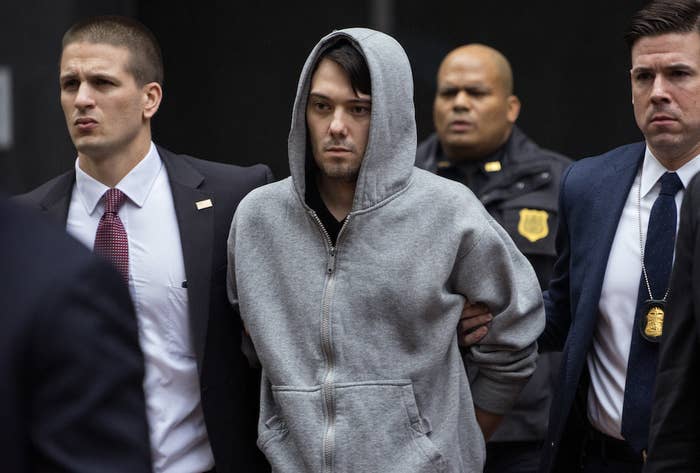 A former hedge fund manager who became the subject of widespread scorn after acquiring a pharmaceutical company and then dramatically increasing the price of a lifesaving drug was arrested Thursday on unrelated federal fraud charges.
He was released on a $5 million bond after a court appearance on Thursday afternoon, the U.S. Attorney's office for the Eastern District of New York told BuzzFeed News. He surrendered his passport and the court restricted his travel to Eastern and Southern New York. He pleaded not guilty, according to multiple reports.

Wearing a gray hoodie, 32-year-old Turing Pharmaceuticals CEO Martin Shkreli was arrested by FBI agents in New York on a seven-count indictment unsealed by the Department of Justice.
The indictment includes charges that are related to Shkreli's time as chief executive of Retrophin, Inc. from 2012 to 2014. Federal prosecutors allege that he lied about the success of the company in order to earn the funds to pay off investors, which resulted in the loss of $11 million.
U.S. Attorney Robert Capers said in a statement that "Shkreli engaged in multiple schemes to ensnare investors through a web of lies and deceit."
"His plots were matched only by efforts to conceal the fraud, which led him to operate his companies, including a publicly traded company, as a Ponzi scheme, where he used the assets of the new entity to pay off debts from the old entity," he said.
In a statement sent to NBC, a representative for Shkreli said he was "confident that he will be cleared of all charges" and that the charges he faces "involve complex accounting matters that the EDNY and SEC fail to understand."
"Ponzi victims do not make money," the statement read. "Yet Mr. Shkreli's investors enjoyed strong results."
The boyish looking executive made headlines in September when he raised the price of Daraprim — a decades old drug used to treat a rare parasitic infection — from $13.50 to $750. After days public outrage, Shkreli announced he would lower the price in order to make the drug "more affordable."

He also made news recently for reportedly paying $2 million for the sole copy of the Wu Tang Clan's new album Once Upon a Time in Shaolin.
The FBI's New York office said it did not take the album during its arrest on Thursday because it had not obtained a seizure warrant.
Capers said during a news conference on Thursday that he did not know where Shkreli acquired the money for the album.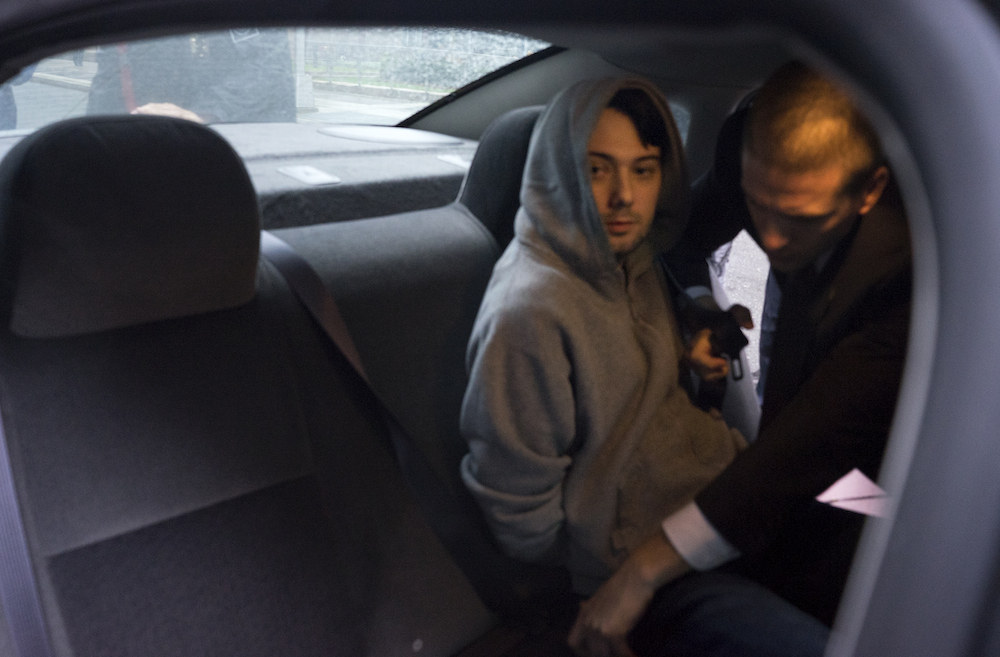 Shkreli started Retrophin in 2011, but was ousted from the company by its board of directors in September 2014. Shkreli was later sued for $65 million by the board for misuse of company funds, which he allegedly used to pay off millions in debt to investors of MSMB Capital Management, Bloomberg reported.
Also arrested Thursday was Evan Greebel, an attorney who was accused of conspiring with Shkreli. He was charged with conspiracy to commit wire fraud, according to the indictment.
Greeble was released on Thursday on a $1 million bond, the U.S. Attorney's office for the Eastern District of New York told BuzzFeed News.
If convicted, both Shkreli and Greebel face a maximum of 20 years in prison.
Shkreli, meanwhile, has denied the allegations made against him by Retrophin. In a post on InvestorsHub in February, Shkreli wrote he was "confident that anyone who looked into the transactions would find them perfectly legal, reasonable and quite intelligent (the results of the company speak for themselves.)"

Shkreli is the son of Albanian and Croatian immigrants and grew up in working-class Sheepshead Bay, Brooklyn. He got his start interning for Mad Money host Jim Cramer.

Here is the Indictment: