Suspected Gunman In Kentucky State Trooper Death Has Been Shot And Killed
Trooper Joseph Cameron Ponder was fatally wounded when suspect Joseph Thomas Johnson-Shanks allegedly opened fire on his cruiser. Police said the suspect had been shot and killed Monday morning following an overnight manhunt.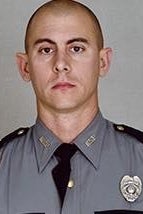 Rookie Kentucky state trooper Joseph Cameron Ponder was gunned down late Sunday while trying to pull over a man who fled during a traffic stop, Kentucky State Police said in a press release Monday. Suspected gunman Joseph Thomas Johnson-Shanks was found in a wooded area Monday and was shot and killed.
Ponder, who had just graduated from the academy in January, had pulled over a car around 10:20 p.m. Sunday night on Interstate 24 in Lyon County. After running the driver's information, he found that Johnson-Shanks had a suspended license and radioed for backup to transport the passengers of the car, police said in a press conference Monday. That's when the driver of the car took-off and Ponder chased after him, according to the press release.
After a nearly 10-mile chase, the suspect slammed on the brakes and Ponder crashed into the back of his car. At which point the 25 year old suspect allegedly opened fire on the trooper's cruiser, police said.
Ponder, 31, was shot several times as the gunman fired an unknown amount of rounds that also struck the hood and windshield of the car. He was rushed to Caldwell Medical Center in Princeton, where he later died from his injuries, police said.
The suspect fled on foot and was located in a secluded and wooded area around 7 a.m. Monday morning following an overnight manhunt that included the help of helicopters and police dogs, police said.
The passengers in Johnson-Shanks car were detained shortly after the shooting, police said.
Governor Steve Beshear issued the following statement:
Jane and I are deeply saddened by the death of Trooper Ponder. Senseless acts like this are a tragic reminder of the risks that our law enforcement officers face every day, just by putting on their uniform and doing their job. That he was killed in the line of duty makes his death memorable, but we must never forget the most significant part of Trooper Joseph Cameron Ponder's story – how he lived, his selfless service to others, and his willingness to give his life for that commitment.
Here's a photo of the suspect from Kentucky State Police:
Ponder's sister posted a heartfelt message to Facebook saying that her "brother was the best man in the world." Adding that she is heartbroken over his loss.

Lyon County Judge Executive Wade White said in a Facebook post that it was "a very dangerous situation" while Johnson-Shanks was still on the loose.