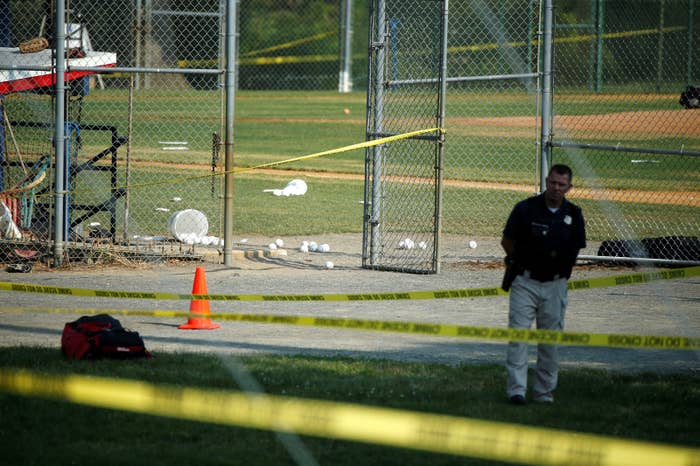 Rep. Steve Scalise, a Capitol Police officer, a congressional aide, and a lobbyist were shot during a GOP baseball practice in Virginia on Wednesday morning, officials said.
Republican congressmen and their staffers were at the Eugene Simpson Stadium Park baseball fields in Alexandria for a training session when a shooter opened fire shortly after 7 a.m. local time.
Rep. Jeff Duncan of South Carolina told BuzzFeed News that the shooter asked whether those practicing were Republicans or Democrats before opening fire. A Senate staffer, who was at the practice but asked not to be identified, gave the same account.
Authorities have not confirmed these details. FBI agent Tim Slater told reporters it was too early to say if the congressmen were deliberately targeted.
Authorities have named the gunman, who was shot dead by law enforcement, as James T. Hodgkinson of Illinois. Social media accounts belonging to Hodgkinson featured numerous posts denouncing President Trump, and supporting Sen. Bernie Sanders.
Speaking to the nation from the White House, President Trump said the assailant had died from his wounds.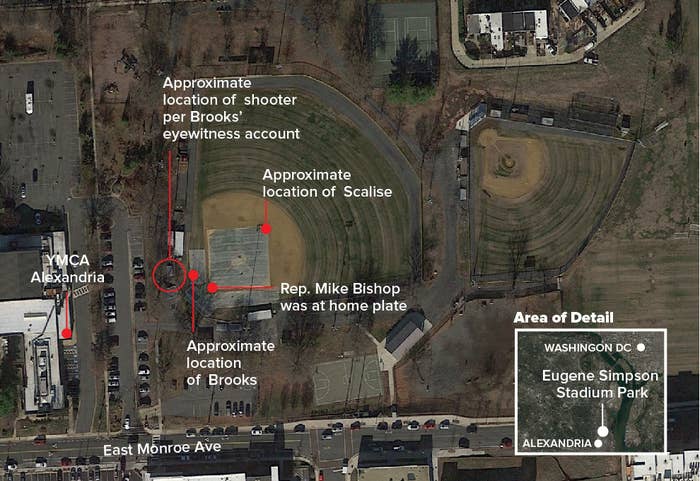 House Majority Whip Scalise, lobbyist Matt Mika, Special Agent Crystal Griner, and Zack Barth, a staffer to Rep. Roger Williams, were shot in the melee.
Additionally, Special Agent David Bailey and Rep. Roger Williams were injured.
Scalise was struck in the hip and transported to MedStar Washington Hospital Center for surgery, his office said in a statement. The hospital said he is in critical condition.
"We ask that you keep the Whip and others harmed in this incident in your thoughts and prayers," Scalise's office said.
Mika, a lobbyist for Tyson Foods and former congressional staffer, was also injured in the shooting.
In a statement to the press, Mika's family said he was shot multiple times and was in a critical condition.
Barth also received medical attention, but is expected to make a full recovery, Williams said.

The two Capitol police officers are being treated at a local hospital and are in "good condition," Capitol Police Chief Matthew Verderosa said.

"Their injuries do not appear to to be life-threatening," he said.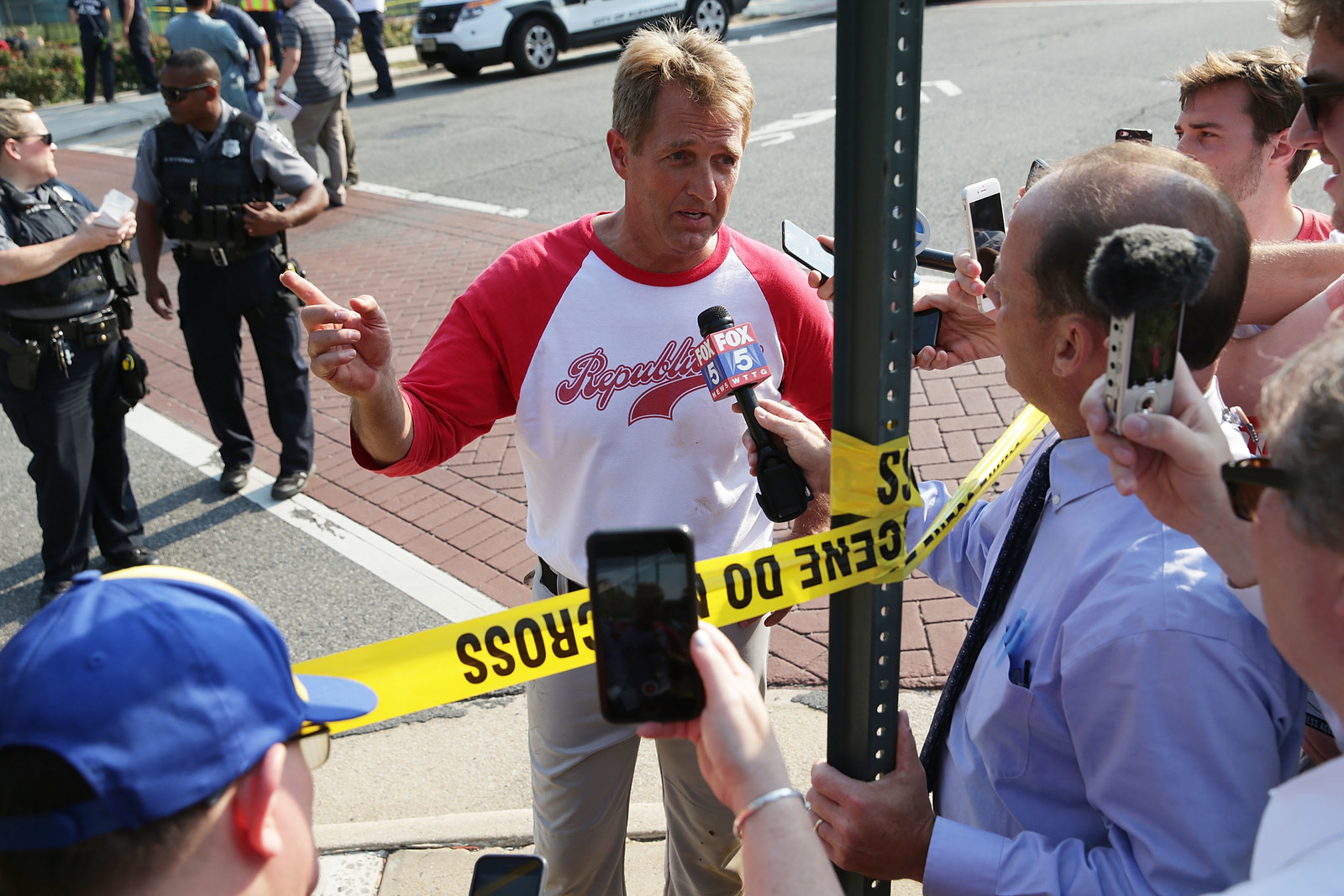 Rep. Mark Walker, the starting pitcher, said the shooter first shot at Mississippi Rep. Trent Kelly. "It's the grace of God that he missed Trent Kelly. He fired at Trent first at third base," Walker said.
Sen. Jeff Flake told reporters that Scalise was on second base when he was shot.
"We were doing batting practice, there were a number of members and staffers fielding," Flake said. "Steve was on second base and we heard a very loud shot. The gunman was by the third base dugout with a clear view of the field."
Flake said that Scalise "dragged himself about 15 yards off of there near second base on the field, laying motionless out there."
"But we couldn't get to him until the shooting stopped," Flake said. "After time, another staffer ran in with a leg wound. He was shot in the leg."
When medical personnel arrived, Flake retrieved Scalise's cell phone in order to call his colleague's wife, Flake's office said in a statement. "He did to ensure that Mrs. Scalise would not find out about the shooting through the media," his office said.
Flake said he believed the gunman had a "lot of ammo."

Dozens of shots were fired over several minutes, witnesses said. Flake said "50 shots would be an understatement."
In video provided to the New York Post by a bystander, dozens of shots can be heard ringing out. At one point, a man can be seen laying motionless on the field.

Senator Rand Paul told CNN that after 10 shots in a row quickly rang out, "Everybody was hitting the dirt."
"I saw Scalise go down at second base," Paul said, adding that at least 50 or 60 shots "had been fired from the shooter."

"I can tell you that I think with absolute certainty nobody would have survived without the Capitol Hill police," Paul said. "They saved everybody's life."
The Republican baseball team holds practice every morning at 6:30 a.m. ET at the Eugene Simpson Stadium Park in Alexandria, according to Rep. Williams.

Rep. Brad Wenstrup, a doctor by training and a veteran, told Fox News that once the shooting stopped he ran to administer first aid to Scalise.

"Ran out there with Senator Flake and began putting compression on the wound and checking him out, and doing what you call a sweep, checking for any other wounds," Wenstrup said.
"When the medics came we had better bandaging that we could put on the wound, and we kept him stable and made sure he was conscious and aware, and got him some hydration, and then stabilized him until the ambulance could come," Wenstrup said.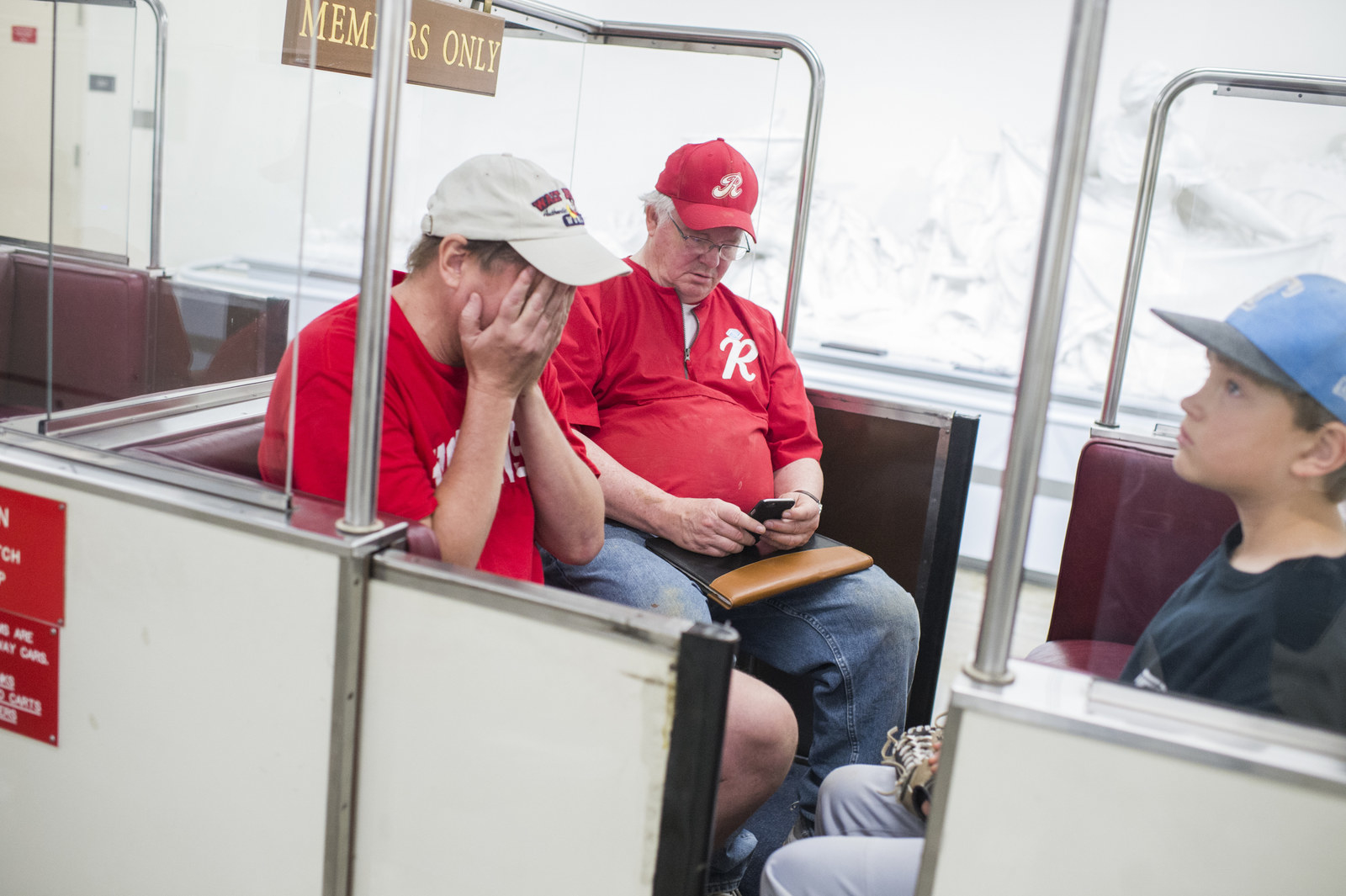 Rep. Mo Brooks said he was on deck when shots rang out from the first-base side. "I look around and behind third base in the third base dugout, I see a rifle," Brooks said. "And I see a little bit of a body and then I hear another bam and I realize there is an active shooter."
Brooks used his belt as a tourniquet to help the Williams staffer, who he said was shot in the leg.
Speaking to CNN, Brooks recounted hearing authorities return fire and feeling immense relief.
"It was rather startling, as you can imagine, to look up and there's a pistol being fired about five feet from your head. And the joy I felt knowing it was one of our guys — I'll never forget that guy," he said.
Rep. Rodney Davis, who was among those forced to seek cover during the shooting, said he first mistakenly believed Scalise had been killed by the gunman.
"It's my breaking point of civility in politics," Davis said. "When you go to baseball practice for a game for charity and you have to dodge bullets and you watch your colleagues lay in the field? Yeah. It's my breaking point. This has to stop. Hate has to stop."
In an address from the White House, President Trump praised law enforcement for its swift response.
"Many lives would have been lost if not for the heroic actions of the two Capitol police officers who took down the gunman despite sustaining gunshot wounds during a very, very brutal assault," he said.
Trump said he and the first lady were praying for all the victims.
"Congressman Scalise is a friend and a very good friend. He's a patriot and he's a fighter," Trump said. "He will recover from this assault and, Steve, I want you to know that you have the prayers not only of the entire city behind you, but of an entire nation and, frankly, the entire world."
Trump said he had spoken with Scalise's wife and pledged "full and absolute support."
"Everyone on that field is a public servant," Trump said.
"We may have our differences, but we do well in times like these to remember that everyone who serves in our nation's capitol is here because, above all, they love our country," the president said.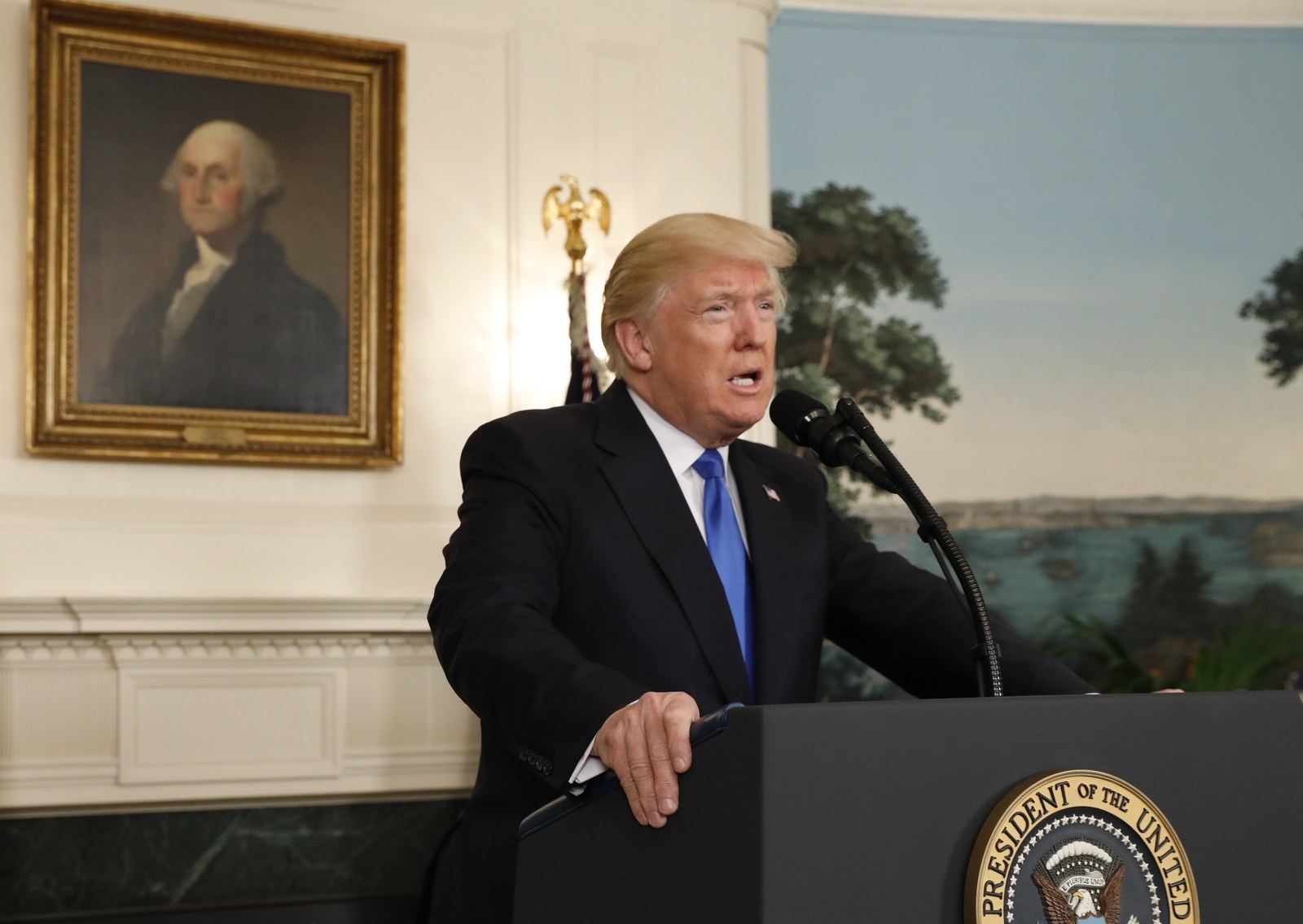 The first lady also offered her best wishes via Twitter. "Thank you to the first responders who rushed in to help protect those who were hurt in Alexandria, VA," she wrote. "My thoughts & prayers to everyone!"
Speaking on the Senate floor, Majority Leader Mitch McConnell expressed concern and sadness.
"We are deeply saddened. We are concerned for all those injured. We will keep them in our prayers, we will continue to send them every wish for a quick and full recovery."
McConnell, like many senators, also expressed gratitude to the Capitol Police and others who helped at the scene of the shooting.
In a statement, Sen. Sanders said he had been informed that the gunman volunteered on his presidential campaign. "I am sickened by this despicable act. Let me be clear as I can be. Violence of any kind is unacceptable in our society and I condemn this action in the strongest possible terms," Sanders said.
Scalise is the first sitting member of Congress to be shot since Rep. Gabby Giffords was targeted in an assassination attempt in 2011.

In a statement on Wednesday, Giffords called the shooting "an attack on all who serve and all who participate in our democracy."
"I also know the courage it takes to recover from a shooting like this, and I know Steve and everything there this morning have such courage in great supply," she said.
Alexis Levinson, Paul McLeod, Lissandra Villa, Emma Loop, Dan Vergano, Sarah Mimms, Ellie Hall, Mary Ann Georgantopoulos, and Lisa Tozzi contributed to this report.

This is a developing story, check back here and follow BuzzFeed News for updates.