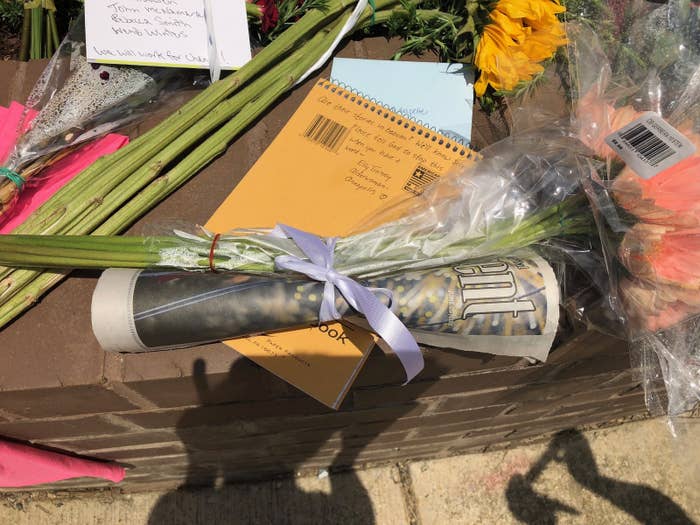 The woman the Capital Gazette shooter was convicted of stalking spoke out for the first time Monday about the torment he put her through for nearly a decade.
In an exclusive interview with NBC News, Lori, who asked that her full name and location be withheld, said that Jarrod Ramos terrorized her for so long that the whole thing had changed her.
"I have been tormented and traumatized and terrorized for so long that it has, I think, changed the fiber of my being," she told NBC News' Catie Beck.
She said that the harassment was so bad that she feared "he could show up anywhere, at any time, and kill me."
Last Thursday, Ramos opened fire in the Annapolis, Maryland, offices of the Capital Gazette newspaper, killing five people and injuring two others.
Authorities say that Ramos harbored a grudge against the newspaper after it published a column about his harassment of a former classmate and his subsequent guilty plea to criminal harassment.
After the Capital Gazette published the column about him, Ramos sued columnist Eric Hartley for defamation, with Capital Gazette Communications and the paper's then-editor and publisher, Tom Marquardt, as defendants. The suit was later dismissed by the courts, but Ramos continued to harass the newspaper on social media for years.
Lori said that the whole thing started in 2009 when Ramos reached out to her by email, asking if she remembered him from high school.
She said that the correspondence continued on and off, but if she didn't reply fast enough, he'd send threatening messages.
"He said, 'F you, go kill yourself, you're going to need a protective order,'" she recalled.
Lori described Ramos, saying that "he is very cold, he is very calculated, he is very intelligent."
Even involving the police didn't stop the harassment he was waging against her. She eventually had to move out of state to get away from him, and she has never stopped being afraid.
"One thing that I do feel now is that he can no longer silence me," Lori said.