Berkeley Balcony Collapse That Killed 6 Students "Likely" Caused By Rot
A wooden beam balcony "more than likely" collapsed off a Berkeley apartment building early Tuesday because of rot caused by water damage, the city's mayor said. Five of the students killed were visiting from Ireland.
The balcony collapse early Tuesday in Berkeley, California, that killed six college students — five of whom were visiting from Ireland — was likely caused by rotted wooden support beams, the city's mayor said Wednesday.
The collapse from the fourth floor shortly before 1 a.m. Tuesday during a 21st birthday party sent 13 people crashing roughly 50 feet onto Kittredge Street below. In addition to the six killed, several others were severely injured.
Pictures show that the balcony had completely detached, coming to rest on the balcony for the floor below. The Library Gardens apartment complex, which has retail space on the ground floor and apartments above, was completed in 2007 and is located just blocks from University of California, Berkeley.
The balcony, however, had no additional support, making it more vulnerable to dry rot and weathering, Grace Kang, a structural engineer and spokesperson for Pacific Earthquake Engineering Research Center at Berkeley, told the AP.
At a news conference Wednesday, Berkeley Mayor Tom Bates said water damage from rain to the wooden beams of the balcony was "more than likely" the cause of the collapse.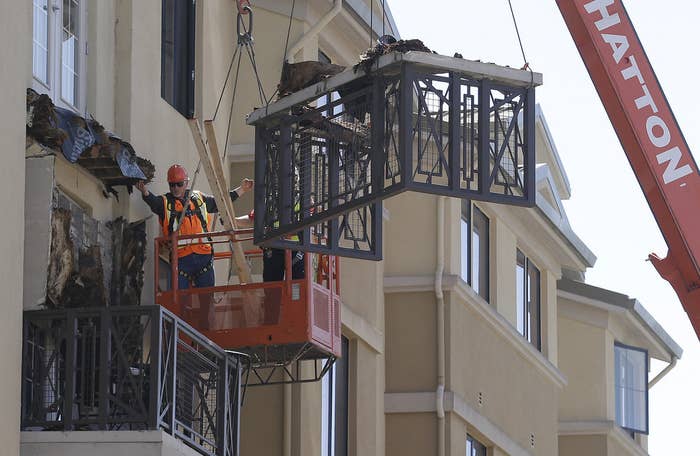 Alameda County sheriff's officials on Tuesday identified the Irish students as Oliva Burke, Eoghan Culligan, Niccolai Schuster, Lorcan Miller, and Eimear Walsh — all of them 21. Ashley Donohoe, 22, of Sonoma County, was also killed.
The death of so many Irish students, who were in the Bay Area on temporary work visas, was treated as a national tragedy in Ireland.
Philip Grant, consul general of Ireland to Western United States, said his nation was in a state of shock and mourning.
"It's been a very traumatic time for us," he said, adding that given Ireland's relatively small size, "when you have the kind of numbers that you have here today, very few of us have been left untouched."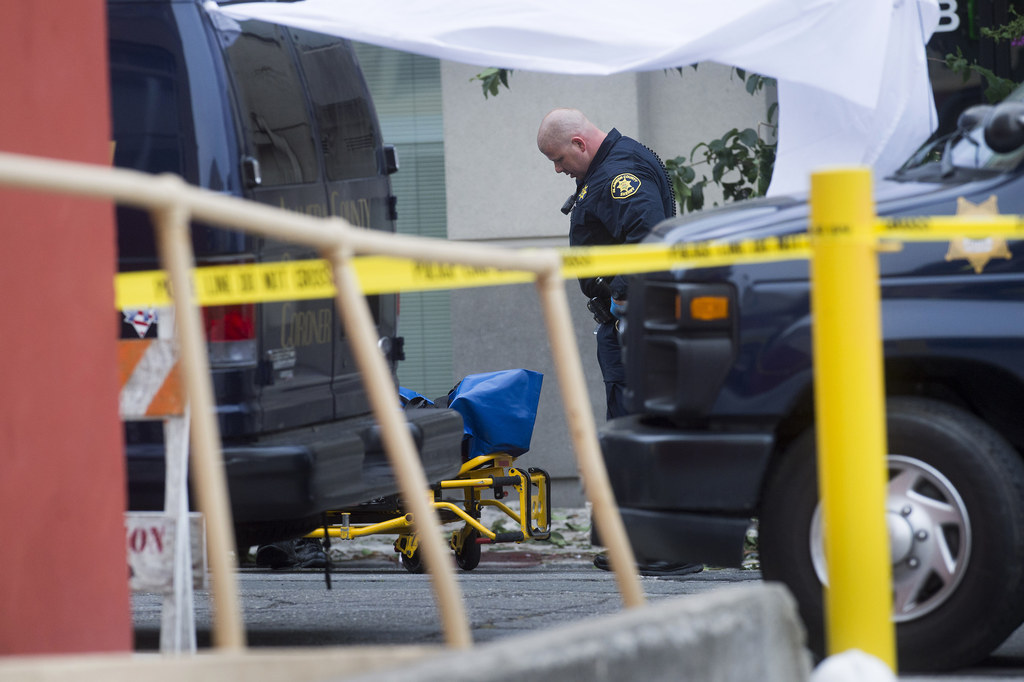 Grant said hundreds of Irish students flood the Bay Area each summer to take part in the exchange summer work program.
"To have this happen at the start of this season is something that has left us all frozen in shock and in disbelief," he said.
Family members of the students who died or were injured in the collapse start arriving in the Bay Area Tuesday night.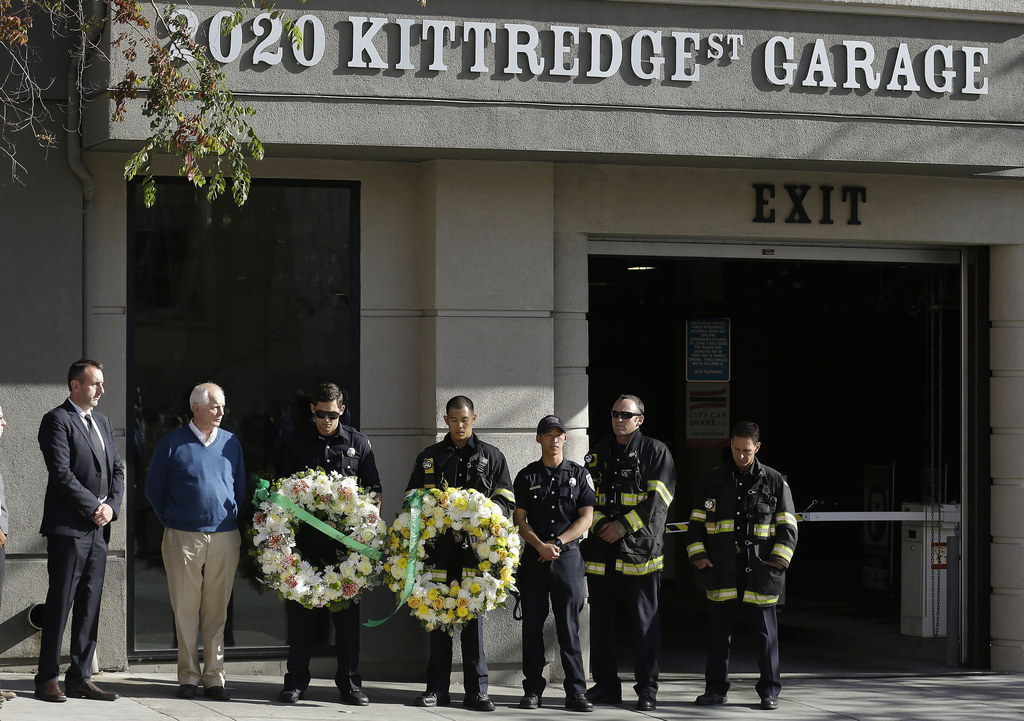 Irish Foreign Minister Charles Flanagan said in a statement expressing his deep sympathy for the families affected by the "appalling incident."
"My heart goes out to the families and loved ones of the deceased and those who have been injured in this appalling accident," Flanagan said.
The Irish consul general in San Francisco was continuing to provide assistance to those affected, representatives said.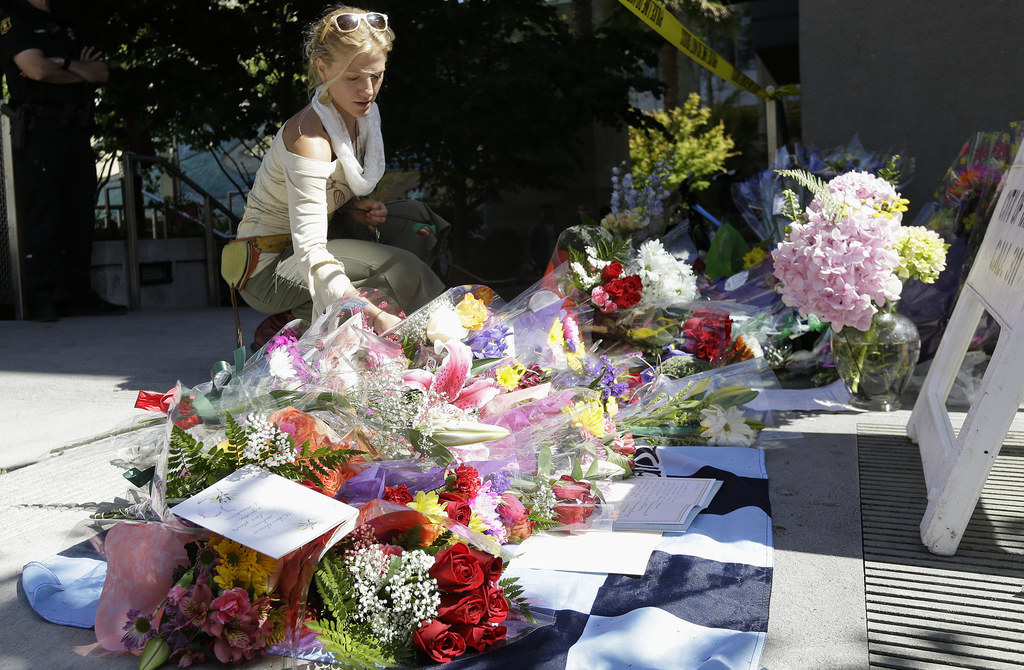 The Associated Press reported more details about the students killed in the collapse as they started to emerge Wednesday:
Olivia Burke, 21: She was expected to start her final year of a degree in entrepreneurship and management at the Dun Laoghaire Institute of Art, Design and Technology in September.

Eoghan Culligan, 21: He had finished his third year at the Dublin Institute of Technology, where he was studying logistics and supply chain management. He also played Gaelic football the Ballyboden St. Enda club.

Ashley Donohue, 22: She was Burke's first cousin and a student at Sonoma State University, north of San Francisco.

Lorcan Miller, 21: He was studying medicine at University College Dublin and played on the school's hockey team.

Niccolai Schuster, 21: He was studying at University College Dublin after attending St. Mary's College near the Irish capital.

Eimear Walsh, 21: She was a medical student at University College Dublin and had been a high school classmate of Burke's at Loreto College in south Dublin.