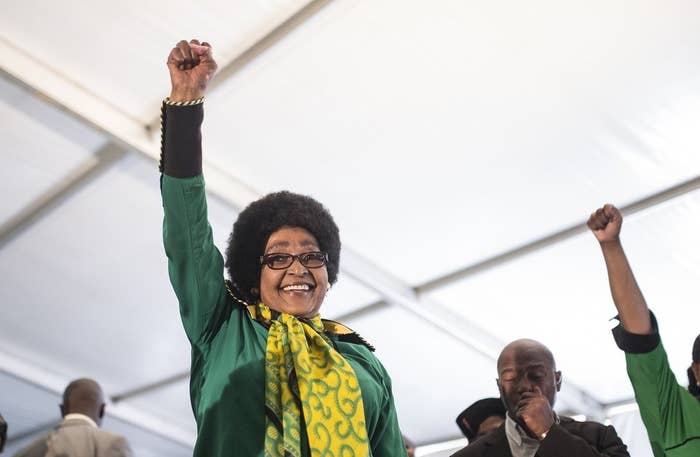 Winnie Madikizela-Mandela, the second wife of former South African president Nelson Mandela, died on Monday, her personal assistant has confirmed. She was 81.

Her family is expected to release a statement later in the day.
Madikizela-Mandela's legacy as one of most central figures in the anti-apartheid movement was tarnished by a series of scandals as her relationship with Mandela crumbled after 38 years of marriage.
Born Nomzamo Winifred Zanyiwe Madikizela on Sept. 26, 1936, the daughter of a history teacher moved to Johannesburg in 1953 to study social work. A few years later, she met Mandela, and by 1958, they were married.

Through her activism against minority-white rule in South Africa, she came to be known popularly as "mother of the nation," particularly for her work during the 27 years Mandela was imprisoned. During that time, she spent more than a year in jail and lived under extremely controlled conditions — unable to speak out, travel, or meet with other activists — between 1977 and 1985.
Shortly after her husband's release in 1990, Madikizela-Mandela's political trajectory took a downturn when she was convicted in 1991 of kidnapping and being an accessory to assault in connection with the death of a 15-year-old township boy at the hands of her chief bodyguard. She was originally sentenced to six years in prison, but that was later reduced to a fine.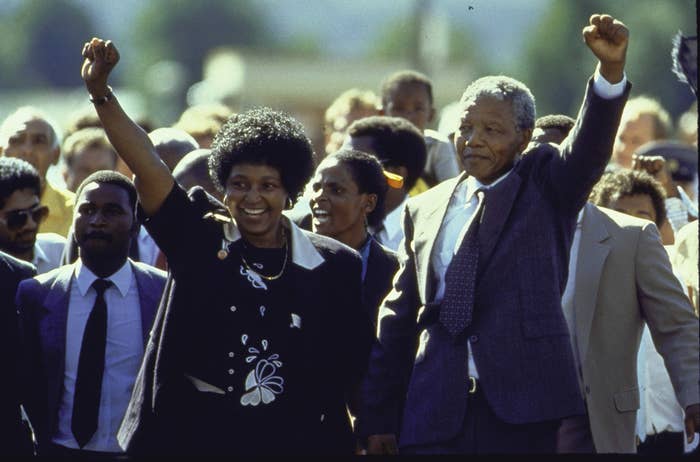 The Mandelas separated soon after the ruling, and eventually divorced in 1996. In the years that followed, Madikizela-Mandela's life would be a mix of stumbles and comebacks.
She reemerged in politics in 1993 when she was elected president of the African National Congress Women's League. The following year, she was elected to Parliament, after which her estranged husband appointed her deputy minister of arts, culture, science, and technology.
But it wasn't without danger. The year she was elected, a gunman opened fire on her car. She escaped unharmed, but a bodyguard was killed in the attack.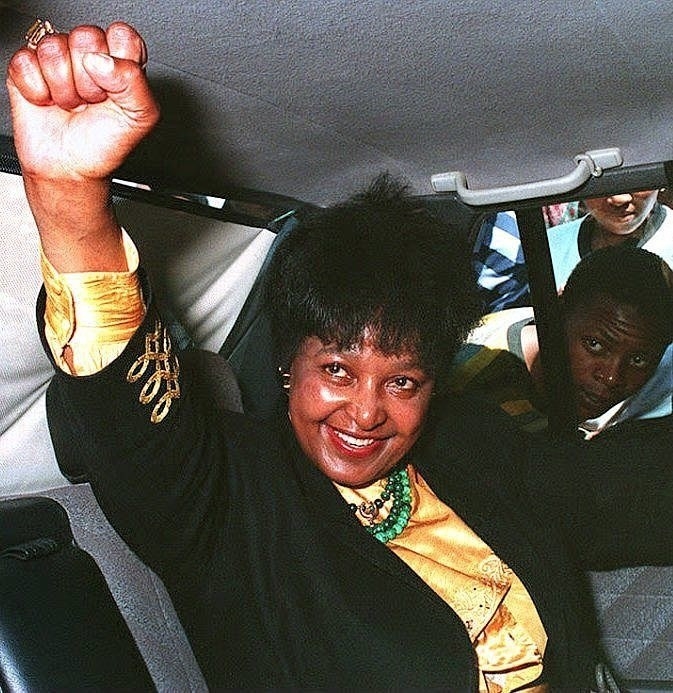 However, Mandela removed her from the post amid accusations in a 1998 report by the South African Truth and Reconciliation Commission that she had been responsible for the kidnapping, torture, and deaths of multiple people, using the Mandela United Football Club, which served as her private security.
But Madikizela-Mandela vigorously denied the charges and was reelected to Parliament in 1999. However, scandal struck again four years later, when she was convicted of taking part in a scheme to steal more than $100,000 from false bank loans and funeral policies issued to mostly poor people.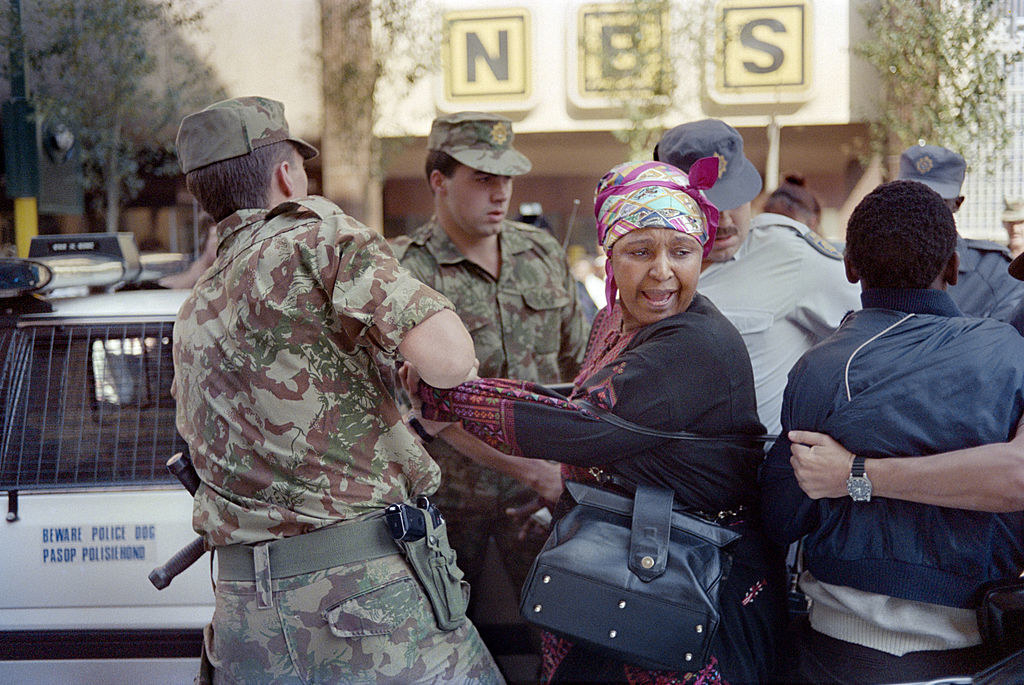 In a nod to just how much of a lion Madikizela-Mandela had been in shaping South Africa's destiny — and how politically damaging the conviction could be — the judge, Peet Johnson, issued an exhaustive explanation of his ruling, the New York Times reported.
"Only a fool would underplay the important role you have played in this country,'' Johnson reportedly said during the hearing, before adding: "Somewhere, it seems, something went wrong."
Madikizela-Mandela was sentenced to four years in prison, and she resigned her seat in Parliament. Although part of her conviction was eventually overturned on appeal after a court determined she had not gained personally from the scheme, she maintained a low profile.
''I intend to spend my time henceforth to do the work that I started in my early life and to bind my destiny with everyone with whom I share the ideals of a just South Africa,'' she said in a statement after the conviction.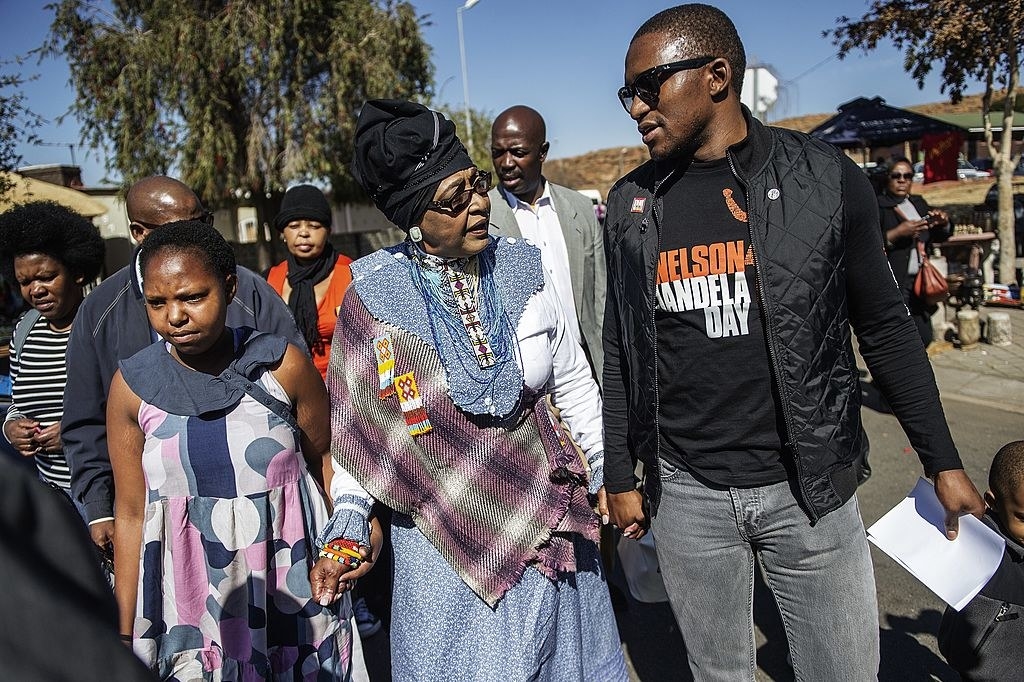 Controversy found her again, though, after the Evening Standard published an interview in which she was quoted as criticizing Mandela for everything from letting black people down to accepting his Nobel Peace Prize with his jailer.
"Mandela let us down. He agreed to a bad deal for the blacks," she was quoted as saying.

Soon after the article ran, generating a fresh round of controversy back home, she denied giving the interview.