4 Students Shot Near Portland High School; Person Of Interest Arrested
Of the four students were shot Friday outside Rosemary Anderson High School, three were hospitalized.The shooting is believed to be gang-related, police say.
Updated — Dec. 13, 7:25 p.m. ET: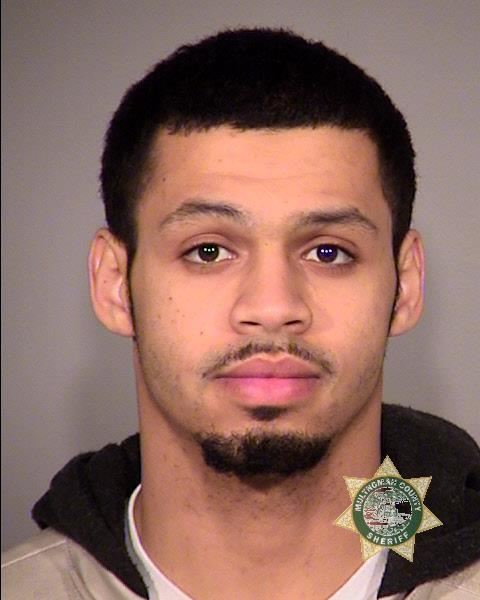 Portland police on Saturday said they arrested a person of interest in connection with a shooting that injured four teenagers near a high school.
Lonzo Murphy, 22, was booked into the Multnomah County Jail early Saturday after he was arrested on an alleged parole violation. Additional charges are pending, even as police continue their search for two other men believed to be involved in the shooting, which occurred Friday near Rosemary Anderson High School.
After Murphy was pulled over at North Interstate Avenue and Going Street at 1:30 a.m. Satuday, Portland police said officers found a handgun in his vehicle.
Roughly a half hour later, police served a search warrant at an apartment located in the 200 block of North Killingsworth Street, about five blocks from the shooting.
Police said the handgun found in Murphy's vehicle was "consistent" with the one investigators believe was used in Friday's shooting, The Oregonian reported.
The investigation, which remained ongoing, had only reinforced earlier beliefs that the shooting was gang-related, police said.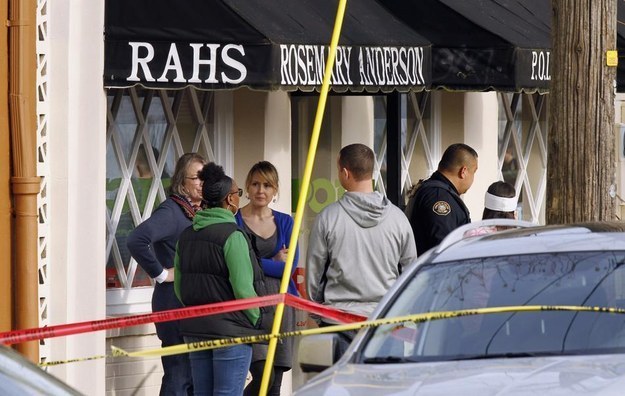 One teen was hosptalized in critical condition Friday afternoon, while two others were in serious condition, police said.
Speaking to reporters hours after the shooting occurred, Portland police said four teens in total had been injured in the gunfire.
One of the teens, a 19-year-old girl, was grazed with a bullet on her foot and was treated and released at the scene, Portland Sgt. Pete Simpson said.
Meanwhile, a 16-year-old girl was in critical condition, and two males, aged 17 and 20, were listed in serious condition at Legacy Emanuel Health Center, Simpson said.
All of the victims were associated with Rosemary Anderson High School.
Oliviann Danley, 16, told The Oregonian she saw a boy run into the school, holding his coat open and yell "Oh my god, did I just get shot?"
Another student, 17-year-old Sierra Smith, told the paper she was in class when the shooting occurred and later saw a bloody scene inside the school as one of the male victims sought assistance.
"He was laying on the ground," Sierra said. "He had blood coming out of his stomach."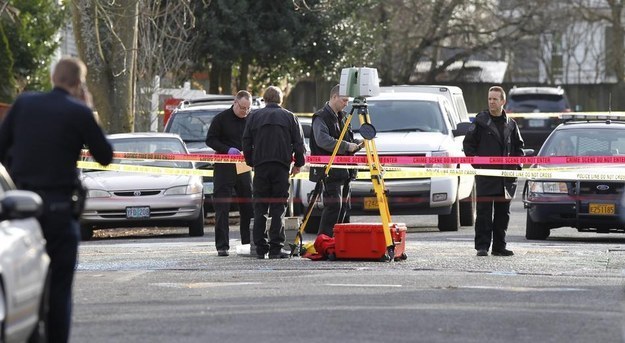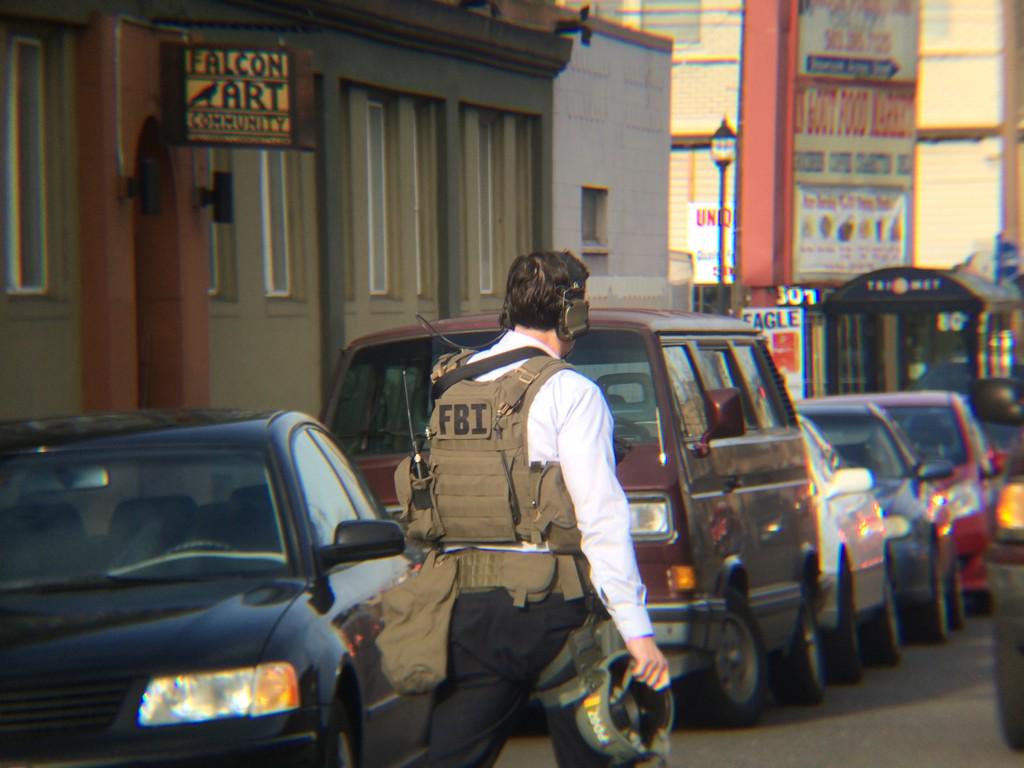 The shooting may be gang-affiliated, investigators said, describing the shooter as a male in his teens or early 20s.
He was accompanied by two other men and fled on foot after opening fire, police said.
Witnesses told authorities there was a dispute outside the high school right before the shooting.
"We're still trying to get to the bottom of this to determine what the dispute was about," Simpson said. "We don't know if the victims were the subject of the dispute or not."
Rosemary Anderson High School serves at-risk students who have been expelled or dropped out of other public high schools. The school enrolls up to 190 students annually at the campus on North Killingsworth Court, according to its website.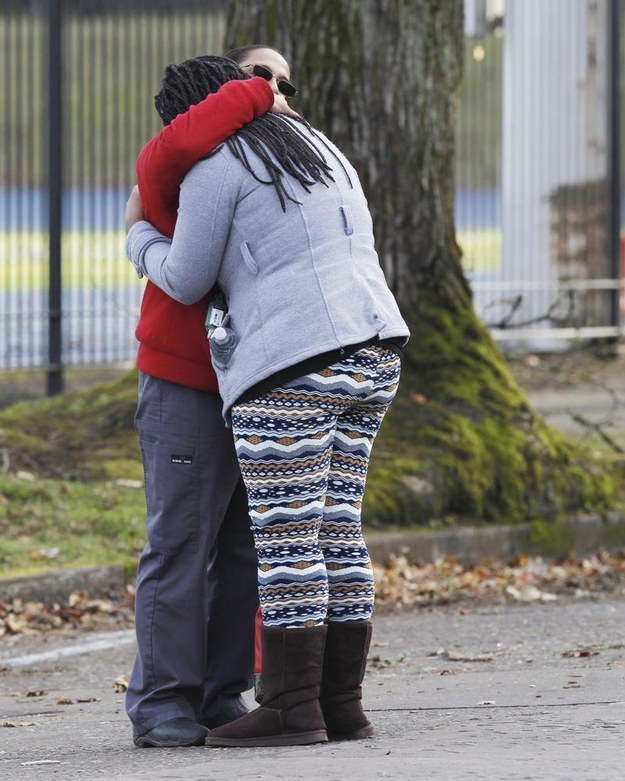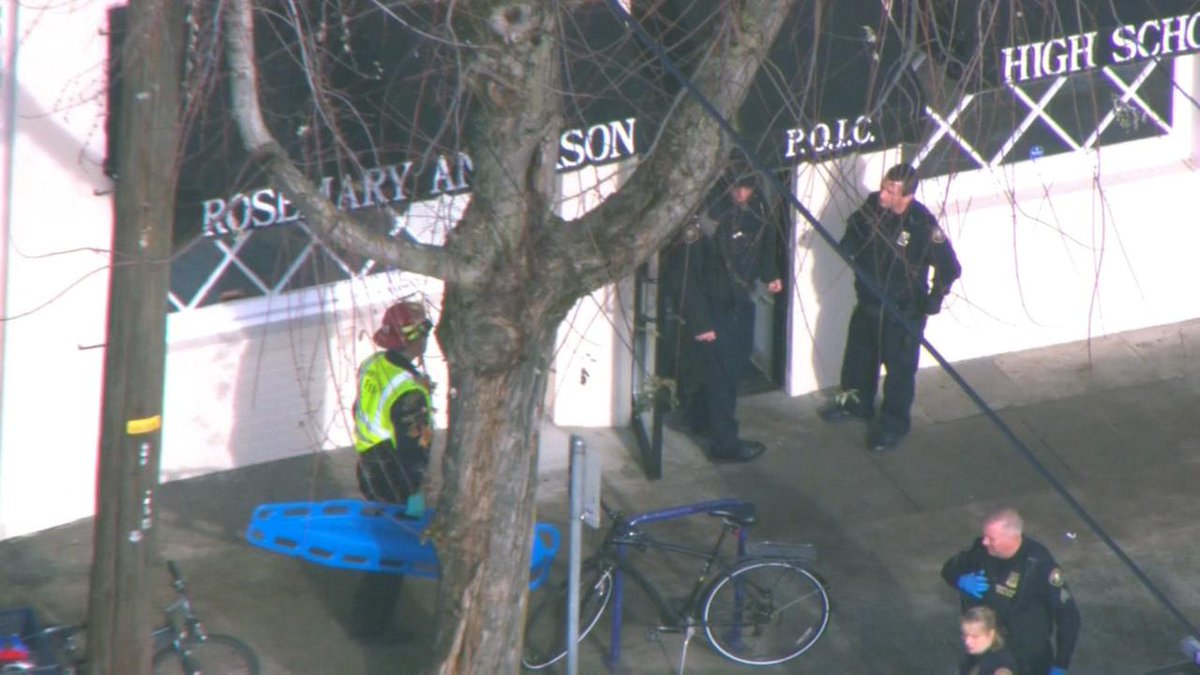 As the search continued into the evening, police stressed that they did not consider an active shooter situation.
"Anytime you have a shooter who's gone, that's a concern for us," Simpson said earlier in the day. However, "there doesn't appear to be an active shooter running around shooting people."
He added that it did not appear that the shooter was ever on school grounds.
Jefferson High School and a community college are also near where the shooting occurred.
Parents were called to the scene to pick up their students throughout the day as police continued their investigation.