A 17-Year-Old Allegedly Enrolled In Sixth Grade To Recruit Child Porn Victims
The teen was allegedly engaged in a sexual relationship with a 28-year-old man in Fort Worth, Texas, who was also arrested.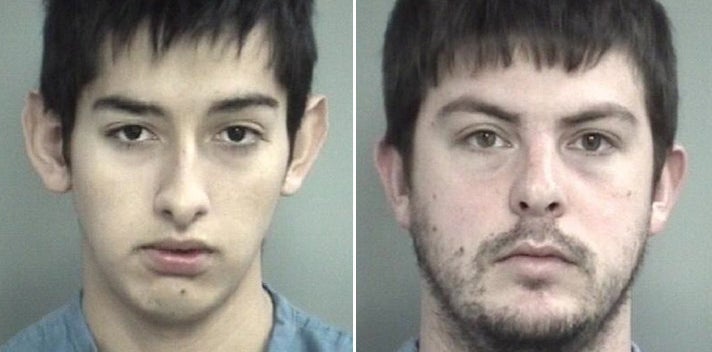 Ricardo Javid Lugo ( left) and Randy Ray Wesson (right) were arrested this week on child porn charges. Police say Ricardo posed as a sixth-grader at a local elementary school to target potential victims.
A 17-year-old boy has been arrested on suspicion of posing as a sixth-grader at an elementary school in Texas, where he allegedly tried to recruit child porn victims.
Officials took Ricardo Javid Lugo into custody while he was attending class at Hurst Hills Elementary School, police said. The man he was allegedly working with, 28-year-old Randy Ray Wesson, was arrested at his home in nearby Fort Worth, where authorities said they discovered a large amount of child pornography.
According to Ricardo's arrest affidavit obtained by local NBC affiliate, KXAS-TV, detectives said Wesson told investigators they would find roughly "42,000 child pornography images on his computer, thumb drive, phone and SD cards." Wesson also allegedly admitted to sexually abusing more than 100 children between the ages of 7 and 14.
The arrests shocked school administrators and parents, who questioned how a 17-year-old was able to enroll in an elementary school and go unnoticed as a sixth-grader for roughly three months.
Parent: Are there more kids involved? Who did this child, this 17-year-old kid, who did he influence?
"It's kind of scary," Wale Aridegbe, whose second-grade son attends Hurst Hills, told KXAS-TV. "I'm still trying to wrap my head around it."
The Hurst-Euless-Bedford School District released a statement to local media defending its actions regarding Ricardo's enrollment, saying there was "no indication" Ricardo's records were forged or that he was too old to attend elementary school. His behavior at school also "did not raise any concerns," the district said.
Wesson allegedly used social media to lure Ricardo, an American, from his family home in Mexico to El Paso, Texas, where he picked the teen up. Wesson allegedly told investigators that the two were engaged in a sexual relationship, KXAS-TV reported.
According to Hurst Hills police, Wesson then enrolled Ricardo as a 12-year-old at Hurst Hills Elementary using forged paperwork. While at school, the teen allegedly used a cell phone to communicate with Wesson about his classmates, conversations authorities say were intended to target potential victims.
They were eventually caught based on a tip from the National Center for Missing and Exploited Children, Hills Hurst police said.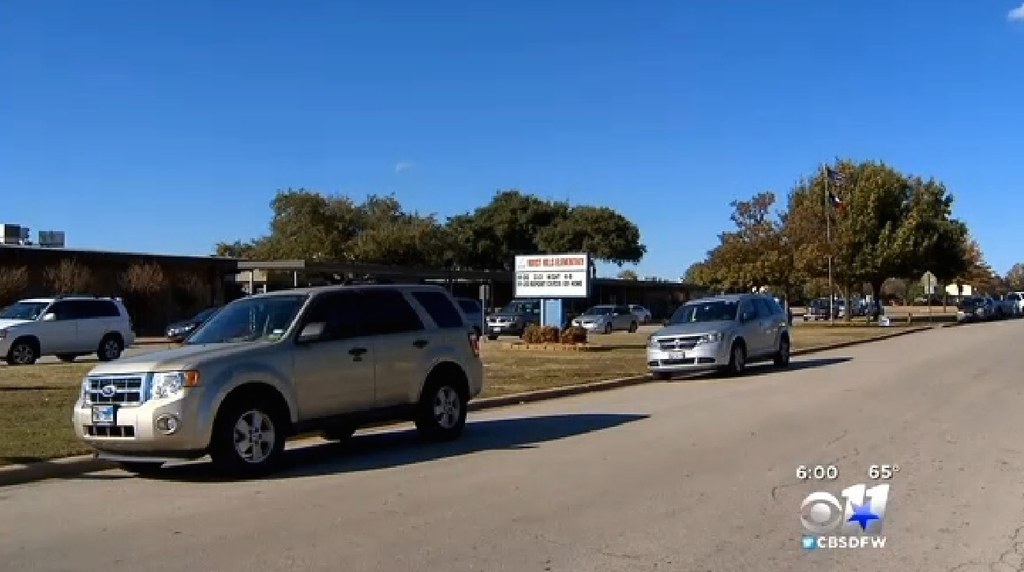 Since the arrests, district officials have been communicating with school parents, some of who told reporters that many questions remain.
"Are there more kids involved? How widespread is this?" one parent, Danny Scott, told the local CBS affiliate. "Who did this child, this 17-year-old kid, who did he influence?"
Wesson faces a number of charges, including possession with intent to promote child pornography, sale/display of harmful material, and tampering with governmental records. He was transferred to federal custody in lieu of $3 million bail, according to police.
Ricardo, who remains in the custody of child protective services, faces one charge of possessing child pornography. He was booked on $250,000 bail, police said.
Hurst Hills investigators, meanwhile, said they expect to find additional victims in the region as they continue their investigation. They encouraged anyone with information in the case to contact Hills Hurst police at (817) 788-7146.