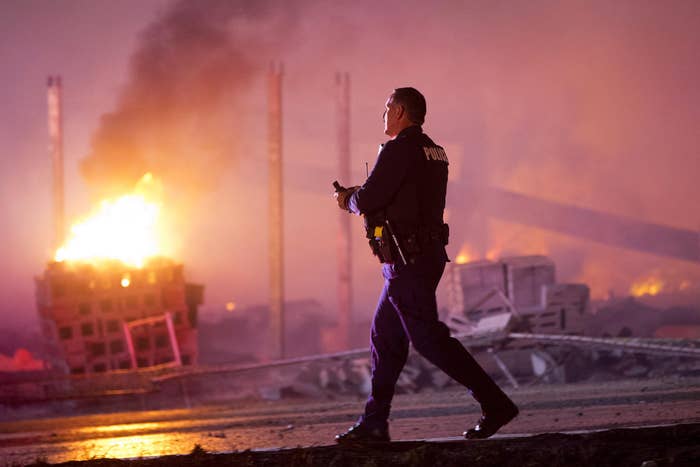 What We Know So Far
Violence erupted in Baltimore on Monday following the funeral of Freddie Gray.
Maryland Gov. Larry Hogan declared state of emergency, activating the National Guard.
Armored National Guard vehicles started arriving in the city overnight.
City officials are imposing a weeklong curfew from 10 p.m. to 5 a.m. starting Tuesday.
At least 15 police officers were injured, some of them seriously, as demonstrators threw rocks and bricks.
Several businesses were looted, including a CVS, which caught fire.
The Baltimore Orioles canceled tonight's game versus the Chicago White Sox.
Police warned that tear gas and pepper spray would be deployed to disperse crowds.
A car was set on fire at 25th Street and Barclay Street, some two miles east of the center of the night's violence.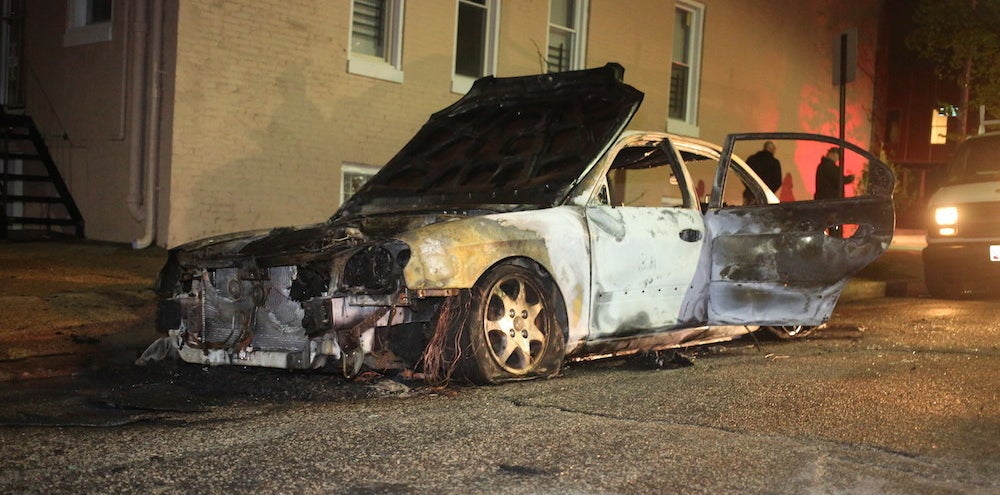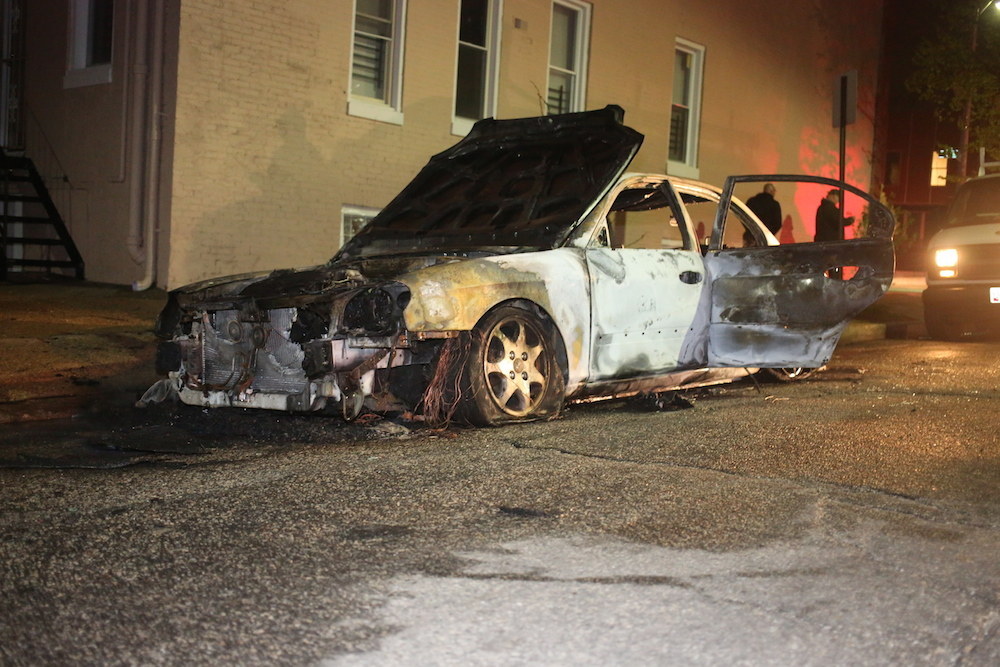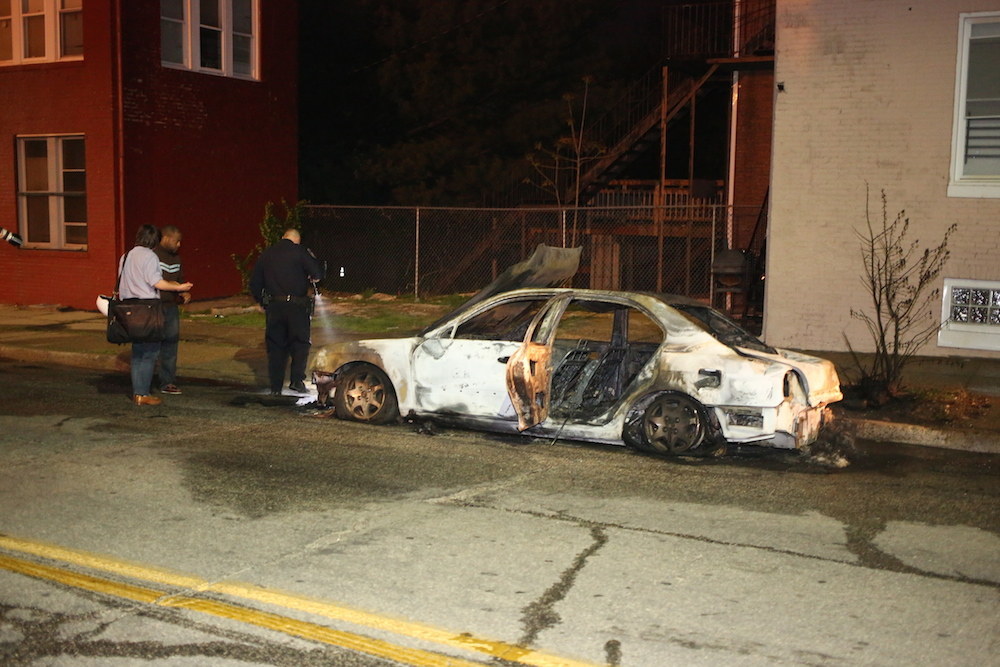 The Baltimore Sun released an image of its front page on Tuesday, highlighting a day of mourning, rage, and destruction.
Armored vehicles started arriving in Baltimore overnight Monday as fires continued to erupt amid the unrest.
The added resources came as firefighters were also apparently being attacked while responding to the fires.
Freddie Gray's mother, attorney appeared with local clergy members Monday to lend her voice to a growing chorus of those appealing for calm.
Gloria Darden, left, mother of Freddie Gray, appeared with family attorney Billy Murphy and local clergy members for a news conference Monday in which they appealed for looters to put an end to the violence.
The rioting erupted mere hours after Gray's funeral service. His family had called for there to be no demonstrations in Baltimore on Monday, let alone violence or looting.
"I don't agree with this," Frederick Gray, Freddie's twin sister, told reporters at the New Shiloh Baptist Church, where her brother's funeral took place earlier in the day.
Speaking after Gray's family, Murphy told reporters that the Baltimore Police Department's statement that members of several rival gangs had teamed together to "take out" police officers was a lie that would "divide the city."
"The police is supposed to put out correct information, instead of freaking out the people of Baltimore," Murphy told BuzzFeed News on the sidelines of the conference. "Do you know how many businesses closed today because of that bogus information?"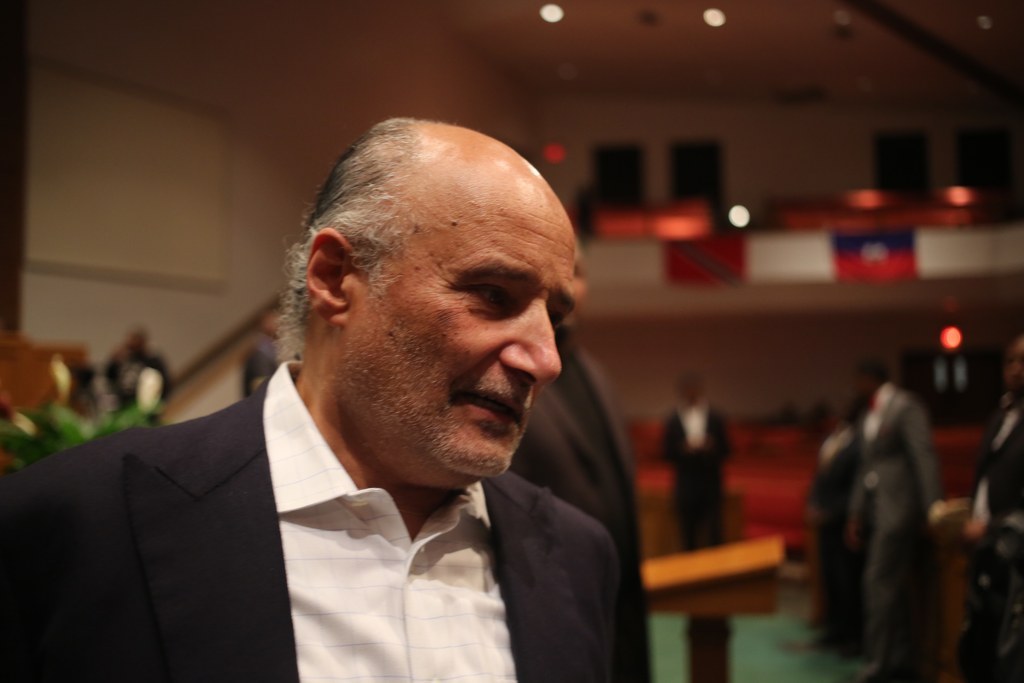 Murphy indicated that members of the Bloods and Crips gangs were present at the press conference to make a show of unity and demonstrate their opposition to the night's violence.
"This is about black men standing up and owning their part of the problem," Murphy said.
Earlier in the day, the Baltimore Police Department did not respond to questions asking about the origins and credibility of the alleged threat.
At the close of the conference, Murphy asked those in attendance to raise their hands if they had ever been a victim of police brutality. Nearly all of the members of the mostly black audience raised their hand.
"This isn't an isolated incident," Murphy said, comparing the relationship between Baltimore's black community and the police to a "bad marriage."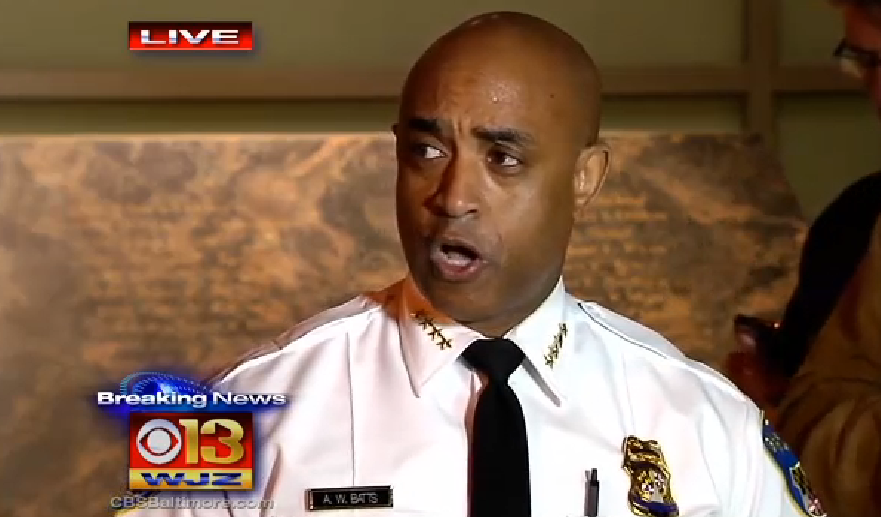 With rioters continuing to wreak havoc across Baltimore Monday night, Police Commissioner Anthony Batts said he was disappointed "by what has happened to our beautiful city" and vowed to bring it under control.
"This is not protesting," he said, saying many of the rioters would have to live for months with "the same stores they tore apart" on Monday.
He said the destruction had been set off earlier in the day by groups of high school students who had planned to gather at a mall for a so-called purge — a reference to a period of lawlessness.
Despite staging hundreds of officers in advance as a precaution, Batts said the students "outnumbered us and outflanked us."
"They thought it was cute to throw cinder blocks at police officers and address it that way," Batts said.
The influx of National Guard and other resources would prove key in turning the tide, he added.
Batts ended his news conference by appealing for parents to step in and help bring the city under control.
"Take control of your kids, this is our city," Batts said.
Earlier in the evening, Baltimore Mayor Stephanie Rawlings-Blake called the destruction "extremely heartbreaking."
"I understand anger," she told reporters at the scene of a massive fire. "But what we're seeing here isn't anger, it's destruction of a community."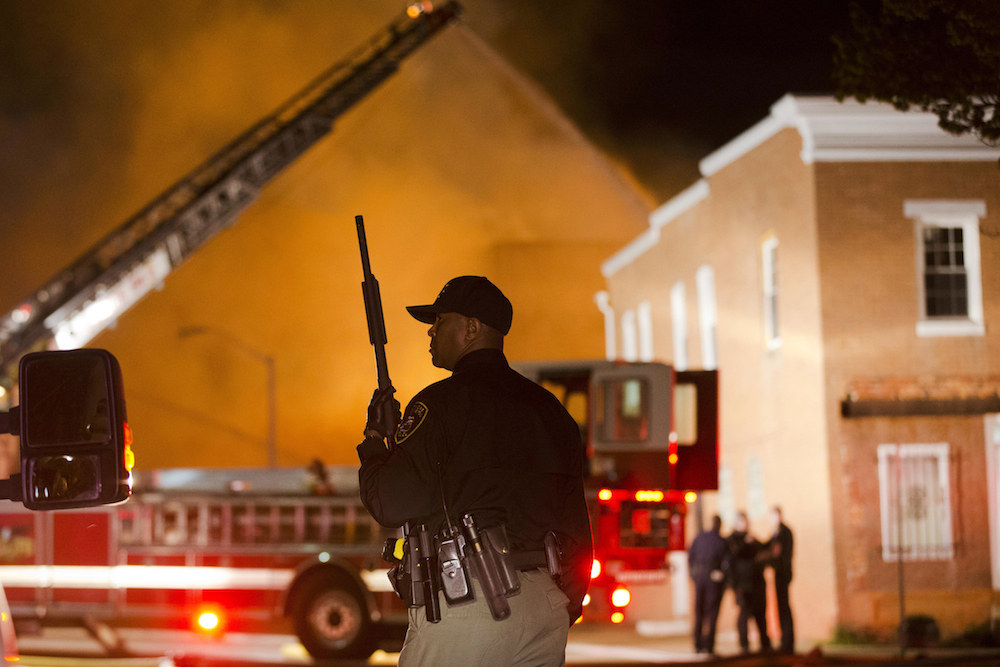 Baltimore City Public Schools announced that classes were canceled for Tuesday, citing the unrest.
The decision came hours after the school system said it would have grief counselors and other services available for students when they return to the classrooms.
Canceling school was met with mixed reaction on social media, with critics pointing out that it could lead to a lot of unsupervised teenagers tomorrow when their parents go to work. And that, critics say, could exacerbate the unrest.
Small groups of looters, meanwhile, continued to roll through the city Monday night, according to police.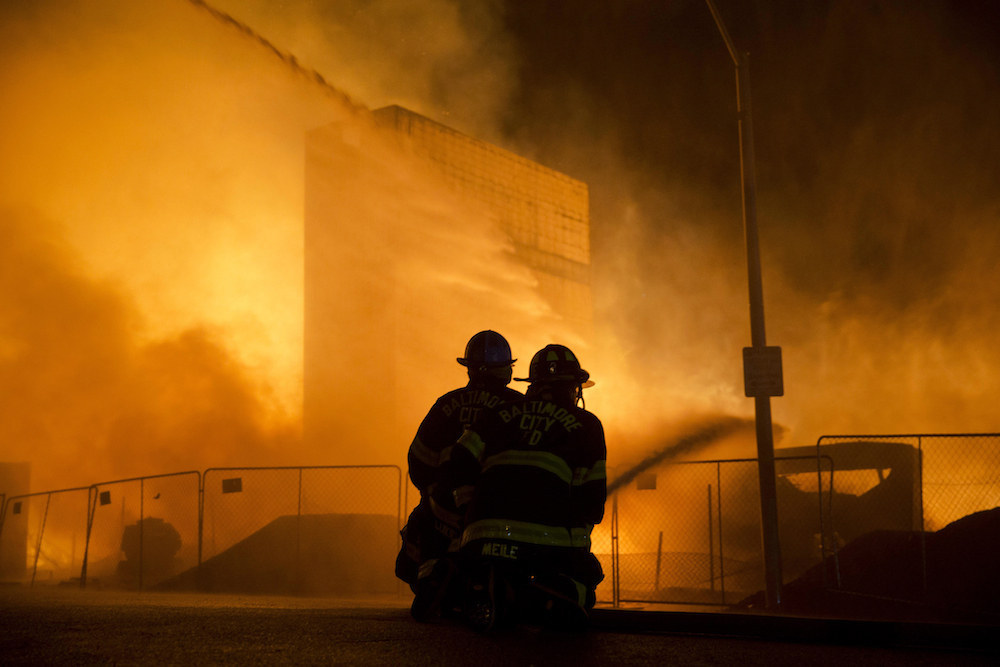 Aerial news footage showed at least four blazes, including one car that was engulfed in flames.
The Associated Press reported that authorities believe the fires are related to the day of unrest that have gripped Baltimore for much of the day.
At three alarms, the largest fire had consumed a building near North Gay and Federal streets, according to police.
TheBaltimore Sun reported that the building was owned by a church that was spending $16 million to build affordable senior housing and a community center.
It was unclear how the fires were sparked.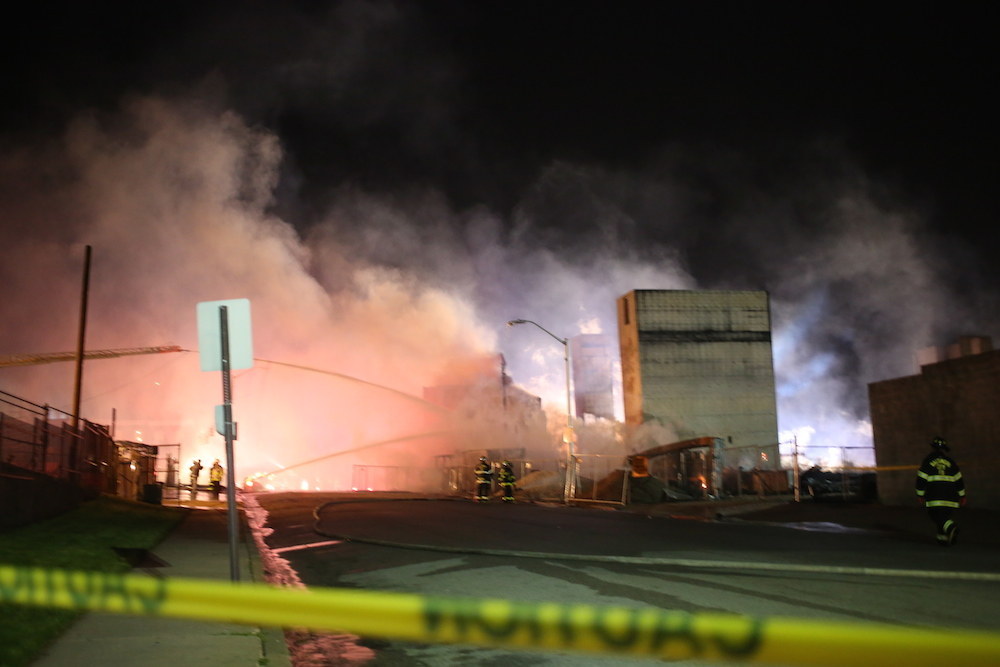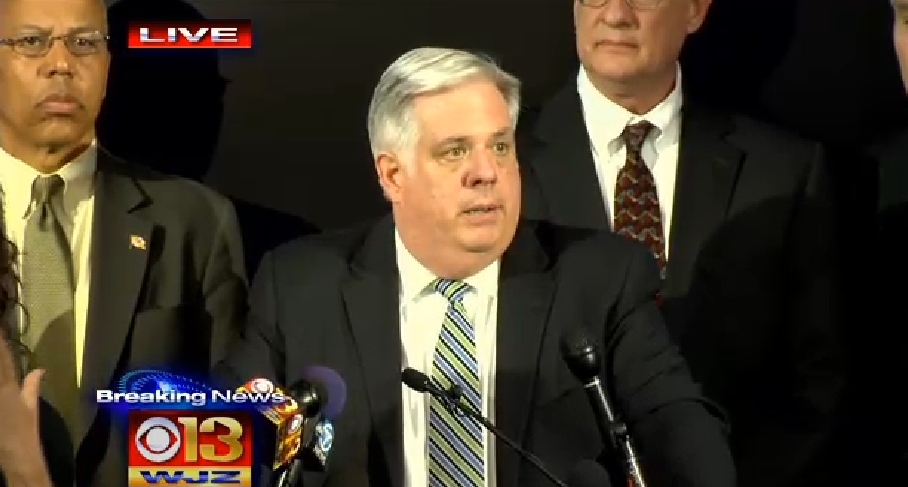 Maryland Gov. Larry Hogan condemned the looting and violence in Baltimore on Monday, saying he did not take the decision to activate the National Guard lightly.
He acknowledged that activating the National Guard after declaring a state of emergency represented a last line of defense, but said that "Baltimore city families deserve peace and safety in the community."
Hogan said he signed the emergency order almost immediately after Baltimore Mayor Stephanie Rawlings-Blake requested aid.
State officials said they would be coordinating with Baltimore to deliver a "full court press" against the roving violence and destruction that consumed the city Monday.
National Guard troops, who will be armed, will be patrolling city streets in armored Humvees in the coming days in a supporting role to the police department. Up to 5,000 troops are at the state's disposal.
"We're just happy that we're all on the same page and are all going to help each other at this point," Hogan said.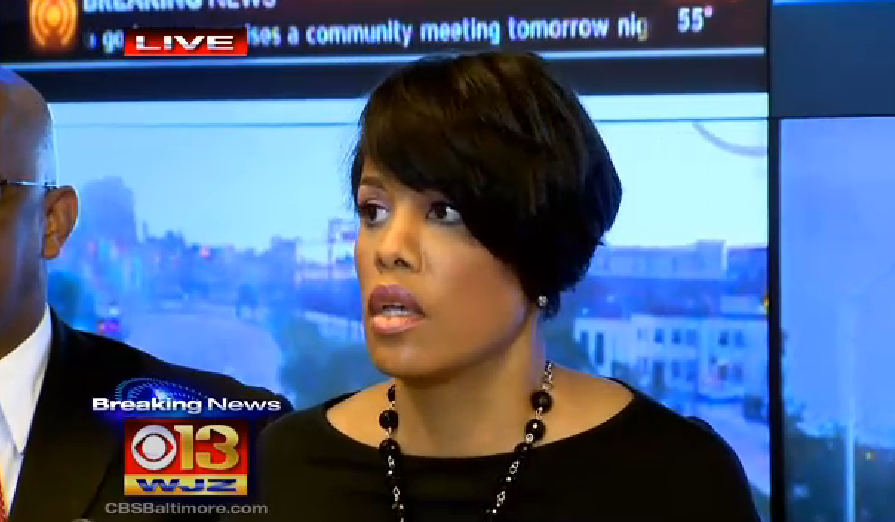 Baltimore Mayor Stephanie Rawlings-Blake instituted a weeklong curfew from 10 p.m. to 5 a.m. starting Tuesday, she announced Monday.
She also said that the Maryland National Guard would be deployed to the city as police officials struggle to regain control of areas of Baltimore that have been targeted by looters and violent demonstrators who have clashed with officers.
Rawlings-Blake rebuked "thugs, who only want to incite violence and destroy our city" with acts of violence and vandalism "that we know will impact our community for years."
"We are deploying every resource possible to regain control of the situation and regain peace moving forward," she said.
As of Monday evening, 15 police officers had been injured. Of those, two remained hospitalized. There had also been 27 arrests made, police said.
Officials also planned to use a bevy of images captured and shared on social media in the coming days to make more arrests.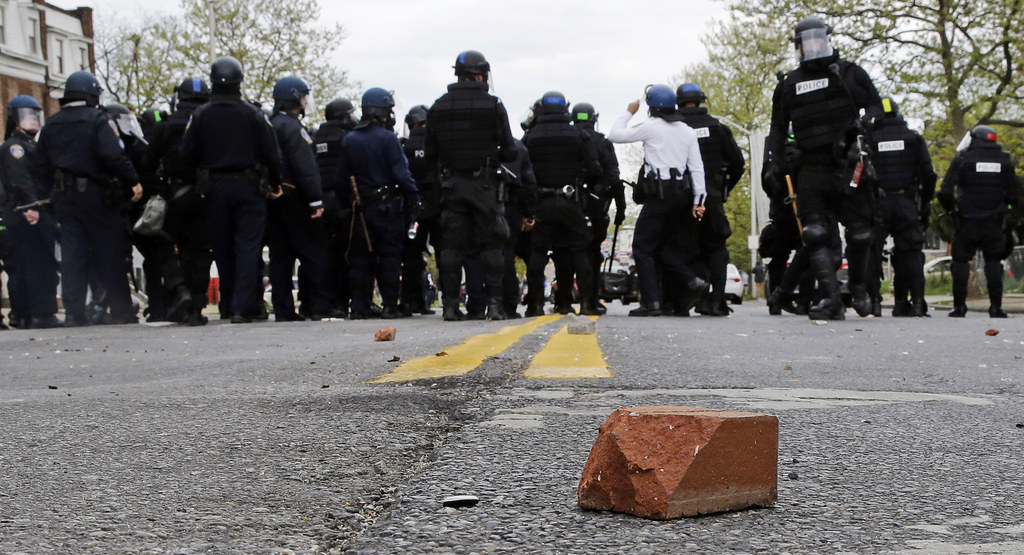 Maryland Gov. Larry Hogan activated the state National Guard, as well as the emergency management agency to coordinate resources.
State resources have been flowing into Baltimore since violent protests erupted and groups of looters targeted several businesses. In declaring a state of emergency, Hogan now has the power to deploy the National Guard.
Several police officers have been injured in the violence, some of them severely, officials said.
Earlier in the day, the mayor's office also activated its emergency operations center.
Scenes from Pennsylvania and W. North Avenue, where police appear to be beginning to block several access points.
Police said a fire department hose was cut near the CVS.
Police officials established a barrier around a CVS that caught fire after being looted earlier in the day.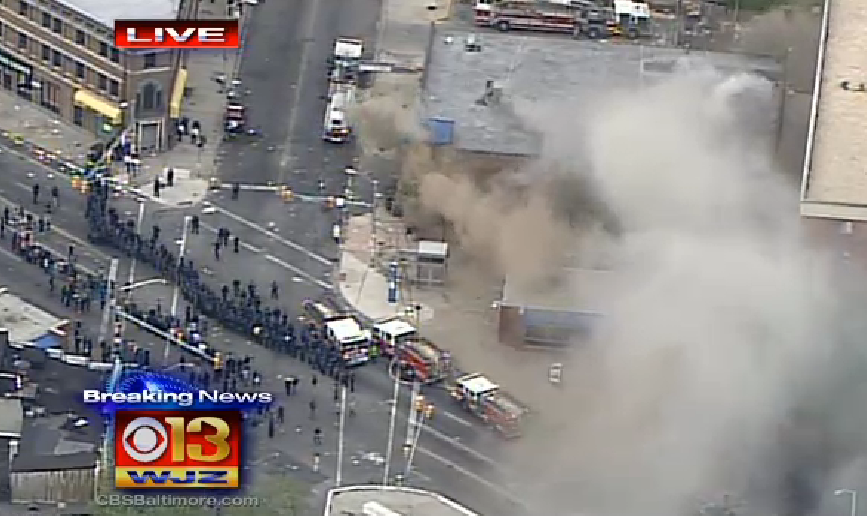 Prior to the barrier being formed, firefighters had been unable to safely gain access to the burning building. Even as fire crews arrived, live news footage showed the emergency vehicles being pelted with glass bottles.
The Baltimore Orioles announced that they are postponing their game with the White Sox.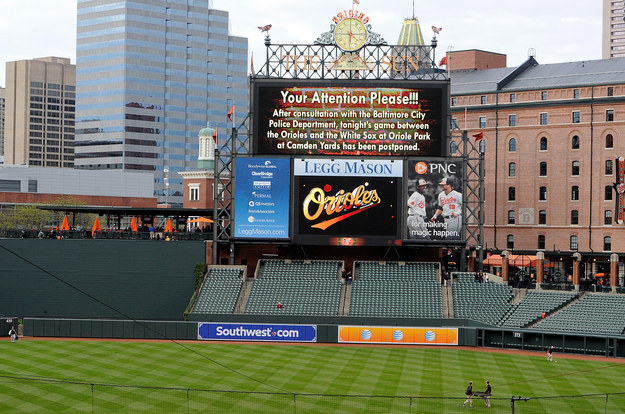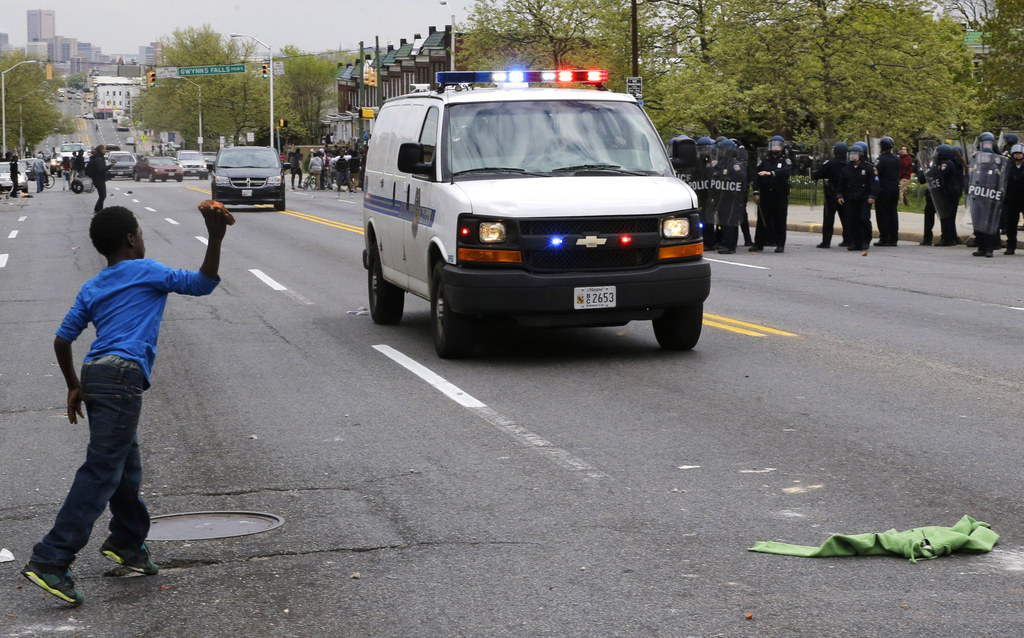 Maryland Gov. Larry Hogan on Monday said in a statement that he was "closely monitoring" the violence and had put the state National Guard on alert.
"Today's looting and acts of violence in Baltimore will not be tolerated," he said. "I strongly condemn the actions of the offenders who are engaged in direct attacks against innocent civilian, businesses and law enforcement officers.
"There is a significant difference between protesting and violence and those committing these acts will be prosecuted under the fullest extent of the law."
Rep. Elijah Cummings (D-Maryland) told CBS Baltimore that he was frustrated with the violent turn of events, but vowed to "bring this under control."
"We're better than this," he said. "I know people are upset, but this is not the way to bring change."
According to a statement from the White House, Attorney General Loretta Lynch, who was sworn in earlier in the day, also updated President Obama on the violence in Baltimore and investigation into Freddie Gray's death.
The president also spoke with Mayor Stephanie Rawlings-Blake, highlighting his administration's commitment to provide assistance as needed, the White House said.
Earlier in the day, Baltimore City Public Schools said in a statement that the safety of staff and students was a top concern on Monday and in the days ahead.
"We are deeply concerned about our students and community, and we hope to treat this situation not only as a teachable moment, but also a time for thoughtful reflection on how we can reduce conflict and violence in our society," the district said. "We will continue to be vigilant in our support for all of the city's young people."
Crisis counselors and mental health professionals would also be made available, the district added.
Ahead of nightfall, leaders appealed for calm and asked demonstrators to honor Freddie Gray's memory peacefully.
Jamal Bryant, pastor of Empowerment Temple AME Church, blasted the violence and looting, saying it is not what the Gray family wanted.
"This does not represent the Gray family," he told reporters just hours after delivering the eulogy at the funeral service.
Maryland state Sen. Catherine Pugh also told CBS Baltimore that the violence and looting was counterproductive and appealed for parents to call their teenagers and beckon them home.
"We know the family of Freddie Gray is hurting right now," she said. "The family has asked for peace.
Police also asked for parents to beckon their children home as car fires broke out and looting continued into the evening.
Several officers who were attacked in the community of Mondawmin, meanwhile, were getting medical treatment.
As the afternoon wore on, vandals were targeting police cars and some protesters had started to loot nearby businesses, including a CVS.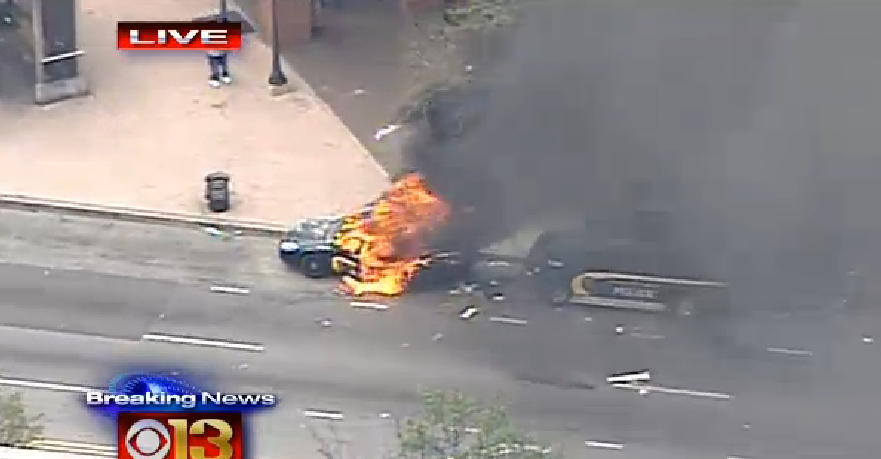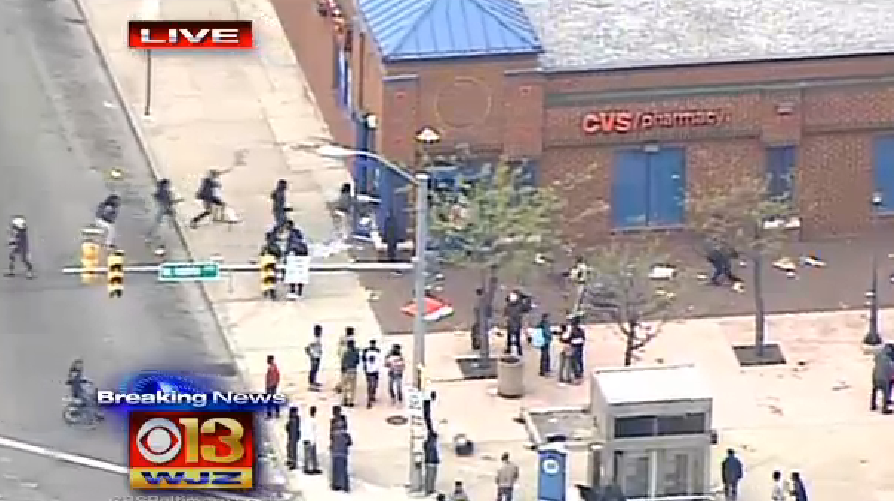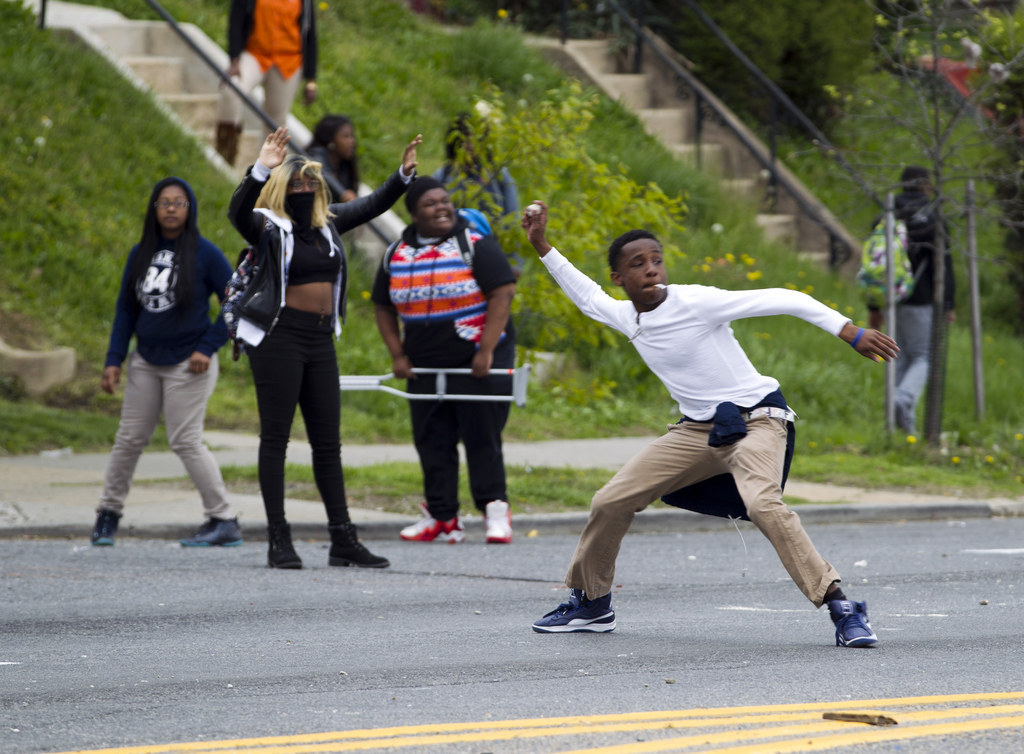 Baltimore Police Capt. Eric Kowalczyk told reporters that at least seven officers had been injured in the rioting Monday.
Some of the injured officers suffered broken bones, Kowalczyk said, and one was "unresponsive."
Officers have been pummeled under a hail of bricks and rocks since violence erupted earlier in the day.
Kowalczyk added that the department was continuing to deploy resources as violent groups of protesters moved through the city. As part of the effort to disperse the crowds, he warned, "you're going to see tear gas."
Protesters vandalized a police squad car, breaking through windows and pulling items out.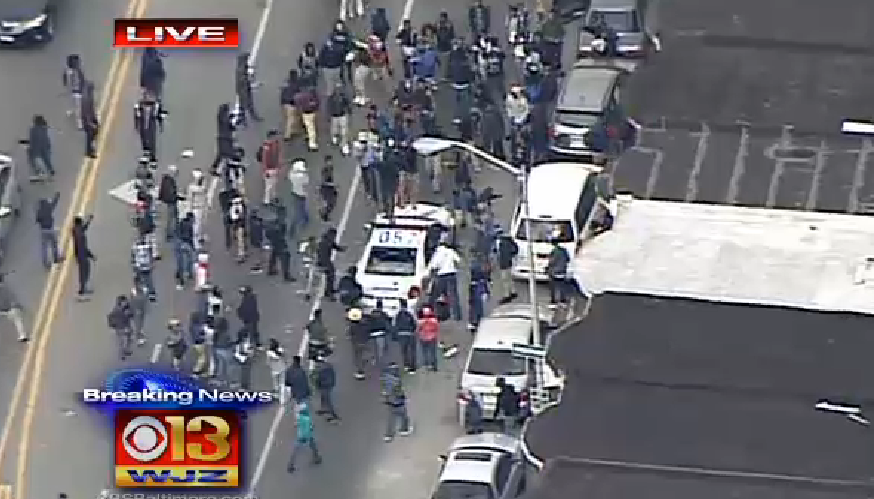 Officers in other parts of the city were apparently putting out small fires that were being set.
Some of the protesters told reporters on the ground that they had originally planned to peacefully march, but the situation quickly turned violent.
Police in riot gear with shields moved down through city streets as small groups of protesters moved from one area to the next.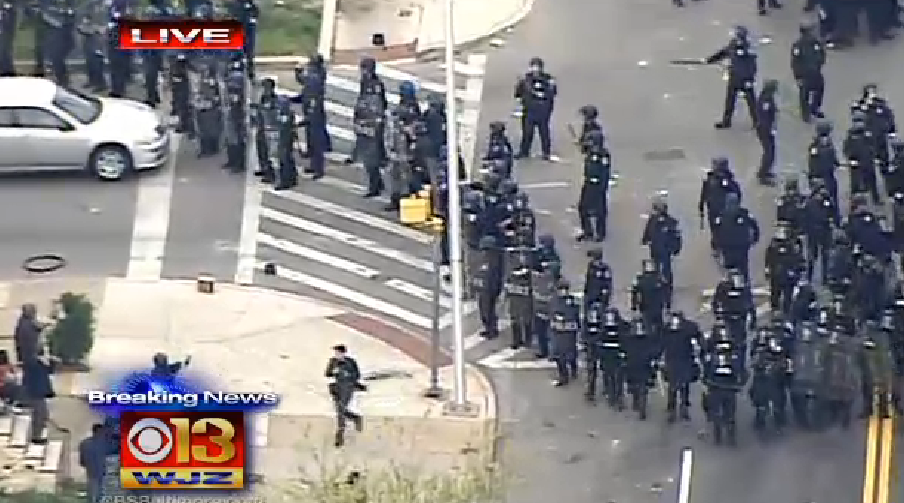 Several police officers were injured in Baltimore on Monday as protesters, angry over the death of 25-year-old Freddie Gray, threw bricks and rocks.
The protests erupted just hours after funeral services were held for Gray, who died April 19, two weeks after sustaining a severe spinal injury while in police custody.
Baltimore police arrested 35 people on Sunday during similarly violent demonstrations, during which protesters broke windows and threw flaming garbage.
On Monday, several officers were injured in the violence, according to the Baltimore Police Department.
The crowds continued to clash with police into the afternoon, apparently refusing to disperse, per police orders.