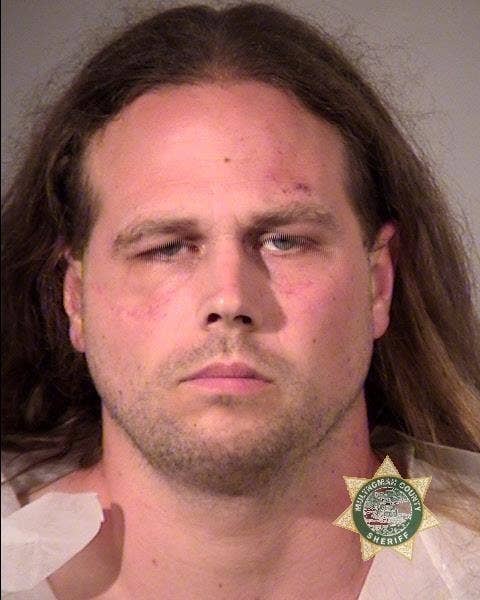 Two men were stabbed to death Friday on a light-rail train in Portland, Oregon, after they tried to intervene as a man yelled hate speech at two women who appeared to be Muslim, police said.
A third passenger who tried to intervene was also stabbed but is expected to survive.
The male suspect, who ran off the train, was arrested a short time later on foot near Providence Hospital, police said in a statement.
He was later named by police as Jeremy Joseph Christian, 35, of North Portland.
Christian was booked into Multnomah County Jail on two counts of aggravated murder, two counts of second-degree intimidation, and being a felon in possession of a restricted weapon. Police noted Saturday that aggravated murder is a capital offense in the state of Oregon.
He is being held without bail and will be arraigned Tuesday in Multnomah County Court. He "may face additional charges after the Multnomah County District Attorney's Office presents the case to a grand jury," police said.
The FBI and the US Attorney for Oregon are assisting in the investigation.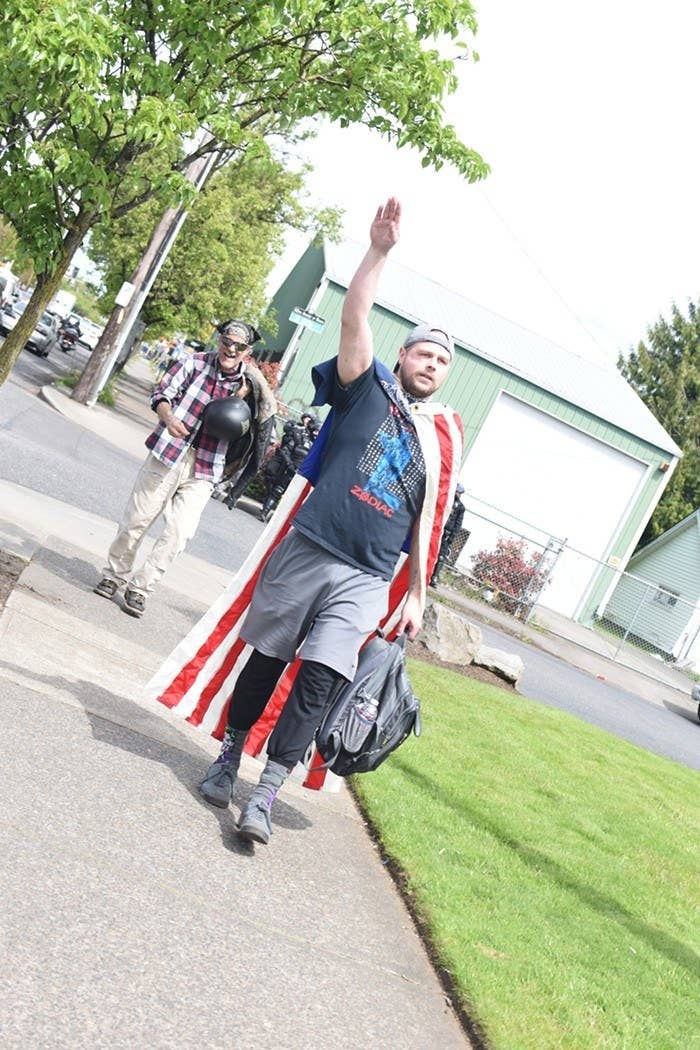 Christian was a known white supremacist who had previously shown up to extreme-right marches and performed Nazi salutes.
He frequently posted on Facebook, often expressing violently Islamophobic, anti-Semitic, and white supremacist views.
"Detectives will extensively examine the background of the suspect, Jeremy Christian, including the information publicly available about the suspect's extremist ideology," police said in a statement. "A review of the suspect's record with the Portland Police Bureau shows he is not flagged as a criminal gang member, nor does he have any known mental health history listed."
Police identified Ricky John Best, 53, and Taliesin Myrddin Namkai-Meche, 23, as the victims who were killed in the attack.
Micah David-Cole Fletcher, 21, was identified as the third passenger who was stabbed but survived. He is currently being treated at a hospital for serious injuries that are not believed to be life-threatening.
Prior to the police announcement, an Oregon woman wrote on Facebook that her son was one of the deceased.
"Taliesin Myrddin Namkai Meche," mother Asha Deliverance wrote of her son. "My dear baby boy passed on yesterday while protecting two young Muslim girls from a racist man on the train in Portland. He was a hero and will remain a hero on the other side of the veil. Shining bright star I love you forever."
According to his social media accounts, Namkai-Meche was a graduate of Reed College in Portland, where he studied economics, and worked as a research intern at the Cadmus Group, a consultancy company.
Shortly before 5 p.m., the suspect was ranting about a number of things on the MAX train near the Hollywood transit station before using what would be "characterized as hate speech or biased language" and focusing on "two young girls," one of whom was wearing hijab, Portland police Sgt. Pete Simpson told reporters at a briefing posted by The Oregonian.
That's when the three men tried to intervene and were "attacked viciously" by the suspect, Simpson said. Best died at the scene, and Namkai-Meche succumbed to his injuries at the hospital.
"It's horrific," Simpson added. "There's no other word to describe what happened today."
The girls who were verbally attacked left the scene of the stabbing before police arrived but were later identified and contacted by detectives. Police are not releasing their names at this time.
Detectives are continuing to investigate the attack, "including the information publicly available about the suspect's extremist ideology."
He has no known history of mental health issues or criminal gang affiliation, police added.
Imtiaz Khan, President of the Islamic Center of Portland, told OPB there's been an uptick in hate speech and harassment of Muslims since the presidential election. There are roughly 50,000 Muslims currently living in Portland, including sizable refugee communities from Bosnia, Iraq, and Somalia.
"We are very sad. Ramadan started just a couple hours ago," said Khan. "We are very sorry for the two men who tried to do the right thing."
Portland Mayor Ted Wheeler was on a flight to London at the time of the stabbing, but took the first flight back to his city.
In a statement on Facebook, he called the two deceased victims heroes:
Two men lost their lives and another was injured for doing the right thing, standing up for people they didn't know against hatred. Their actions were brave and selfless, and should serve as an example and inspiration to us all. They are heroes.

There is too much hatred in our world right now, and far too much violence. Too much of it has arrived here in Portland.

My heart goes out to the families of those who lost their lives, and to those who witnessed what happened. Thank you to our first responders, who provided aid, and police who captured the suspected killer.

Now is the time, we must come together as a community and love one another. We must reject hatred and violence. We must seek justice.
Wheeler reiterated those sentiments at a press conference Saturday afternoon, speaking alongside Oregon Governor Kate Brown and law enforcement officials, as well as local Muslim leaders.
Calling the attack "a horrific act of racist violence," Wheeler vowed to "relentlessly pursue justice" for the victims of Friday's incident.
"Our current political climate allows far to much room for those who spread bigotry," Wheeler said. "Violent words can lead to violent acts."
Brown similarly offered her condolences to the families of the victims and to members of Oregon's Muslim community, calling Friday's attack a "crime of hate."
"Safety while traveling through our community is a basic human right that we need to be able to guarantee to everyone, regardless of where they're from, or what they believe," she said.
Portland Transit Police Commander Sara Westbrook said that officials would be increasing the number of patrol officers on the city's light rail in the wake of the incident.
Federal law enforcement officials said it is too early to determine whether federal hate crime charges will be filed.
"Once we have reviewed all the evidence, and I mean all the evidence, we will review whether federal hate crime charges are applicable," US Attorney Billy Williams said. Still, he promised "there's a day of reckoning coming" to hold the suspect responsible.
At least one other person appears to have followed Christian from the train station until police arrived.
In a video posted on Facebook Friday, police are seen confronting Christian near a bus stop. The man who took the video, Larry Blackwood, can be heard saying that commuters of the train followed the man from the station after he was seen stabbing three men.
"He stabbed three people in the fucking jugular," Blackwood says in the video. "That's why we chased his ass down."
Police officers can be seen with their guns drawn while the suspect yells profanities at them. "Shoot me, then," the man is heard shouting. "Shoot me then."
Portland Police Sgt. Peter Simpson confirmed to BuzzFeed News that the video showed Christian's arrest.
Blackwood did not immediately respond to request for comment from BuzzFeed News.
In an interview with KATU-TV, another bystander, Alvin Hall, said that he also chased down the suspect, after stepping off the train and seeing the victims lying bleeding. Eventually, he said, he met Blackwood and a third witness, who had also given chase, and the trio confronted Christian.
"The minute he saw me he started coming after me. He's like, 'You want some of me, you're a snitch, come on after me, you want some of this?' and started chasing me," Hall said.
Hillary Clinton was among those talking about the story on Saturday, describing it as "heartbreaking."
On Saturday evening, hundreds gathered at the Hollywood Transit Center for a vigil honoring the three men who were stabbed.
Among those who attended was the mother of Taliesin Myrddin Namkai Meche.
The vigil included a moment of silence, and also sang "We Shall Overcome."