Mountain Goat Drowns In Ocean Trying To Escape Alaska Crowds Taking Photos
Officials said the drowning was just the latest fatal example of onlookers not giving wildlife enough space.
A mountain goat drowned at sea in Alaska this weekend trying to escape crowds of onlookers trying to take its picture, the latest interaction between looky-loos and wildlife that has proven deadly.
The white goat was spotted on Seward Harbor Saturday evening after apparently wandering down to the seaside town from the hillside.
When it tried to find its way back, it got hemmed in on the beach by onlookers trying to take its picture. This prompted the goat to enter the water, where eventually drowned, wildlife officials reported.
"There was a sea otter next to it. And then a woman's Spaniel swam out to it," Kerri O'Neill told the local NBC affiliate.

The goat's body was later recovered by a boater.
In a report on the incident, Alaska state troopers said that people not giving the goat space and getting close to take photos "resulted in a wild animal dying for no cause," the Alaska Dispatch News reported.
It's just the latest deadly outcome for a wild animals and onlookers who let their curiosity get the best of them. A bison calf at Yellowstone National Park had to be euthanized in May after a Canadian visitor put it in the back of his SUV.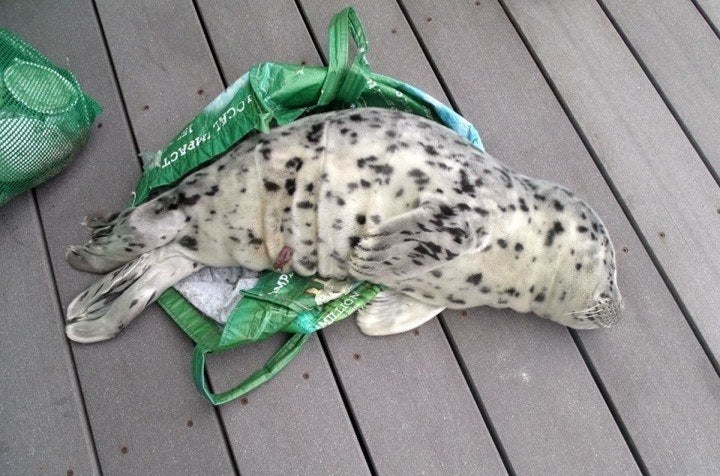 The visitor later told a park ranger the calf appeared to be shivering in the middle of a road and he wanted to give it shelter.
Similar outcomes have befallen other baby animals in the wild, and earlier this month, wildlife officials pleaded with the public to leave wildlife alone. They asked visitors to do so no matter how difficult it may be, because they often cause more harm than good.
"There's a lot of common sense involved. You need to give wildlife their space," Ken Marsh, a Fish and Game spokesman, told KTU-TV. "By getting too close you're putting the animal in danger and yourself in danger."