Everyone, this is Filya, a 2-year-old lion at the Taigan Safari Park in Crimea who...really likes to say hi.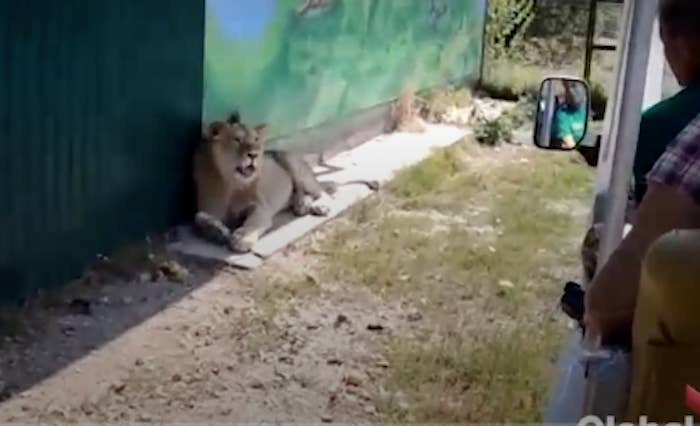 According to the Associated Press, Filya was just taking a nap at the wildlife park earlier this summer when a open-air vehicle with a load of tourists motored up.
And Filya wanted to say hi...to everyone. "Hi, driver guy!"
"Oh haiii, passenger lady! Can I sit here thanks."
"Oh hello, look, more hoomans!"
The driver of the vehicle, park owner and so-called lion whisperer Oleg Zubkov, was eventually squeezed out as he monitored the encounter.

It looked like it was either terrifying or amazing, depending on where you stand with coming face-to-face with large predators.
Obviously, for these tourists, it was more on the side of awesome — and Instagram content.
The video of the tourists getting lion-bombed only recently went viral after it was released by the park, and you can watch it in all its glory here:
Taigan Safari Park is known for offering visitors close-up views of its lions that often include physical interactions, but it can sometimes go south.

About two months before Filya's interaction was filmed, another woman, Olga Solomina, was reportedly mauled by a different lion while she was inside an enclosure with it.
Solomina told TV channel Crimea 24, "The lion grabbed my right hand and dragged me along the ground. I just had time to close my eyes."
She was rescued by the park's staff and escaped with only minor injuries to her arm.