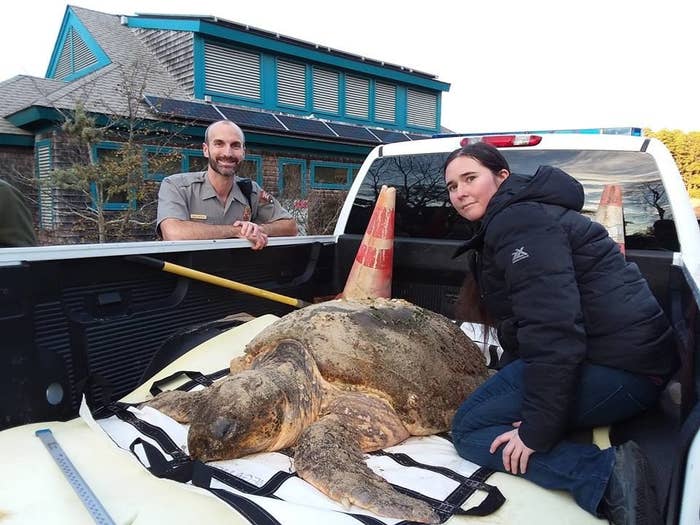 Nearly 200 sea turtles have died off Cape Cod, Massachusetts, in the past week, freezing to death in what wildlife rescuers are calling a once-in-a-lifetime weather event.
The turtles apparently fell victim to the recent cold snap in the Northeast, as well as strong winds and the treachery of the Cape's hook-shaped geography. Jenette Kerr, the communications coordinator for Massachusetts Audubon Society's Wellfleet Bay Wildlife Sanctuary, told the Cape Cod Times that the "vast majority of them" were "frozen solid."
Many of the turtles were found frozen in slushy ice water, while others washed up on shore. Kemp's ridley turtles, one of the world's most endangered sea turtles, were among them.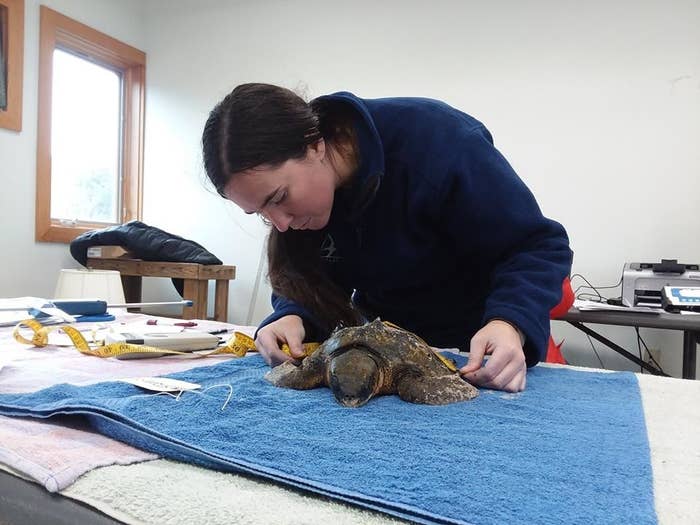 "It was like they were flash-frozen, flippers in all weird positions, like they were swimming," Robert Prescott, director of Massachusetts Audubon Society's Wellfleet Bay Wildlife Sanctuary, told the Cape Cod Times.
According to Mass Audubon, the sea turtles, which feed in Cape Cod Bay during the summer, became "cold-stunned" after becoming trapped by the Cape's hook-shaped geography. Unable to migrate south to warmer waters, their body temperatures fell with the water temperature and their internal systems shut down. The smallest species of sea turtle, Kemp's ridleys are particularly susceptible.
Of the more than 200 cold-stunned turtles that were reportedly recovered from the Gulf of Maine since Wednesday, only 54 lived, making for a more brutal winter season than normal.
"This was way too cold," Prescott told CNN on Saturday. "Everything was slushy by yesterday morning. Some of them are small. It didn't take long for them to freeze."
Experts say warming ocean temperatures have drawn the turtles farther north. However, when the weather snaps to frigid, they can be caught off guard and left essentially defenseless against the elements.
Sea turtle rescues started in earnest in October, but wildlife rescuers say the past week has been the deadliest ever recorded. A 300-pound leatherback turtle that rescuers tried to save was one of the casualties.
Some of the surviving turtles have been sent to the New England Aquarium or the Audubon wildlife center for treatment, and the number of rescues is expected to climb.