The two top adminstrators at the Denver high school where cheerleaders were forced into painful splits during practice are now out after an independent investigation into the abuse allegations.
The findings of the investigation, which was conducted by an outside law firm included interviews with 30 people, describe how the principal and assistant principal for months failed to take the concerns of parents seriously, and then were slow to respond when the disturbing video footage emerged.
East High School Principal Andy Mendelsberg is retiring and Assistant Principal Lisa Porter, who also served as athletic director, will also be resigning, Denver Public Schools (DPS) Supt. Tom Boasber announced Friday.
Parents allege school officials responded slowly to their concerns due to summer vacation, and said they were keen to let the coach, Ozell Williams, find his footing since he was new.

Williams was fired in August after the footage of one of the cheerleaders, 13-year-old Ally Wakefield, was made public and showed her screaming in agony as Williams and her fellow cheerleaders held her in the splits position during a June 6 training session.

In the video, she can be heard crying: "No, no, no, no, no! I can't! Please stop. Please stop. Please stop."

Four cheerleaders met with a medical examiner to assess injuries sustained during their training sessions with Williams, according to a parent.

Wakefield and her mother, Kirsten, told BuzzFeed News she sustained a torn ligament, a ripped muscle, a possible pulled hamstring, and has been seeing a physical therapist.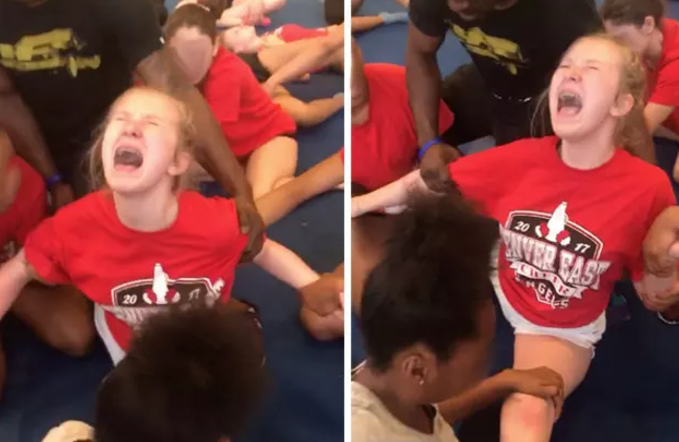 "It just hurt," Ally said. "I'm not really sure how to describe it. It was the pain you feel when you're convinced your muscles are tearing."
The report also found that Williams "bullied and humiliated" cheerleaders during practice, and that Mendeslberg didn't start taking action in August despite having access to the video footage in June.
Williams told the Denver Post when the footage came to light that it had been taken out of context.
"You can definitely say that what was in the video could be seen in a different light," he told the newspaper. "I would love to tell my story, but I can't say anything else at this time."

A separate police investigation into the matter that was launched in August remains ongoing and no charges have been filed.

An assistant coach and deputy attorney for the school district who were also suspended pending the investigation were cleared of wrongdoing.
DPS said in a statement Friday that the district was "committed to ensuring timely and effective mandatory reporter training for all employees emphasizing their responsibility to report and, if necessary, escalate concerns about student safety" as a result of the investigation.
In his retirement letter, Mendeslberg did not directly address the scandal, saying only that it was a "tough decision."
"This has been a tough decision for me," he wrote. "While my heart will always be with the East High School community, I believe it is in the best interest of the students, teachers, my family, and myself personally for me to step down in support of East moving forward."