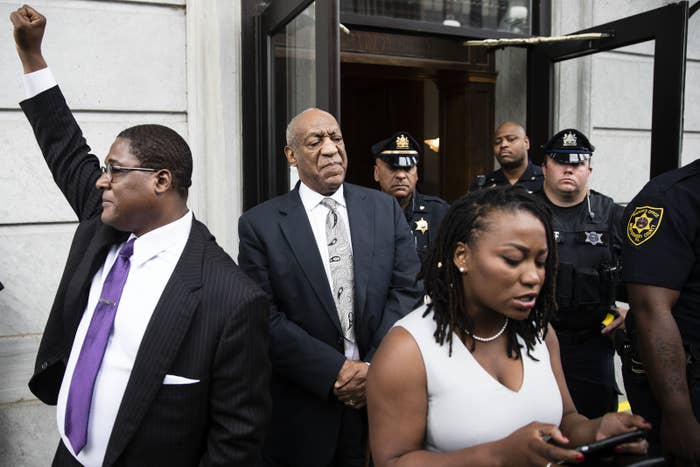 Two holdouts on the Bill Cosby jury prevented a verdict during tense and heated deliberations on charges that he drugged and raped a woman at his home in 2004, one of the jurors told ABC News.
The juror, who spoke on condition of anonymity Thursday after the Pennsylvania courthouse released the identities of the 12 jurors in the case. The judge, however, had ordered the five women and seven men not discuss the actions or deliberations of their fellow jurors.
The jury was reportedly 10-2 in favor of convicting Cosby on two counts: that he digitally penetrated accuser Andrea Constand without her consent, and that he gave her drugs without her knowledge that left her substantially impaired, the juror told ABC.
On a third count that Constand was unconscious during the alleged assault, the jury was 11-1 in favor of a not guilty verdict.
The juror did not identify who the holdouts were.
The jurors contacted by BuzzFeed News either did not respond, or declined to comment Wednesday.
The juror who spoke to ABC News also described a tense deliberation room that saw people break down in tears and lash out.
"They were just literally walking in circles where they were standing because they were losing their minds," the juror told ABC, adding that one male juror even punched the concrete wall of the room.
"If we kept going, there was definitely going to be a fight," the juror said. "They had five sheriff's deputies at the door and they could hear us and they kept coming in because they thought we were already fighting."
The judge in the case declared a mistrial by hung jury on Saturday after 52 hours of deliberation failed to break the deadlock. Cosby, who faced up to 30 years in jail, has insisted that the encounter with Constand was consensual.
And while dozens of other women have accused Cosby of similar drugging and assault, the juror who spoke to ABC insisted that none of that was considered in the jury room.
"Never. Not once," the juror said. "If somebody would mention something, we would cut them off."
The second juror to speak out told the Associated Press Thursday that there were questions about the years-long delay in bringing the charges, noting that there was "no new evidence from '05 to now has showed up, no stained clothing, no smoking gun, nothing."

Cosby's team also chalked the case up to politics, pointing out that the prosecutor, Kevin Steele, campaigned on a promise to press charges in the case.
"I think they created this whole thing, a case that was settled in '05, and we had to bring it up again in '17 with no new evidence," the juror, who also was not identified, said.

After the mistrial was declared, the prosecutor in the case almost immediately announced plans to retry the case in as soon as three months.
Claudia Rosenbaum and Brianna Sacks contributed reporting.