The FBI's investigation of Donald Trump's former campaign manager, Paul Manafort, includes a keen focus on a series of suspicious wire transfers in which offshore companies linked to Manafort moved more than $3 million all over the globe between 2012 and 2013.
Much of the money came into the United States.
These transactions — which have not been previously reported — drew the attention of federal law enforcement officials as far back as 2012, when they began to examine wire transfers to determine if Manafort hid money from tax authorities or helped the Ukrainian regime close to Russian President Vladimir Putin launder some of the millions it plundered through corrupt dealings.
The new revelations come as special counsel Robert Mueller's investigation is tightening, with reports that an indictment may already have been issued. It is not known if Manafort has been charged, or if he ever will be. Manafort has been the subject of multiple law enforcement and congressional inquiries. A spokesperson for Manafort would not comment for this story about the investigation or any of the specific transactions, but Manafort has previously denied wrongdoing.
Manafort took charge of Trump's campaign in May 2016 and was forced to resign just three months later, amid intense media scrutiny of his ties to the notoriously corrupt former Ukrainian president Viktor Yanukovych, who was supported by the Kremlin. A political operative for decades, the 68-year-old Manafort has worked for Republicans such as presidents Ronald Reagan and George H. W. Bush, as well as for foreign leaders such as former Philippines president Ferdinand Marcos.
He has emerged as a central figure in special counsel Robert Mueller's investigation into possible collusion between the Trump campaign and Russia, in part because of Manafort's many ties to prominent Russians and his work with Yanukovych. Manafort is reportedly also being investigated for money laundering by federal prosecutors in New York City, but there have been no formal charges from that probe. The FBI searched his home during a predawn raid this summer, reportedly as part of Mueller's probe. Manafort has consistently maintained his innocence.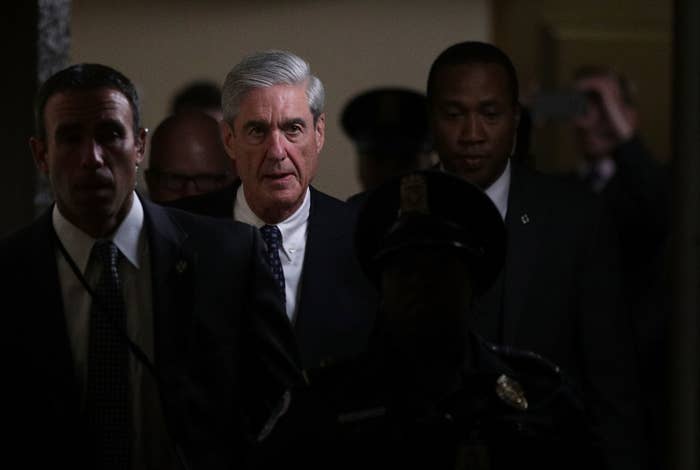 Now, BuzzFeed News has learned that investigators have been scrutinizing at least 13 wire transfers between 2012 and 2013. The transfers were first flagged by US financial institutions, which are required by law to tell an office within the Treasury Department about any transactions they deem suspicious. Such "suspicious activity reports" do not prove wrongdoing. Federal law requires financial institutions to file reports on cash transactions that exceed $10,000 in a single day, even if those transactions seem otherwise legitimate. Banks are also required to file the reports whenever they suspect money laundering or other financial crimes.
Bank officers flagged unusual behavior among five offshore companies that authorities say are associated with Manafort: Global Endeavour Inc., Lucicle Consultants Ltd., and three others that appear to have no current contact information.
Law enforcement sources say the companies sent funds in round-dollar amounts without explanation of what the money was to be used for. The countries where these transactions originated — notably Cyprus and the Caribbean nation of St. Vincent and the Grenadines — are notorious for money laundering. Federal law enforcement officials said they saw evidence of "layering," the process by which the origin of money is obscured behind many layers of companies. Much of the money ended up in the US, sent to home improvement contractors, a hedge fund, and even a car dealership.
Manafort's suspicious financial transactions were first flagged by Treasury officials as far back as 2012 and forwarded to the FBI's International Corruption Unit and the Department of Justice for further investigation in 2013 and 2014, a former Treasury official who worked on the matter told BuzzFeed News. The extent of Manafort's suspicious transactions was so vast, said this former official, that law enforcement agents drafted a series of "intelligence reports" about Manafort's financial dealings. Two law enforcement officials who worked on the case say that they found red flags in his banking records going back as far as 2004, and that the transactions in question totaled many millions of dollars.
It's unknown what became of the FBI's Manafort investigation; no charges were filed. An FBI spokesperson did not return emails and phone calls this week. One FBI agent who was actively involved in the investigation told BuzzFeed News it "lay dormant" for a while but was never closed.
Then, last January, the Senate Intelligence Committee launched its probe into Russia's interference in the 2016 election. In April, the committee sent the Treasury Department's Financial Crimes Enforcement Network, or FinCEN, a letter requesting a wide range of financial records "related to Russian attempts to influence the 2016 US election or individuals associated with it." Specifically, the committee asked FinCEN officials for "any actions" they took to support law enforcement or intelligence inquiries; any documents they sent to the FBI; and any requests for information they sent to banks. Details of the Senate Intelligence Committee's request have not been previously disclosed.
While searching for records to turn over to lawmakers, the former Treasury official said, FinCEN found its previous reports on Manafort and sent them again to the FBI International Corruption Unit, whose agents were working with Mueller on his investigation. According to a congressional source, this May FinCEN sent the Senate committee financial records covering a six-year time frame on Manafort — January 2011 through May 2017. In June, FinCEN also sent financial records on Manafort to the Senate Judiciary Subcommittee on Crime and Terrorism, which is conducting a separate probe on Russian interference. That committee also sought a wide range of suspicious activity records on Manafort and his wife, Kathleen, among other individuals and businesses. Manafort's spokesperson declined to comment on what FinCEN sent the congressional committees about the Manaforts.
Got a tip? You can email tips@buzzfeed.com. To learn how to reach us securely, go to

tips.buzzfeed.com

.
BuzzFeed News has learned specific details about 13 of the wire transfers, all of which took place between 2012 and 2013. At least four of the transfers originated with Manafort's company Global Endeavour, a political consulting firm based in St. Vincent and the Grenadines. Global Endeavour was hired by Yanukovych to consult and lobby on his behalf. Ousted after the 2014 Euromaidan Revolution, Yanukovych lives in exile in Russia and is accused of treason by Ukrainian authorities; the country's general prosecutor said Yanukovych's embezzlement of state funds was so egregious it resembled a "mafia structure."
Wire transfers flagged as suspicious show that during the waning months of Yanukovych's presidency, Global Endeavour sent more than $750,000 out of Ukraine. None of these transactions have been previously reported.
In November and December of 2013, for example, the company transferred almost $53,000 to Konstantin Kilimnik, a Kiev-based political operator. It's not known what the money was for. A federal law enforcement official described Kilimnik as a linguist trained by the Russian army and about whom the US has gathered intelligence. He reportedly attended a military school some experts believe to be a training ground for Russian spies.
Kilimnik worked with Manafort for more than a decade, and the Washington Post reported that Manafort emailed his old partner in 2016 to offer "private briefings" to a Russian billionaire close to President Vladimir Putin.
Kilimnik declined to comment when reached Saturday by BuzzFeed News.
In September 2013, Global Endeavour transferred $500,000 that would ultimately end up back in Manafort's control. First it went to a hedge fund in Florida, Aegis Holdings LLC, that is controlled by Marc Baldinger, a broker who in 2014 was suspended for 18 months for engaging in deals his financial institution didn't know about. Baldinger's brother, Bruce, is a real estate attorney who has worked with Manafort for about a decade.
The day after Aegis Holdings received the $500,000, it transferred the same amount to a securities clearinghouse, which ultimately sent the funds to Lilred LLC in Morristown, New Jersey. Lilred is run out of a brick office park. Business records show its manager is Manafort; its registered agent is Bruce Baldinger. Marc Baldinger told bank officials the money was a regular investment contribution from Manafort.
Neither Baldinger brother returned multiple phone calls or emails for comment.
Also in late 2013, Global Endeavour sent out $200,000 to a remodeling company in Long Island, SP&C Home Improvement. Stephen Jacobsen, a representative, told bank officials the funds were an advance on a remodeling project.
That project, at 377 Union Street in Brooklyn, has been the subject of media reports. The brownstone in the Carroll Gardens neighborhood first belonged to a company controlled by Manafort and his son-in-law, Jeffrey Yohai. The Senate Judiciary Subcommittee on Crime and Terrorism is investigating Yohai and requested from FinCEN in June any suspicious financial transactions in which he is named, according to a copy of a letter reviewed by BuzzFeed News. He declined to comment.
SP&C, the remodeling company that received a wire transfer from Global Endeavour, was the first company to submit a permit to turn the three-story building into a single-family home. SP&C's representative, Colleen Jacobsen, estimated the work would cost about $300,000, according to city records.
Stephen and Colleen Jacobsen did not return multiple phone calls, but he told bank officials that the money was a payment for a large construction project.
Four years later, the project is still unfinished. Last week workers from a concrete company — not SP&C — were seen at the home. An architect newly hired to work on the building said it was about 65% finished.
In addition to transactions involving Global Endeavour, there were wire transfers, never before reported, flagged as suspicious involving other companies. There were three by the Cyprus-based Lucicle Consultants — which has "strong ties" to Manafort, according to federal law enforcement sources — in March and April 2012. The company transferred a total of about $2.5 million, some of it directly to accounts controlled by Manafort. No contact information for Lucicle or any of its officers could be found.