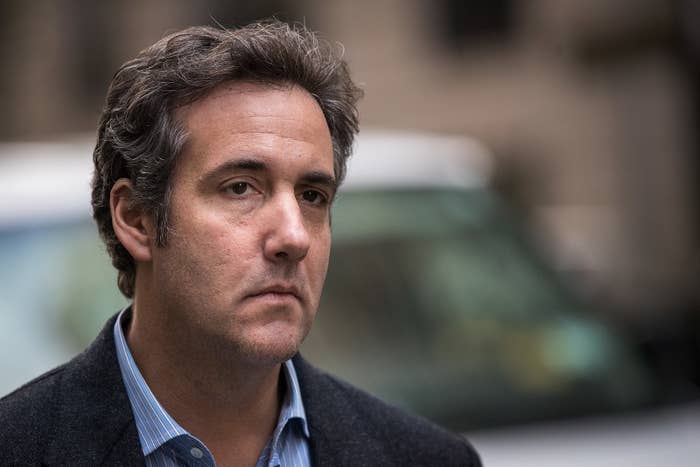 Records pertaining to the financial activities of President Trump's lawyer Michael Cohen are not missing from a government database; rather, Treasury Department officials have taken the highly unusual step of restricting access to them even from certain law enforcement agencies, according to three sources familiar with the matter.
The New Yorker magazine this week reported that a law enforcement official — worried the information about Cohen's banking records had been removed from government databases and therefore might be covered up — had admitted to leaking some of what was still accessible.
The leaked information showed that Cohen, through a shell company, had received payments from several firms with business before the Trump administration, including telecom giant AT&T. The revelations set off a firestorm in Washington and were followed by the departures of officials from their jobs at AT&T and Novartis. The Treasury Department's Inspector General has launched a probe into the leak.
The New Yorker quoted an unnamed law enforcement official saying they were motivated to leak the information because they had tried to access financial information about Cohen from a database maintained by the Financial Crimes Enforcement Network, which includes suspicious activity reports, or SARs, from banks. By law, banks must file SARs when they spot transactions that bear hallmarks of money laundering or other financial misconduct. Such reports can support investigations and intelligence-gathering — but by themselves they are not evidence of a crime.
The database is maintained by the Treasury Department, but, through various memorandums of understanding, many law enforcement agencies, including the Drug Enforcement Administration, the FBI, and the IRS, have access to it.
The law enforcement official told the New Yorker they could access only one SAR related to Cohen, but knew that two more should have been available.
"I have never seen something pulled off the system," the official told the New Yorker. "I immediately became concerned." The official added: "That's why I came forward."
But three sources familiar with the matter said that access to Cohen's SARs has merely been limited, not removed. They added that limiting access is rare and must have come from the top of the Treasury Department.
The sources said restricting access to the SARs may have been an effort to crack down on leaks. At a town hall meeting at FinCEN earlier this year, Ken Blanco, the newly appointed director of the agency who most recently served as assistant attorney general at the Department of Justice's criminal division, told employees that leaks would be investigated and referred to DOJ for prosecution. The sources believe access to SARs were restricted following Blanco's comments, particularly, any SARs banks filed on individuals and businesses that may be the subjects of law enforcement investigation involving Russia's interference in the 2016 presidential election.
In a statement, a New Yorker spokesperson noted that the story had reported that FinCEN can restrict access to information "deemed highly sensitive" and that the agency may have restricted access to the documents because they relate to ongoing investigations.
In a public statement, FinCEN did not acknowledge Cohen specifically, but did say that FinCEN "will limit access to certain SARs when requested by law enforcement authorities in connection with an ongoing investigation."
Special counsel Robert Mueller is investigating Russian interference in the 2016 election and the Southern District of New York is investigating Cohen.
Steven Perlberg contributed reporting.
CORRECTION
By law, banks must file suspicious activity reports when they spot transactions that bear hallmarks of money laundering or other financial misconduct. An earlier version of this story imprecisely described the requirements for banks to flag suspicious transactions.
UPDATE
This report has been updated to include details about a town hall meeting where FinCEN's director vowed to crack down on leaks.