A Senior NSA Official Engaged In Abusive Behavior Toward Women, An Inspector General Report Finds
"Subsequent to being disciplined, he did not cease his misconduct," an NSA inspector general report said.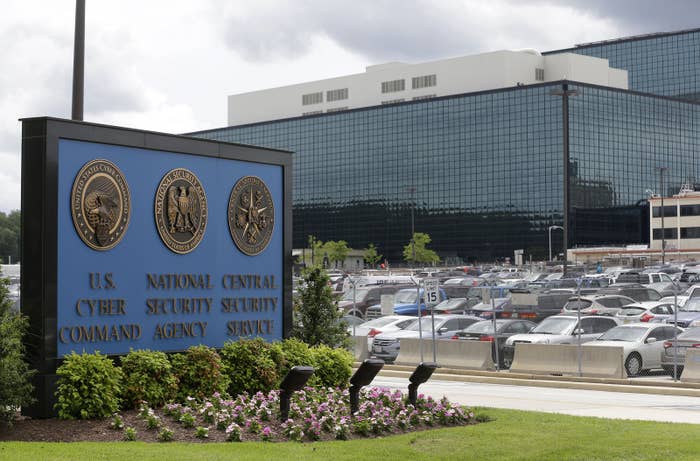 WASHINGTON — A senior National Security Agency official touched women inappropriately at the agency, sent sexually suggestive and racist messages over a top secret computer network, and covertly used his supervisor's email account to send himself a sexually charged email, according to an NSA inspector general report.

The incidents took place in 2012, but details about the allegations have remained classified and are only now being disclosed after BuzzFeed News filed a Freedom of Information Act lawsuit against the NSA for copies of its inspector general reports that lay bare waste, fraud, and abuse.
The official's name at the center of the allegations was redacted from the report — "Misuse of Government Communications Systems and Conduct Unbecoming" — on privacy grounds. The document identifies him only as a "deputy chief" of a division within the NSA. The official resigned from the agency after he was interviewed by investigators and confronted about his behavior, the report said.
The deputy chief had already been reprimanded once, in 2011, for sending sexually explicit chat messages over the NSA's top secret communications network. At the time, he received a letter of counseling. The inspector general, who spent more than a year investigating the allegations, called the deputy chief's behavior "egregious."
"Subsequent to being disciplined, he did not cease his misconduct," the report said. Rather, the deputy chief "simply stopped misusing chat and relied solely on email to engage in inappropriate written exchanges with females, because he believed it was not monitored and he would not be caught."
Less than a year later, the NSA's Office of the Inspector General fielded a complaint from an employee alleging that the deputy chief sexually harassed four women. The employee characterized the deputy chief as a "pathological social deviant."
According to the report, the four women who were interviewed by investigators testified that they did not feel the deputy chief sexually harassed them. However, they said his behavior was "inappropriate."
But the inspector general report described a pattern of abusive behavior toward NSA contractors and civilian personnel by the deputy chief that included a massage to the neck and shoulders of a woman he worked with, which the woman said made her feel uncomfortable and led her to report it; he questioned women about their marital and parental status during job interviews; humiliated numerous women in staff meetings and in front of their supervisors; used an offensive, sexual acronym toward another woman in an email and on one occasion used a "racially-charged expression."
The deputy chief denied that the sexual acronym, which the NSA redacted from the report on privacy grounds, "could be considered offensive given its common usage in chat."
However, given the deputy chief's reluctance to explain the meaning of the acronym to the woman he emailed — he told her he could not repeat it and instructed her to google it — the inspector general determined it was reasonable to conclude that the deputy chief "was well aware such a term could be offensive and denigrating particularly when used in a Government communication."
Several women complained about the deputy chief's behavior but no action was initially taken by their superiors, according to the report.
One woman, a contractor, had asked to be moved to another contract so she would not have to interact with the deputy chief. Another woman who was subjected to his abusive behavior during a staff meeting stopped attending the meetings. A third woman, who witnesses said was harassed by the deputy chief, "denied having been sexually harassed" and said the accusations leveled against him amounted to "jealousy."
The deputy chief also engaged in at least one sexual relationship with a woman he supervised on a government contract. The investigation also found that the deputy chief "misused" his supervisor's NSA email account to "send himself sexually suggestive and inappropriate emails." He explained to investigators that he sent the two emails in order to teach the woman "to lock her computer," an assertion the inspector general did not find credible, the report said.
That the deputy chief "would go so far as to continue to misuse" an NSA email account "to send himself a sexually suggestive and inappropriate email is particularly concerning," the report said. The deputy chief's "behavior calls into question his judgment and reliability and therefore his ability to effectively function as an Agency leader."
The inspector general concluded that the deputy chief's behavior did not support the conclusion that he sexually harassed women "by making repeated offensive or unwelcome comments, advances, remarks, touching, or questions of a sexual nature, thereby creating a hostile work environment for them" in violation of NSA protocols.
However, the evidence the inspector general collected did prove that the deputy chief "used words that denigrate individuals, used offensive language, and engaged in other conduct that could affect his subordinates' work performance or otherwise impact the work environment" in violation of those rules.
Gregory Julian, an NSA spokesperson, told BuzzFeed News that the agency "does not tolerate any form of harassment."
"NSA's Equal Employment Opportunity and Diversity Directorate is responsible for the development of strategies to create and maintain a culture of inclusion and fairness at the agency. NSA's Anti-Harassment Program serves as a resource for employees to report allegations of harassment," Julian said.
Read the full inspector general report:
Download PDF
UPDATE
This story has been updated to include comment from an NSA spokesperson.
Jason Leopold is a senior investigative reporter for BuzzFeed News and is based in LA. Recipient: IRE 2016 FOI award; Newseum Institute National Freedom of Information Hall of Fame. PGP fingerprint 46DB 0712 284B 8C6E 40FF 7A1B D3CD 5720 694B 16F0.

Contact Jason Leopold at jason.leopold+old@buzzfeed.com.

Got a confidential tip? Submit it here.