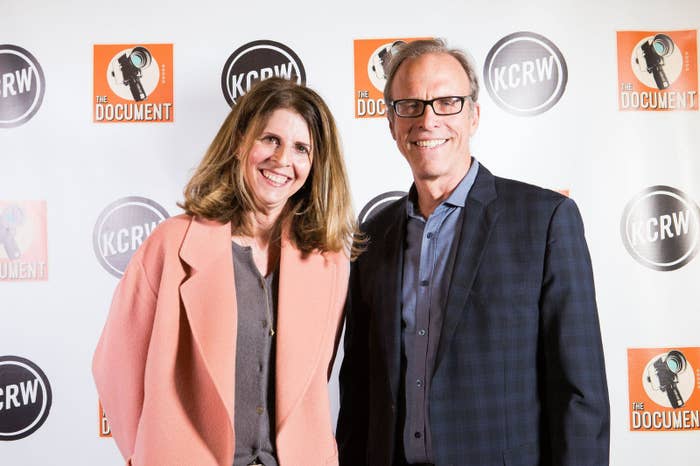 Amy Ziering and Kirby Dick have announced that their next project, which "will examine abuse and cover-ups within the entertainment industry." The filmmaking duo were behind two powerful documentaries about sexual assault: 2012's The Invisible War, which looked at sexual assault in the military; and 2015's The Hunting Ground, which was about sexual assault on college campuses, produced by The Weinstein Company.
The still-untitled film will focus "on the behavior of predatory perpetrators such as Harvey Weinstein and others" and "the culture that enables and protects them, as well as provide a safe place for survivors to share their stories," according to a press release. The film will also feature "the many emerging voices for change."
According to the filmmakers, the idea for this project came to them a few years ago while they were on the awards circuit for The Hunting Ground and audience members would approach them after screenings to share their stories of assault. "Every time we screened that film in Hollywood, actors and executives would come up to us and say that they had had similar experiences right here," Ziering said in a statement. "So, we began working on this project and immediately found ourselves grappling with the same forces that had kept this story silenced for so long. Everyone was frightened about what would happen to their careers, and worried about whether they would be sued. Distributors were unwilling to fund or release the film, and few people were willing to talk on the record."
But following the New York Times and The New Yorker's bombshell stories about Harvey Weinstein's decades of abuse, Ziering said it felt like "an invisible dam collapsed." For proof of that, look no further than Amazon's now-fired Roy Price, Nickelodeon's now-fired Chris Savino, and the more than three dozen women who have accused director James Toback of sexual harassment.

"People at long last are speaking out in large numbers, and we feel this industry, and the country, is finally ready for an unflinching film about the reality of sexual assault and harassment in Hollywood," Ziering said.