At 9:30 a.m. on a typically picturesque spring day in Hollywood, the stars of ABC Family's megahit Pretty Little Liars were flying through their first scene of the day. It's one they'd filmed countless times: Lucy Hale (who plays Aria), Troian Bellisario (who plays Spencer), Shay Mitchell (who plays Emily), and Ashley Benson (who plays Hanna) argue over the true identity of "A."
Since the series premiered in June 2010, the characters at the center of the series have squared off with one another, with their parents, with their significant others, but mostly with the endless parade of suspects who could be "A." The omnipresent tormentor — revealed at the end of the most recent fifth season to be a not-yet-seen character named Charles DiLaurentis, the presumed brother of their friend Alison (Sasha Pieterse), who was presumed dead until she reappeared halfway through Season 4 — has tried to manipulate and maim the four young women ever since Mona Vanderwaal (Janel Parrish) was unmasked as the original "A" in the Season 2 finale.
The scene they were filming during BuzzFeed News' exclusive visit to the set called for a three-on-one: Spencer, Emily, and Hanna warned Aria that her new friend might be connected to Charles. In between takes, the actors segued in and out of character; checking their phones and laughing. "Everybody who gets close to you is 'A,'" Bellisario joked to her castmates, a tongue-in-cheek summary of the scene for Hale.
But it wasn't solely a familiarity with the material that allowed the four actors to make quick work of the scene. There was a renewed sense of enthusiasm driving them toward the Season 6 midseason finale ever since executive producer Marlene King revealed that episode will bring the complex, muddled, and drawn-out "A" storyline to a close once and for all.
It's an unexpected turn of events that the millions of fans who have turned Pretty Little Liars into a ratings and social media behemoth can thank themselves for.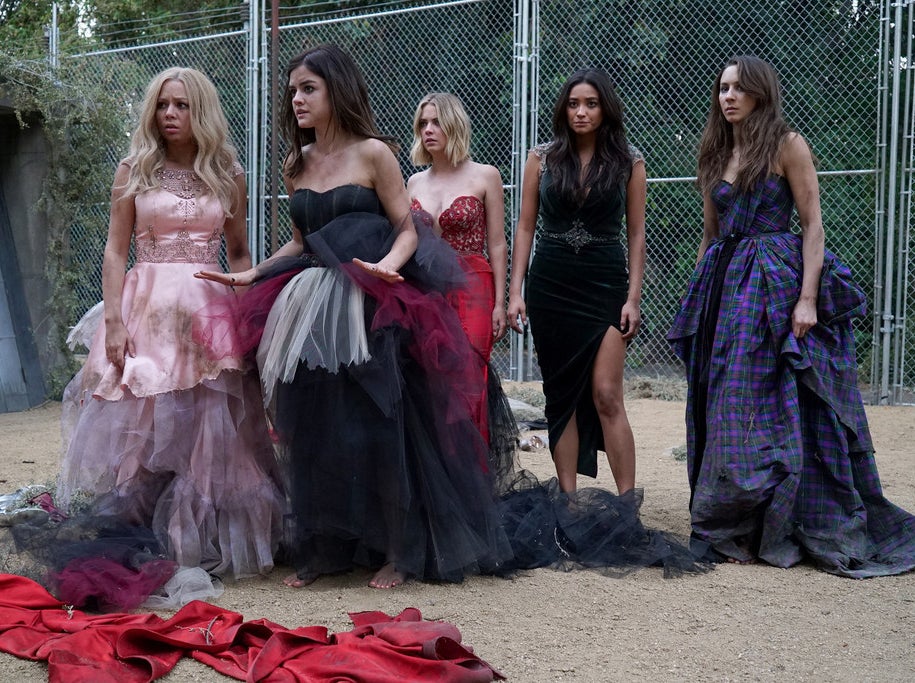 "Midway through Season 5, I sensed a wave of frustration that I hadn't sensed since midway through Season 2 when we knew it was time to give up Mona," King told BuzzFeed News. "The fans were very vocal that they were getting too frustrated," which prompted King to move the final "A" reveal from the series finale to the Season 6A finale. (Each season of Pretty Little Liars is broken into two half-seasons, designated as "A" and "B.")
"The fans have been really patient, and I feel like we pushed them as far as we could. They let us know it was time, and it just felt like it was the right and fair thing to do," King said. "Once we made that decision and the studio and the network signed off on it, we all got so excited because we knew what the ending was."
Coupled with that excitement was, according to executive producer Oliver Goldstick, a sense of relief among the writers. "The mythology became so byzantine because of all the different ways we went that we needed to finally pull those strands together," he told BuzzFeed News.
Pretty Little Liars was initially conceived as a five-year series, but with steady ratings and a dominant social media presence, it became quickly apparent to everyone involved that the show would run longer than initially planned. "We had some time to fill there," King said of stretching her initial vision to span seven seasons. "In terms of mystery, maybe we were treading water, but we always tried to keep the characters moving forward and fresh." She did admit there were some missteps along the way as the writers prolonged the big reveals that fueled the show's larger, overall mystery. "There were a few tales that were spun where we had to go back and plug in the holes — and make sure they were all plugged properly — before we got to the ending," King said.
And while Goldstick was excited for the "opportunity to certainly pay off some things that have been question marks for a long time," there was also a sense of trepidation about providing definitive answers to some of the show's longest-running mysteries: What if fans aren't excited by the answers they will be given?
"I think any show that deals with a mystery fears that," Bellisario told BuzzFeed News. "It's what happened with Twin Peaks, it happened on Lost. I definitely will not promise that everybody is going to be satisfied; they simply can't all be. But I know Marlene and the writers really do have it all figured out."
For a time though, they didn't.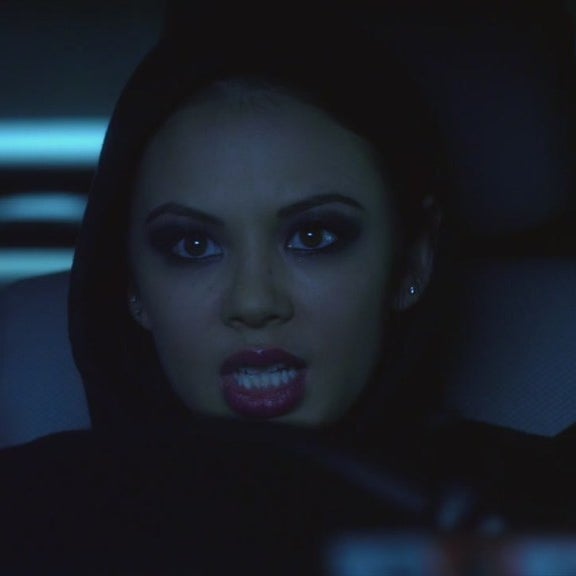 "I'll tell you that we didn't know who this 'A' was going to be until we ended the original 'A' story, Mona's story," King revealed. "And as we were ending that story, I started to freak out. I was like, I don't want to write one more episode without knowing who was going to steal the game from her. I will say that for two or three episodes, there were three people who were going to be 'A,' and then we got about two episodes in and I pitched to the room this new idea that it wasn't any of those three and I told the story of Charles and everybody's mouths dropped. Then I started telling it to a few more people — not too many — and everybody had the same reaction. It takes an hour to tell the story, which will be the finale, but I just knew based on everybody's reaction that it was a good way to go."
King's road map for Charles provided some guidance for the writers, but it also presented them with a lot of heavy lifting. "I think we were originally overwhelmed by how much material had to be dealt with in a short amount of time," executive producer Joseph Dougherty told BuzzFeed News of crafting Season 6A, which all leads to Charles' epic season-ending revelation. "The only model for it would be when Alison got all the girls up to date in the Season 4 finale. That's the previous high-water mark for maximum signal-to-noise information. This goes way beyond that — it's exponentially more information than was in that episode."
Dougherty said the episodes in Season 6A "are going to be like nothing that's ever happened before on this series." "It's an incredible amount of information in every episode, but if we've done the job completely right, you should be able to figure the mystery out just before you find out," he added. "I think the people who figure it out have every reason to be incredibly proud of themselves. I think it was Raymond Chandler who said, 'The perfect mystery is one where the solution is completely unexpected but absolutely inevitable.' I don't know if we're going for 'OMG' as much as we're going for 'Of course!'"
In addition to that "aha" moment, King said she's expecting some tears when Charles' seemingly evil actions are contextualized in the finale, an emotional climax to a storyline that's been in motion for years. "It's the second-to-last scene in the season finale and the tears started pouring down," King said as she recalled the process of writing that episode. "And it's the 'why' that I like. The 'who' is cool and the 'who' is great, but the 'why' is the question I think is the most interesting and compelling. It just felt like such a completion in some ways. Of course we will regroup and there's plenty more story to tell, but it's a very satisfying to end this 'A' storyline."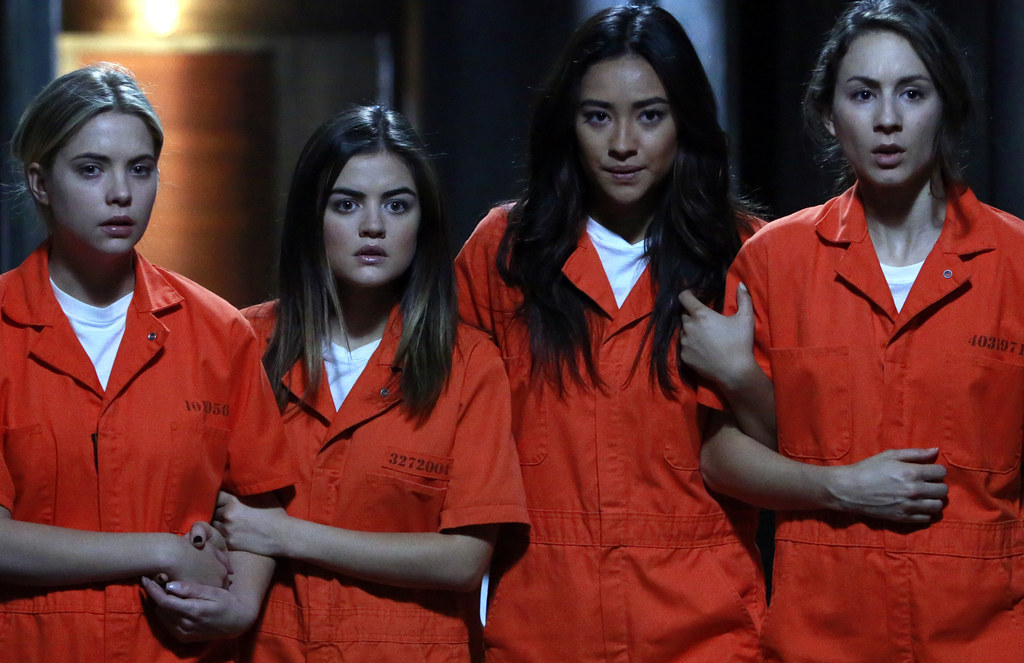 But before viewers have time to completely wrap their brains around the finale's "A"-related revelations — let alone decide whether or not they're satisfied by it — a seismic shift will occur in the episode's closing moment: Pretty Little Liars will skip five years into the future, where it will stay for the duration of its run.
"We're changing the game completely," Mitchell told BuzzFeed News of the looming time jump. It truly is a massive shift, considering that throughout its first five seasons, time has moved so slowly on the series that Dougherty estimated it's still 2010 in Rosewood.
The idea to jump forward first came up in the writers room as they were crafting Season 5, but they agreed there were far too many loose ends that needed to be tied up before this timeline could be left behind. "It's going to be like a brand-new show and it'll be nice to give our fans a show that they already know and characters they already love, but now the girls are just as old as our fans who are watching it," Mitchell said. "This feels like a new beginning."
"We couldn't have asked for anything better," Hale said in agreement. "It's a significant time jump, and who knows what these girls have gone through over those years? Has life been normal? Has it been torment?"
The time jump allows the actors the exciting opportunity to play characters who are closer to their real ages, and the writers are equally enthusiastic about the storytelling opportunities it grants them. "We're having wardrobe meetings and hair meetings and makeup meetings and talking about every single detail in the writers room, because we're sort of reinventing these characters," King said. "Five years does change you. They come back as who they are, but the life they've led over those five years will inform some of the decisions they make moving forward."
While the long-term effects of living under the constant threat of "A's" attack will be explored as the series goes on, Goldstick said viewers might also see the PLLs discover an upside to their years under their antagonizer's thumb. "It gives us an opportunity to see what was the gift of 'A.' What was the gift of 'A' that edified all of these girls in different ways?" he said. "If you look back, they were mushy in the first season — they weren't fully formed or completely confident and still getting their sea legs about their identity. Now you get the pleasure of paying that off five years later. Did they sublimate this experience? Did they talk about it with other people and say, 'This is what I went through during my high school years,' and everyone in the dorm room said, 'You're full of shit'?"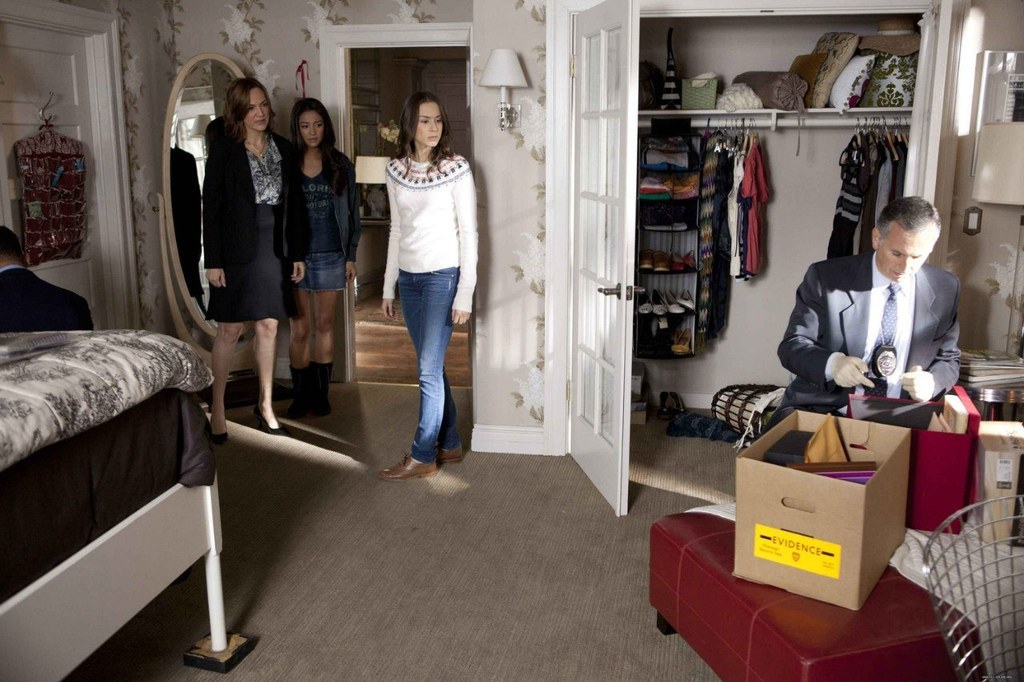 Those questions will be answered over 30 episodes — the total between Season 6B and both halves of Season 7 — but then what? In June 2014, ABC Family announced Pretty Little Liars had been picked up for a sixth and seventh season, and there's a sense — among those who watch the show and those who work on it — that Season 7 will be its last.
"This is the beginning of the end," Bellisario said. "But the best part about these last two years is that, because it's the beginning of the end, we can actually start telling the story I think we've been waiting to tell for a long time. It's exciting because it feels like we can kick into a different gear instead of spinning wheels and biding our time."
The actor recently got a taste as to just how bittersweet it will be when the time comes to leave PLL for good: The time jump rendered Spencer's bedroom obsolete, so the set was — unbeknownst to her — torn down. "I lost my mind," she said, remembering when she found out. "I ran back and there was just a wall left. I spent six years of my life in that room; I have actually slept — fully slept — in that bed. I've had important moments of my life in there and definitely really important moments of my character's life, so that to me is when it really started to hit that this is the beginning of the end."
Spencer's room is just one physical sign of the changing times on the Pretty Little Liars set. While Aria's living room stands strong next to Hanna's kitchen and foyer on Stage 6 at the Warner Bros. lot in Burbank, California, new sets were being erected on Stage 7 where Aria, Emily, and Alison's bedrooms once stood too. "It's very overwhelming," Bellisario added. "There's going to be a day where I shoot my last ever scene with Hanna. There's going to be a day where I'm going to have the last ever Toby [Keegan Allen] kiss. It's going to come and it's going to be such a crazy day, but I haven't quite hit the sad part yet. I think that will come when we actually finish the show."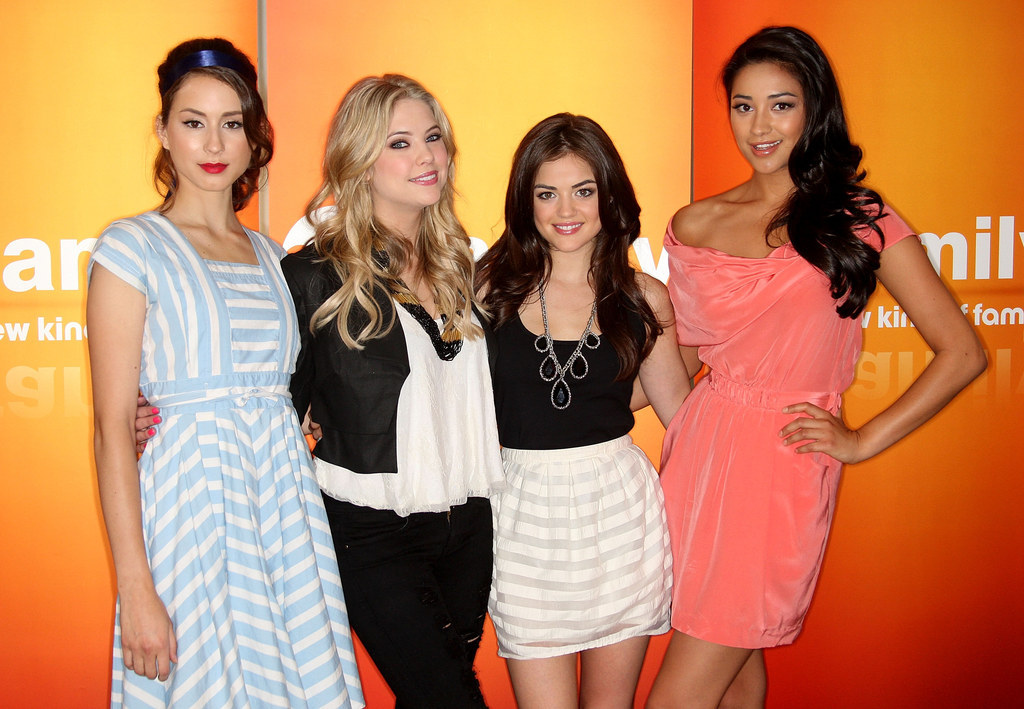 Of course, it's hard to get nostalgic for a life you're still living, but every time someone spoke of the show's looming end, it quickly became clear that those emotions were already running high. "I have to be really careful when I talk about this because I always get so emotional, but this show has been the best years of my life," Mitchell said, her eyes beginning to well up with tears. "It's changed me in more ways than one. This is my first big acting opportunity and I've learned so much in the best way possible — especially with my character. I've been really fortunate to play Emily, because I know how much of an impact she's had on fans everywhere. In a lot of cases, they've been able to come out to their parents or their friends because they've had the confidence from Emily's storyline. That goes beyond being on a successful show that entertains; it's a whole other level to be able to be the opener of that conversation. It's a really great feeling and knowing that makes every 5:30 a.m. call time no problem."
Marlene King also got teary-eyed when thinking about the day she would no longer come to work on the show she calls "my baby." "We really did become a family, and I will cry if I start to think about when we all have to say goodbye to each other," she said, as she began to cry. "It's going so fast. Like, those next 30 are going to be gone so fast, and then we'll have that final, final big ending, and it's going to be extremely emotional."
ABC Family would not confirm whether or not Season 7 will be the end of the road for Pretty Little Liars or a goodbye for the four actors at its center — King, Goldstick, and Dougherty did not entirely dismiss the idea of passing the torch to a new set of characters. But whenever they do say goodbye, there's no doubt the women who got their big breaks on the show will walk away feeling like they accomplished something significant.
"Six years ago most of us had kind of worked a little, but this was the beginning of our careers and it opened up so much. … It is sad," Hale said as reality of the end crept in. "I haven't really talked about it, but we see the light at the end of the tunnel and just thinking about what each of us has accomplished since the beginning of this show, it's so exciting to look at Ashley and think, What is she going to do after this? Or Troian or Sasha. I know that everyone is going to do really amazing things and so much of the credit is due to Pretty Little Liars and the crazy roller coaster it has been."
For Benson, the PLL ride has not only marked a huge change in her career, but one she thinks television will feel for years to come. "I'm going to take away the fact that [we] changed television," she said. "It's crazy to think we've created this whole phenomenon of an insane television show that's known worldwide, and it's really weird to think about it in those terms, but when we do fan events, it's like, 'Whoa. This is insane.' I can't believe we were able to create such an amazing show."
Pretty Little Liars Season 6A premieres on Tuesday, June 2 at 8 p.m. ET/7 CT on ABC Family.