"Nashville" Has Been Brought Back To Life
The country music series is heading to CMT for Season 5 and Hulu will make all episodes available to stream the day after they air.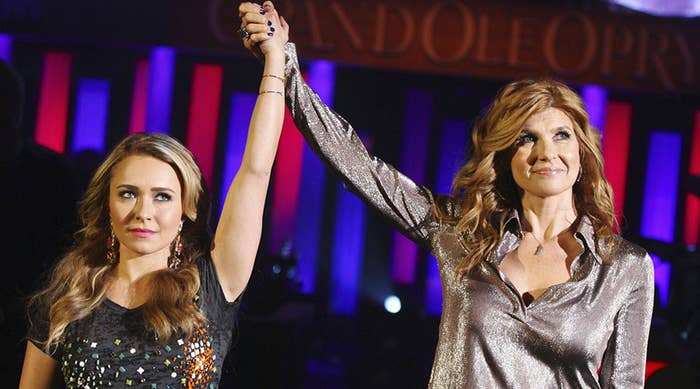 Nashville fans everywhere, get ready to start singing the praises of CMT and Hulu, which have united to save the axed ABC drama from cancelation.
It was announced on Friday morning that CMT has picked up the series, which ABC canceled in May, for a fifth season. Hulu will make all Nashville episodes available to stream the day after they air on CMT. Deadline was first to report that CMT was in talks to pick up the series earlier this week.
Fans have rallied around the series since it was canceled by ABC on May 12 — in addition to starting petitions, they've used social media to generate dozens of trending topics, like #BringBackNashville, in an effort to lobby other networks to pick up the series. Lionsgate Television Group, which produces the series, reportedly decided to end Season 4 with a cliffhanger that left the fate of one of its leading ladies, Juliette Barnes (Hayden Paniettiere), in jeopardy in the hope that would help the show find a new home.
"CMT heard the fans. The wave of love and appreciation they have unleashed for Nashville has been overwhelming," CMT's president Brian Philips said in a statement. "We see our fans and ourselves in this show and we will treasure it like no other network. Nashville belongs on CMT."
Patrick Moran, ABC Studios' executive vice president, said they "always had faith that [they] would find a way to bring Nashville back to its devoted fans," while Kevin Beggs, the chairman of the Lionsgate Television Group, said: "We want to thank the incredible fans for their unwavering support—#Nashies, you helped make this possible."
Nashville stars Panettiere, Connie Britton, Charles Esten, Clare Bowen, Sam Palladio, and Jonathan Jackson as musicians working and living in Nashville. There is no additional information at this time as to which cast members will be returning, how many episodes Season 5 will be, and when it will premiere.
As was previously planned before ABC canceled the series, Thirtysomething creators Ed Zwick and Marshall Herskovitz will serve as showrunners for Season 5, taking the reins from Dee Johnson.
For now, fans who live in the city of the show's title can celebrate the fact that Nashville is alive and well with a concert later today, which includes Esten, several other cast members, and CMT host Cody Alan.
Additional reporting by Susan Cheng.