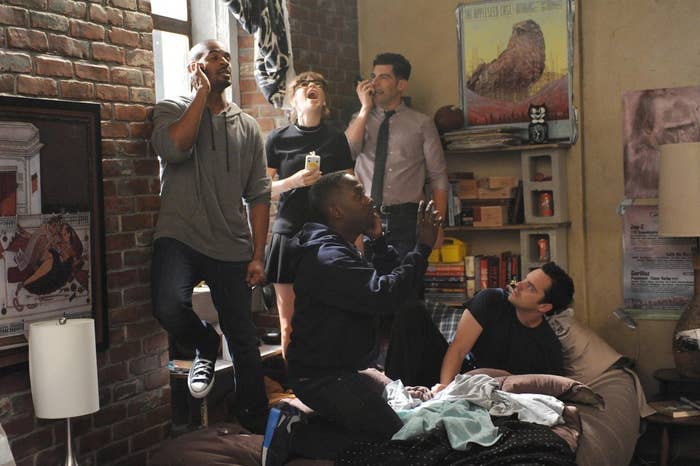 No one would dispute that New Girl lost its way in Season 3 — not even the show's executive producers. "We obviously struggled last year," creator Elizabeth Meriwether told BuzzFeed News, sitting on the couch in her simply decorated, desk-free office on the Fox lot in Los Angeles with her fellow executive producers. "I think one of the show's strengths is that it's always been able to go to a million different places and do a million different things, but the problem with that is sometimes when we take a big swing and miss, you really feel the pain of that."
The big swing Meriwether spoke of was putting its romantic leads, Jess Day (Zooey Deschanel) and Nick Miller (Jake Johnson), into a full-blown relationship. The show was initially built around Jess, Nick, Schmidt (Max Greenfield), and Winston (Lamorne Morris), a foursome brought together by fate — and Craigslist — but the chemistry between Nick and Jess quickly became too palpable for anyone to ignore. Initially a huge hit with fans, the storyline quickly presented problems for the writers and triggered a domino effect of events that led to the show's eventual floundering.
"By moving into the Nick-Jess relationship, we changed the engine of the show to this relationship inside of the group," said co-executive producer Brett Baer. "The trick with last year was you get these two likable, audience favorite characters in a relationship and to make it interesting there has to be conflict, but what kind of conflict can you have without making one of the two parties look like a villain? You have to walk a careful line, but then that's not great for comedy."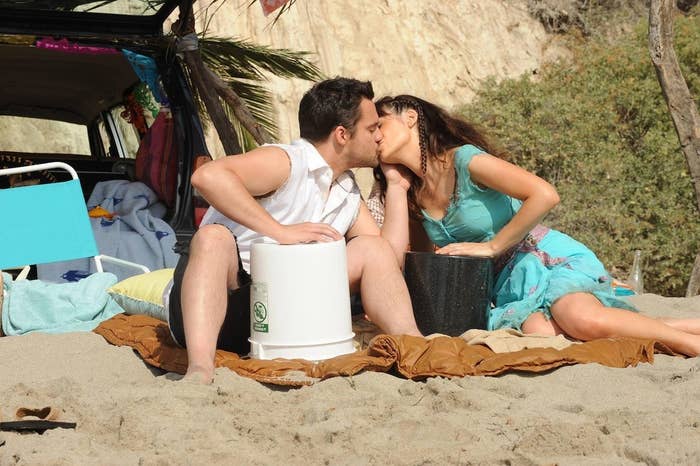 A second, unanticipated problem cropped up as a result of the Nick-Jess pairing. "We did an episode in Season 2 called 'Parking Spot,' which was really successful for us, and at the core of that was Schmidt feeling this triangulation with Nick and Jess," said Baer. "So when we got into the Nick-Jess relationship we tried to capitalize on that dynamic, and that turned out not to be a great color for us because it created too much fracture within the group."
The fallout from that splintering led Schmidt to move out of the group's loft and into a very polarizing storyline that saw him date two women — Cece (Hannah Simone) and Elizabeth (Merritt Wever) — at the same time.
"We thought it would be interesting to have a guy who was legitimately in love with two women," said executive producer Dave Finkel. "We didn't think of it as cheating, but, when you look at it from a bird's eye view, it is. I think we learned a lot about what the show is to the audience through that."
"The reaction to the Schmidt thing totally took me by surprise," Baer added. "That was a learning experience for all of us about what the show is to the audience. The audience wanted something from the show that didn't take them to this darker place that dealt with unseemly things. The show wants to be a wish fulfillment thing about a group of friends who band together and the fracture between them wasn't helping."
Typically, television writers have time to course-correct their respective shows, thanks to the nature of production and a weekly broadcast model, but a pair of time-consuming logistical developments made that impossible. First, Fox awarded New Girl with 2014's coveted post-Super Bowl episode and tapped Prince to guest star in the installment. "It took three and a half months to put that episode together," Finkel said. "It was like running an entire show within another show because it took so much energy."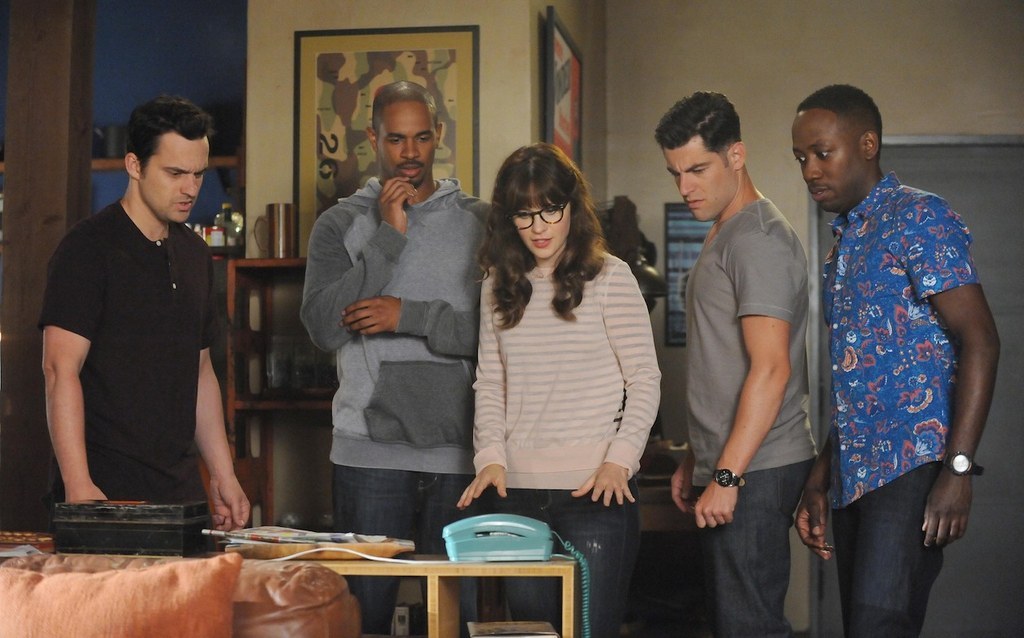 The second development was the return of Damon Wayans Jr., who played Coach in the show's pilot episode, but was unable to continue on the show once ABC renewed Happy Endings; Wayans' role was written out and Lamorne Morris' Winston was instead introduced. Wayans was brought back originally for a one-episode guest spot in Season 3, but his time on the show grew until he was officially brought back full-time.
"We were, of course, excited to have him back full-time, but we hadn't done any pre-planning for that," Baer said. "All of a sudden we were incorporating a new cast member into the loft and playing catch-up. It reminded me of what we had to do in learning who Lamorne was as a performer and Winston was as a character on the fly, because we didn't have the time to know what that was organically."
That catch-up — pairing Coach with different characters and characteristics every episode — led to supersized scripts that the producers considered coherent and funny — but were far too long. With commercial breaks factored in, an episode of New Girl must run exactly 21 minutes and 35 seconds long, but the writers didn't think about that until it came time to edit the episodes.
"What happened was we would shoot a script we felt great about and then we'd have to cut large chunks out of it," Meriwether said. "So everything made less sense and was less funny because when you're in the editing room, the first thing that goes are the jokes — they're not essential to the story. So it was very frustrating trying to make everybody fit into every episode."
The combination of all those elements resulted in a very dark time for Meriwether. "At the end of last year I was at a real low point," she said. "I directed the Season 3 finale — which was the first time I've ever directed anything — and we threw out the script after the table read. And then we threw out another version of the script on Thursday when we were supposed to start shooting on Monday. We threw it out because it was originally this episode where we were really dealing with the breakup. It was a bummer and it was heavy and it wasn't funny and it was a culmination of the problem we'd been having all year. Our hearts were in the right place, but it just wasn't funny. It was kind of like, Ugh, how did we get here?"
After the Season 3 finale aired in May 2014, Meriwether and her team took a much-needed break from the show in order to reflect. During the summer hiatus, each of the executive producers — individually — came to the same conclusion: The show had to get back to its basics.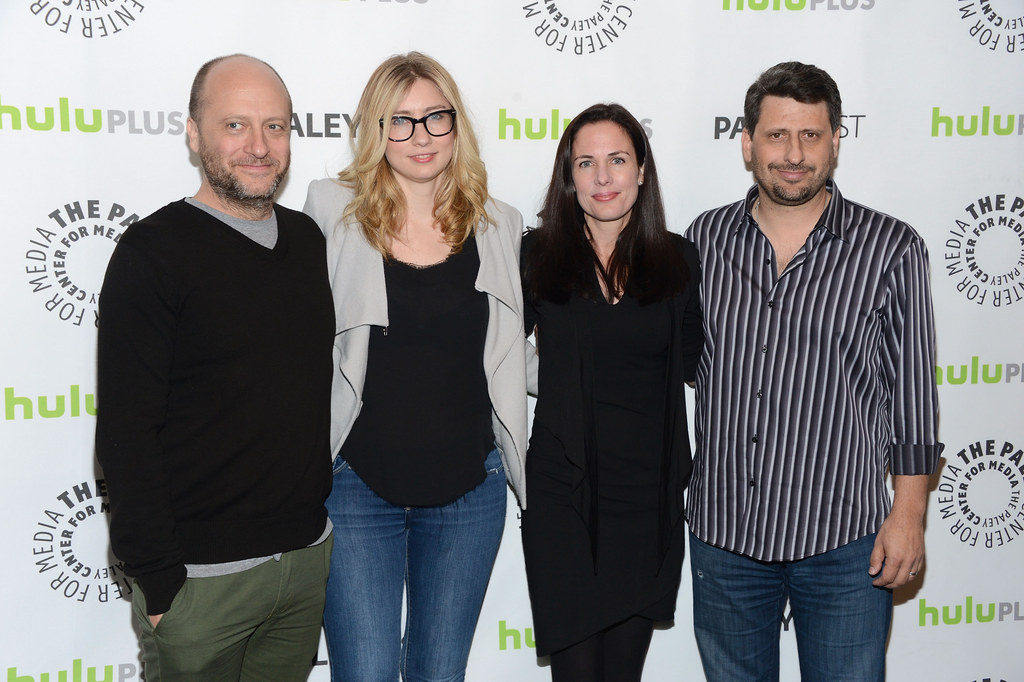 "We had to focus on Jess trying to find love," Meriwether said. "That's where the initial impetus for the show had been." The second objective was to tell simpler stories. "I got a little lost in all of the arcs last year," she said. "And something that's actually helped all of the relationships is to get away from doing stories about the relationships and do stories about funny things and let the relationships play inside those stories."
"I was thinking back to the wedding episode in Season 1 where they're all doing the chicken dance," Meriwether continued. "To me, I remember working on that episode and thinking, This is the show. And what was that about? It was this John Hughes-y, us against the world feeling and that is where I want the show to live. So this year, we started to tell stories where our characters were not in conflict with each other. They're stories of them all, as friends, pushing back against the world."
A big part of that streamlining originated at a preseason writers retreat, where staff established a "want" for each character. "Not even for the season, just for them as a character," Baer said of these simple needs; he cited "love" for Jess and "work success" for Schmidt as two examples. "It becomes so much easier to clear out the bullshit and lets you string episodes on that simple idea. I think we've simplified it to a point now where it's easy to build on."
Setting those clear intentions at the outset has proven fruitful for the writers, who all feel rejuvenated. As proof, Meriwether said room's collective script output has been infinitely higher. "This is the first time during the show that I haven't felt like I'm trying to put out a burning building," she revealed of being so far ahead in the writing process. "The first three seasons were so stressful. When you're writing a script on Thursday that you're going to shoot on Monday, you're just trying to keep your head above water. We're finally getting the chance to be the best we can be."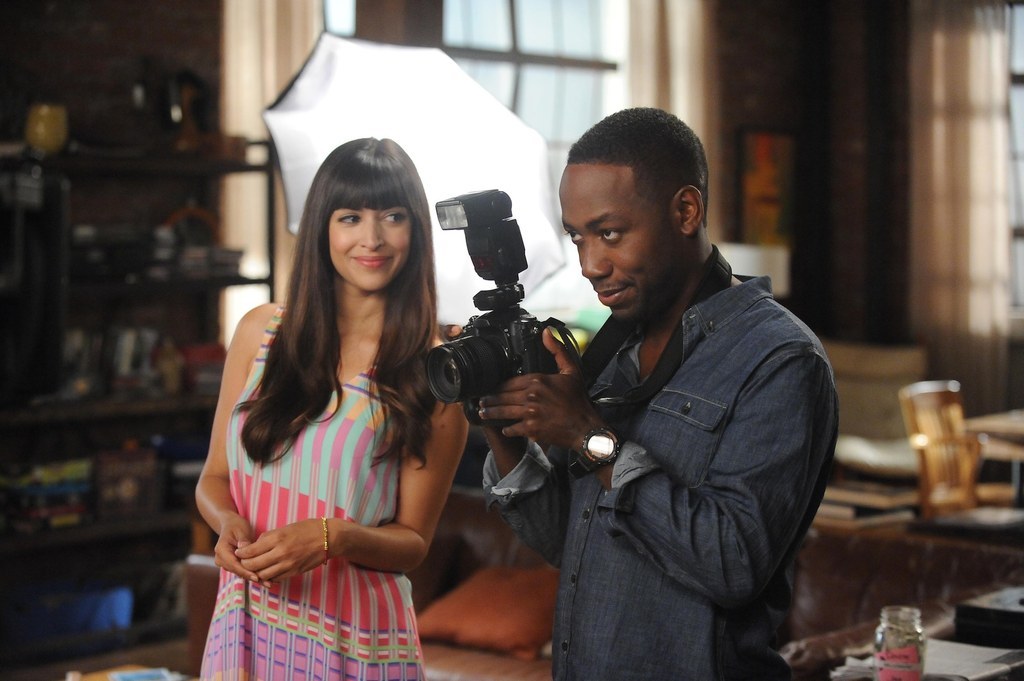 Baer chimed in. "I think we put a premium on comedy this year whereas a lot of our thinking had to be in the soap arena last year because of the Nick-Jess relationship," he said. "Now that we've taken the shackles off, we get to just be funny. What's the funniest version of that permutation? Or that story? Everybody is feeling it and excited about it."
The end result of that careful restructuring has helped the show to, once again, tap into the pop culture zeitgeist. The Oct. 7 episode, entitled "Micro" — where Jess dates a man with a micropenis — inspired a BuzzFeed dating story and a Jezebel write-up, and led Elizabeth Banks to be asked if she'd ever date a guy with a micropenis during a fan Q&A.
To that end, Meriwether, Baer, and Finkel say they've heard a lot of fans and critics refer to the show as "good again." A claim they are thrilled to hear, but also take slight umbrage with. "It sucks," Finkel said of hearing the backhanded compliment. "I mean, we worked hard. It's not like last year was a thoughtless adventure. I think people put a blanket over last season and say, 'Well, that was ridiculous.' But I completely disagree. Yes, there were missteps. But by and large, it was good storytelling. I think it's the way it had to happen. I think we're getting good episodes now because they went through that, not in spite of. So it's a little frustrating because there's not a single episode that we haven't killed ourselves for."
As Finkel spoke, his frustrations regarding the critical and commercial pile-on clearly shared by his fellow producers, Meriwether nodded along. "I'm just glad they're saying it's funny again!" she said, with a laugh. "It's a lot better than them being like, 'This show is still not funny.' Maybe at some point, if they're feeling it, they can rewatch Season 3 and be like, 'Oh, that wasn't as bad as I thought it was.' But for now, just keep watching Season 4!"