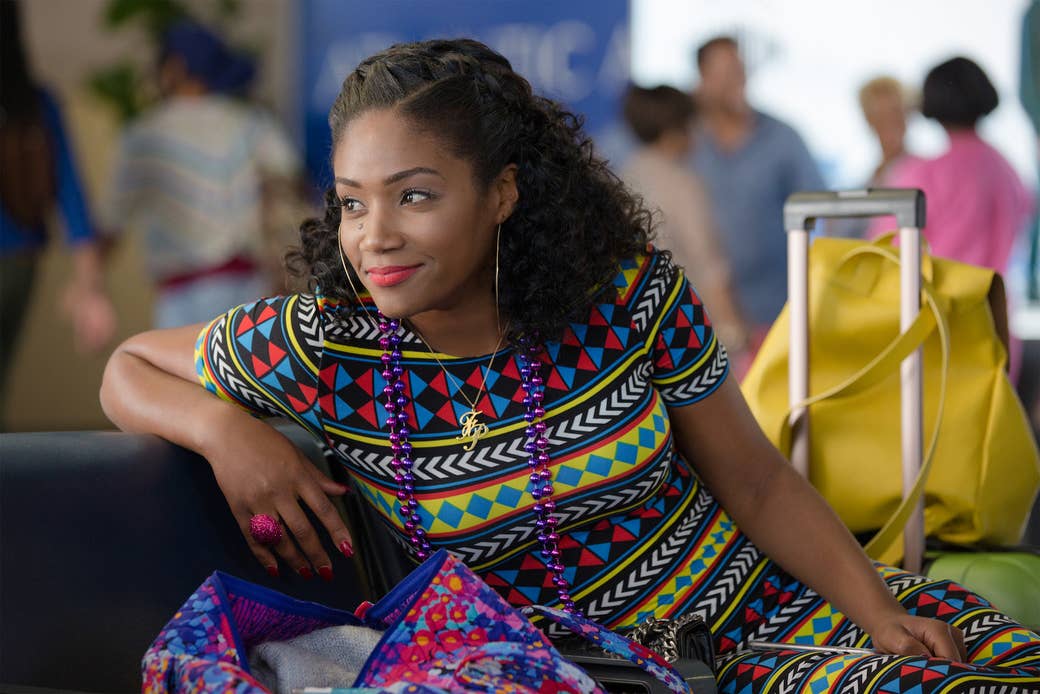 Tiffany Haddish can pinpoint the exact moment her life changed for the better.
It was 2004 and she was "homeless as fuck," spending nights in her Geo Metro on the streets of Los Angeles. But she was trying to keep up appearances. "I made sure my nails were done, I made sure my hair stayed done, I could keep my armpits up with baby wipes, I tried to stay clean," Haddish said of her self-proclaimed "classy homeless" facade.
The then-25-year-old LA native was angling for stage time at Hollywood's famed Laugh Factory in hopes of realizing her dreams of becoming a stand-up comedian. But one night, as she was arriving late — per usual, so the other comics wouldn't see her clearly lived-in car — another car pulled into the parking lot directly behind her. It was Kevin Hart, who Haddish had become friendly with on the comedy circuit. She tried to play off the fact that all her belongings were jam-packed inside her sedan, but Hart wasn't fooled. After the show, he pulled her aside to talk in his car. He gave her $300 and told her to make a list of goals, both professional and personal, so she could get back on track.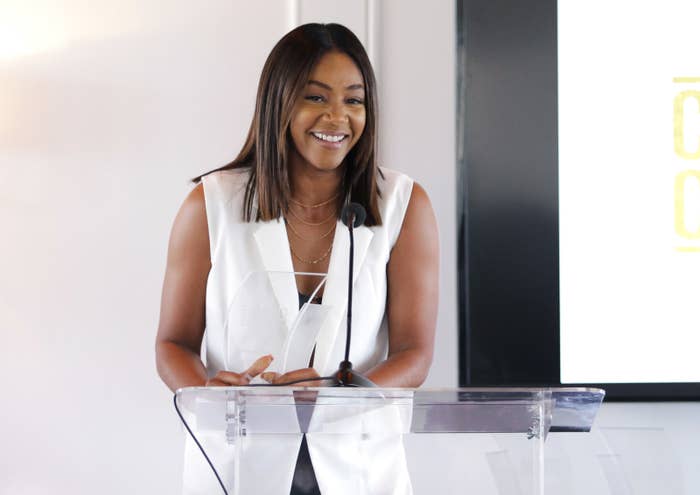 "He noticed, and nobody really noticed," Haddish said through tears over tea at Coffee Commissary in West Hollywood, a few miles away from the parking lot where everything changed. "I was homeless, I was hopeless, and he noticed. He didn't try to take advantage of me. He helped me. Like an angel. It was a turning point for me."
Haddish did what Hart suggested. Atop her list were practical goals: Move out of the Geo Metro, move into a real apartment, and buy some nice drapes. Farther down the list were dreams that felt utterly impossible at the time, like working with Danny DeVito, Dave Chappelle, and Jada Pinkett Smith.
Fast-forward 13 years and Haddish is living the kind of life she wished for that night in Hart's car. (Hart was unavailable to comment on this story.) She's a staple in the stand-up comedy scene, she's costarred on Tyler Perry's If Loving You Is Wrong, she's worked with Jordan Peele and Keegan-Michael Key in Keanu, and she routinely steals her scenes on NBC's The Carmichael Show. She's worked with DeVito on It's Always Sunny in Philadelphia, she's opened for Chappelle on tour, and she's about to costar with Pinkett Smith in the year's funniest comedy, Girls Trip.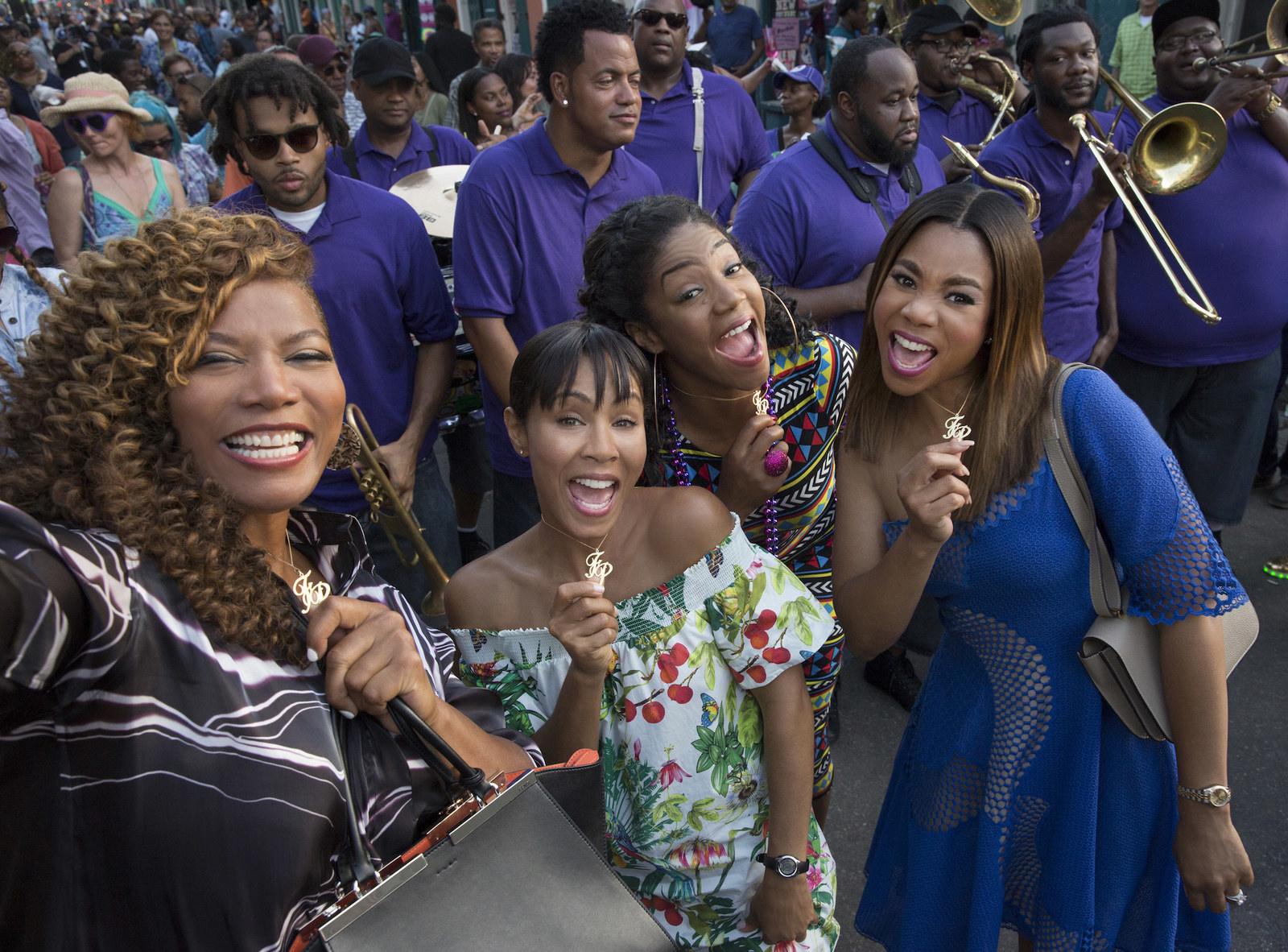 In the film, Haddish plays Dina, one-fourth of a college crew nicknamed the Flossy Posse (rounded out by Queen Latifah and Regina Hall), who travel to Essence Fest in New Orleans in hopes of repairing their fractured friendship. Each woman has taken a different path since college: Pinkett Smith's Lisa is a harried mother of two, Latifah's Sasha is a formerly respected journalist now slumming it as a gossip blogger, Hall's Ryan is an aspirational lifestyle guru, and Haddish's Dina is living an emotionally stunted but totally joyous life as the group's irrepressible free spirit.
Many of the same local New Orleans crew members who had worked on Keanu with Haddish signed on for Girls Trip, and after reading the script, they thought she would be perfect for Dina. Unbeknownst to one another, about a dozen crew members sent nearly identical emails to the comedian. "'You need to go audition for this.' 'This is your part,'" Haddish recalled of their messages, some of which included the script attached. When she read it, Haddish immediately felt a kinship with Dina. "I was like, whoever wrote this knows me," she said. "Like, they must have partied with me at least once."
But there was a hitch: The producers were looking for "a name," — i.e., another famous actor to join Pinkett Smith, Latifah, and Hall, who had already signed on. So Haddish had a very simple (and very Dina-esque) suggestion for her manager. "I said, 'Tell them I've had a name since 1979. I was born with a name. You tell them I need to come in.'" And that's exactly what her manager did.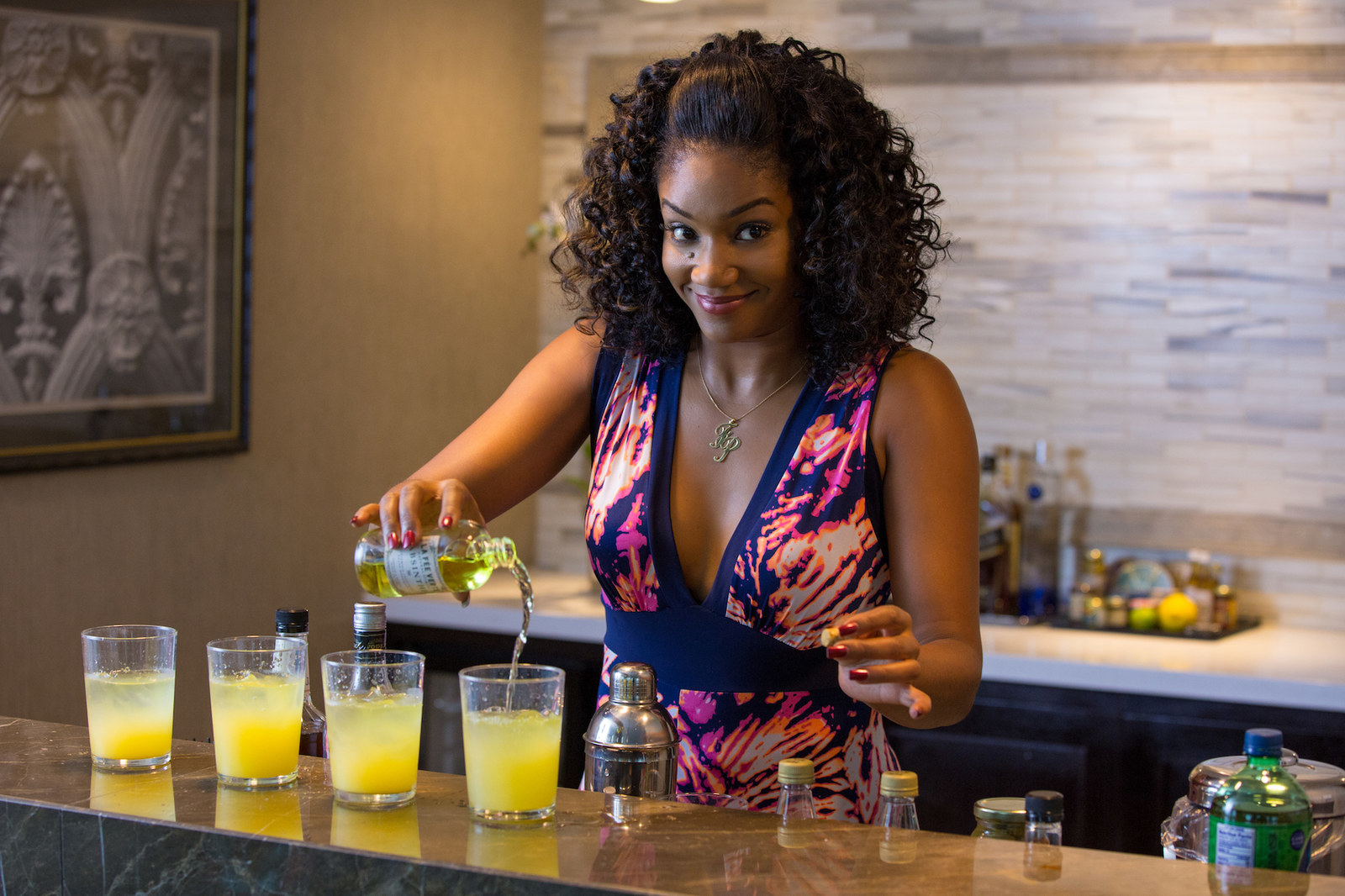 A series of improv-heavy auditions later, Haddish landed the role and found herself with three days to pack up her life in LA and fly to New Orleans. The opportunity offered Haddish something she'd been longing for — not just the chance to work with Pinkett Smith and check another item off her Kevin Hart–inspired to-do list, but the chance to create a character that tapped into her strongest skill set as a performer: physical comedy.
While white women in comedy — like Melissa McCarthy, Amy Schumer, Rebel Wilson, and Kate McKinnon — routinely use their physicality for laughs, Haddish noted that that freedom is not as readily available for black women. So when she began to create Dina in her mind, Haddish looked to a pair of her biggest comedy idols: Whoopi Goldberg and Charlie Chaplin. "Whoopi Goldberg in Jumpin' Jack Flash was the first black woman I ever saw get to be really physical," she said. "I am a comedy connoisseur, and when I got this role, I knew there's a certain way I had to play it, because Dina could be considered the super nasty dirtiest chick in the world and people would hate her."
That's where Chaplin came in. "I studied him for a long time because he was doing bad stuff — hitting people, kicking things, hurting dogs, all kind of stuff — but he was always forgiven because he made it feel like childlike behavior. So I was like, if I can bring this childlike vibe to Dina and just be this wild teenage chick, people would be like, 'She's nasty and I like it because she's so fucking sweet.'"
Haddish nails Dina's duality. About halfway through Girls Trip, Dina not-so-accidentally doses her friend's drinks with absinthe. As they all begin to trip, it comes to light that she's responsible, but no one holds it against her, because you can't help but like a girl who just wants to have fun.
Haddish had been studying Goldberg, Chaplin, and more comedians ever since she was a child. Her first idol? Charles Fleischer, who voiced Roger Rabbit in 1988's Who Framed Roger Rabbit. "He's the main reason why I even tried to be funny," Haddish said. "There's a scene in the movie where Eddie [Bob Hoskins] says to the rabbit, 'Why are all of these people doing this nice stuff for you?' And Roger says, 'Because I make people laugh, Eddie! If you make people laugh, they'll do anything for you,'" Haddish said, perfectly emulating Fleischer's iconic Roger lisp. "I'm like, 'That's the ticket! That's how I'll get kids to help me do my homework! That's how I'll keep from getting beat up! That's how I'll keep from people talking bad about my mom.' That was the beginning of everything for me."
Haddish was born and raised by a single mother in South Los Angeles, along with her four siblings. When she was 9, her mother was in a serious car accident that Haddish links to her mother developing schizophrenia. From ages 9 to 13, Haddish assumed a maternal role to her siblings until all five kids were placed into foster care before they were able to move in with their grandmother. "Comedy was my saving grace," she said. "What comedy did for me is it's been able to make me look at a really bad situation and think, What's funny about this? What about this is good? What about this can I take with me and be like, 'Let me tell you a crazy story that happened to me?' So people can be like, 'That is so fucked up, but it's hilarious.'"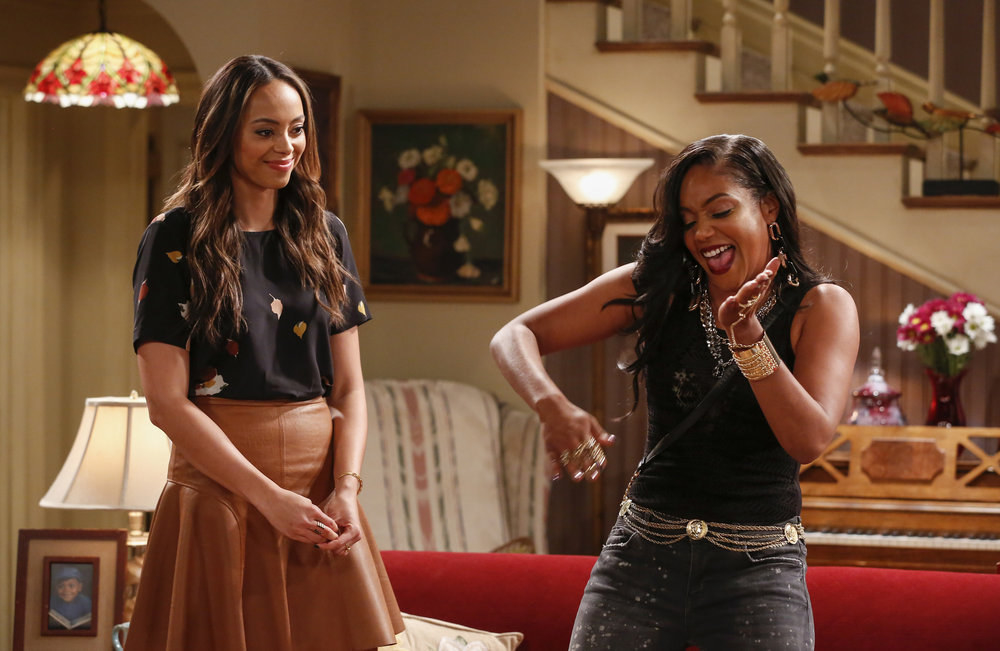 As a teenager, Haddish had the opportunity to learn from Fleischer at Comedy Camp, a Laugh Factory community enrichment program that pairs inner-city kids with stand-up mentors. "It was the most wonderful thing in the world that could have ever happened to me," she said. "It was the first time a man ever told me I was beautiful and I didn't think something bad was going to happen. It's the first time a man ever told me I was smart, it's the first time a man sat me down and showed me how to construct a joke and gave me confidence and communication skills and showed me how to command a room and how to properly receive attention."
She relied on her newfound comedic stylings to deflect negative attention growing up, calling the art form her "safe space." For Haddish, comedy is "where I know that I can speak my mind and whether people agreed or disagreed with it, I'm not going to get beat up, I'm not going to get raped," she said. "I enjoy being able to have a voice and being heard and sharing my truth onstage."
Now Haddish is hoping she can use comedy to help her mother, too. "My mom is in a mental institution right now, and I think the main reason why I want to be so successful, why I want to do so much, is so that I can get her out of that institution and find the cure," she said, as tears rolled down her cheeks.
"Because I think rich people be having the cure for crazy," she continued, finding a way to joke through the tears. "I feel like if I get rich enough, I can put her on a holistic diet and give her these roots and herbs from South America that other people can't get and then I get my genius mother back. I get my mother back who was good at doing business, who was good at loving her children, who was good at just listening and caring. I want that so bad. That's why. That's why."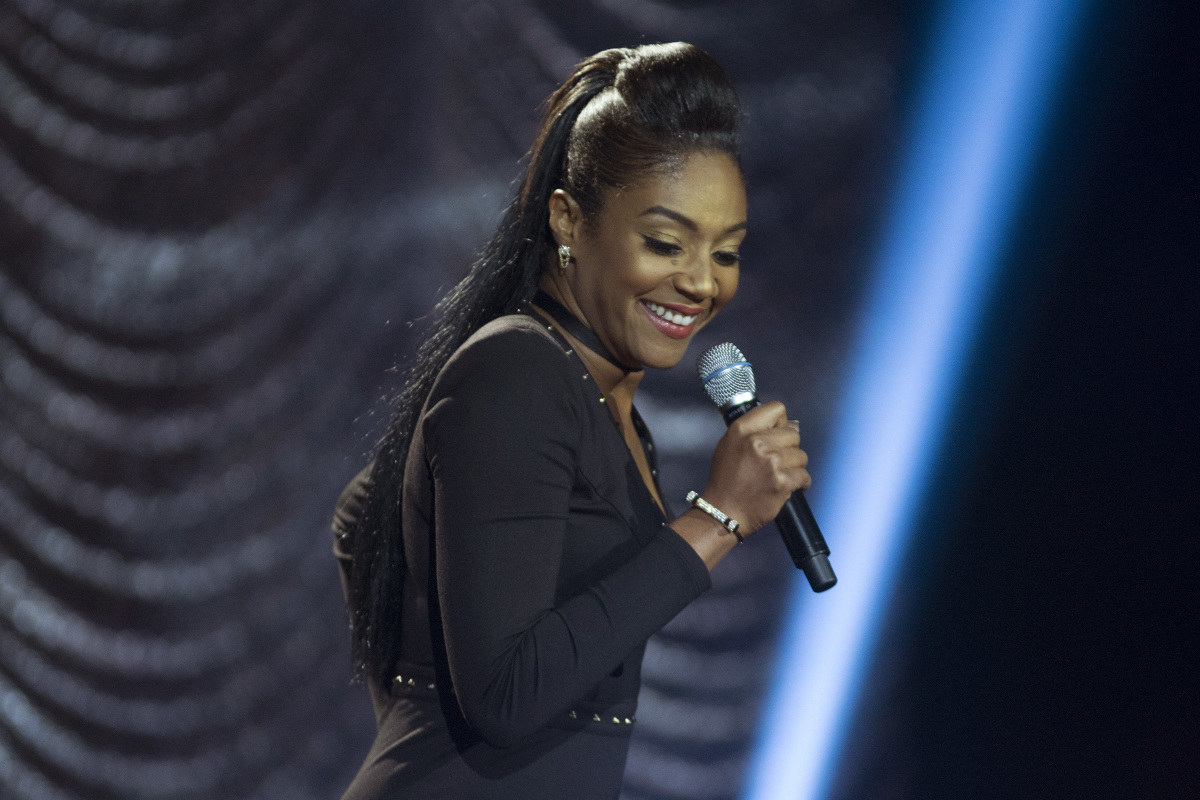 Looking at the year ahead for Haddish, it would appear that she's well on her way to checking off that most important item on her to-do list one day. The third and final season of The Carmichael Show ends in August, Showtime will air her stand-up special — Tiffany Haddish: She Ready! From the Hood to Hollywood — on Aug. 18, and this fall she'll costar as Tracy Morgan's ex-wife on the new TBS comedy The Last O.G.
And while Haddish wants to build a career that can offer her the opportunity to help her mother and siblings, that can give her the chance to thank Kevin Hart for all his help, and that can eventually lead her to work with Will Ferrell (the last name on her 2004 wish list), the person Haddish constantly works to impress is herself. "I don't feel like I need to be successful for others, I feel like I need to be successful for myself," she said, pointing a perfectly manicured finger at her heart. "I need to be successful for that little girl who was 12 years old, sitting in freakin' MacLaren Hall feeling like she was going to get beat up by the world and die tomorrow and not be anything. I honestly thought I would be a baby mama with five kids, four daddies; that was how I was going to have to make a living, because I couldn't read, I couldn't talk to people, I'm scared of everybody. I honestly felt like that was what I was going to have to do. 'I'm gonna have to be a ho.' Because that's what I saw succeeding."
Haddish stopped for a moment and used a napkin to wipe the tears from her eyes. "I've been through the shit," she said, not as a knock against herself or a way to build herself up — just a simple fact. "I have come out of society's asshole, but guess what?" She took another pause as a massive smile broke out across her face. "I'm the penny you swallowed. I'm magical!"●