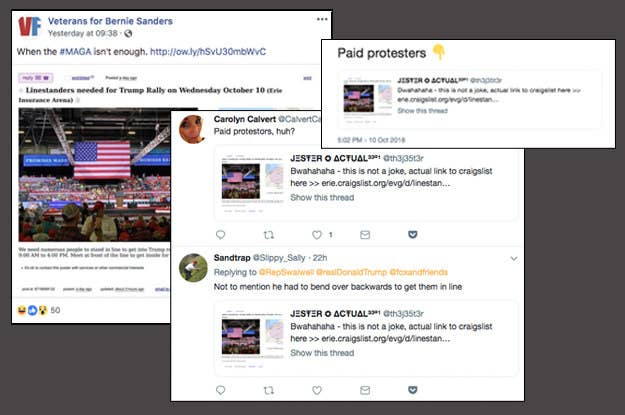 In preparation for Wednesday's Trump rally in Erie, Pennsylvania, Mike Oles III paid $3 to place an ad on Craigslist. "Linestanders needed for Trump Rally," it said, and offered $100 per person to hold a place in line for someone from his organization.
Oles is the field director for Good Jobs Nation, an organization affiliated with a federation of labor unions called Change to Win. Good Jobs Nation advocates for laid-off and retired workers across the US. Many of their members are retirees and can't stand in line for several hours to get into a Trump rally. So they hire line standers. In the ad, he listed his phone number and invited anyone interested to call or text.
Soon Oles was inundated with calls and text messages. Very few of them wanted the job — most left angry and harassing messages. Soon he realized what was going on: His ad had been swept up in the partisan misinformation machine. His line standers have been warped into "paid protesters."
The persistent "paid protesters" claim is used to discredit anti-Trump demonstrations, and to push conspiracy theories about liberal billionaire George Soros. During the 2016 election, Trump campaign staffers such as Kellyanne Conway and Corey Lewandowski tweeted the link to a false story about paid protesters. Just after Trump was elected, a false tweet about busloads of paid protesters also went viral.
In this case, the Good Jobs Nation ad was posted to the "America's Last Line of Defense" Facebook page, which claims to be satirical but frequently spreads believable hoaxes that catch fire online. (In total, the page posted a link to the ad six different times, according to social media–tracking tool CrowdTangle.)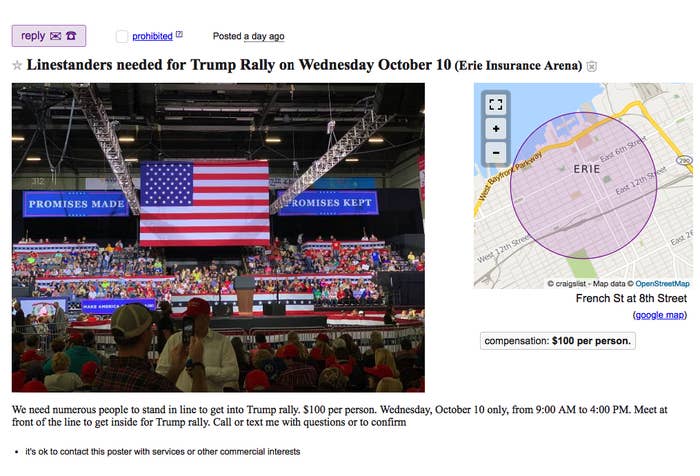 Paco Fabián, the communications director for Good Jobs Nation, told BuzzFeed News that from there, the ad began to spread, getting shared in one political Facebook group after another. The link to the ad, which has since been taken down, received more than 17,000 shares, comments, and reactions on Facebook. It also went viral on Twitter. The debunking website Lead Stories was first to notice that the Good Jobs Nation ad was becoming a source of false claims.
In this case, anti-Trumpers seized on the ad as proof that Trump's rallies are poorly attended and therefore require people to be hired to make lines look longer. On the right, the Craigslist ad was cited as more proof that liberals have to pay protesters to go after Trump.
"I was probably too transparent in the Craigslist ad," said Oles. "This wasn't about paid protesters. This was about standing in line on a hot day surrounded by Trump people and, you know, trying to find people who would do that."
In the end, the group found roughly a dozen people to stand in line for union members who wanted to get into the rally. But most of them got kicked out as soon as they got past the metal detectors because Trump campaign staffers have come to recognize them, according to Oles and Fabián.
Fabián said their project began during the Obama presidency and is now focused on holding the current president accountable for promises he made to Midwest workers.
They plan to continue attending Trump rallies, and that could mean more Craigslist ads in the future. Oles said he won't change his phone number in spite of what happened this time.
"I don't want to change my phone number just because a bunch of online idiots have half-baked conspiracy theorists supporting the president and misleading people," Oles told BuzzFeed News. "The online conspiracy world is a joke and it's a dangerous part of our democracy."