This Comic Book Wants To Teach Kids About Online Disinformation
Does Bamse the Swedish cartoon bear brush his teeth?
A Swedish cartoon bear is trying to teach kids about disinformation. Bamse is the main character of the most popular children's magazine in Sweden.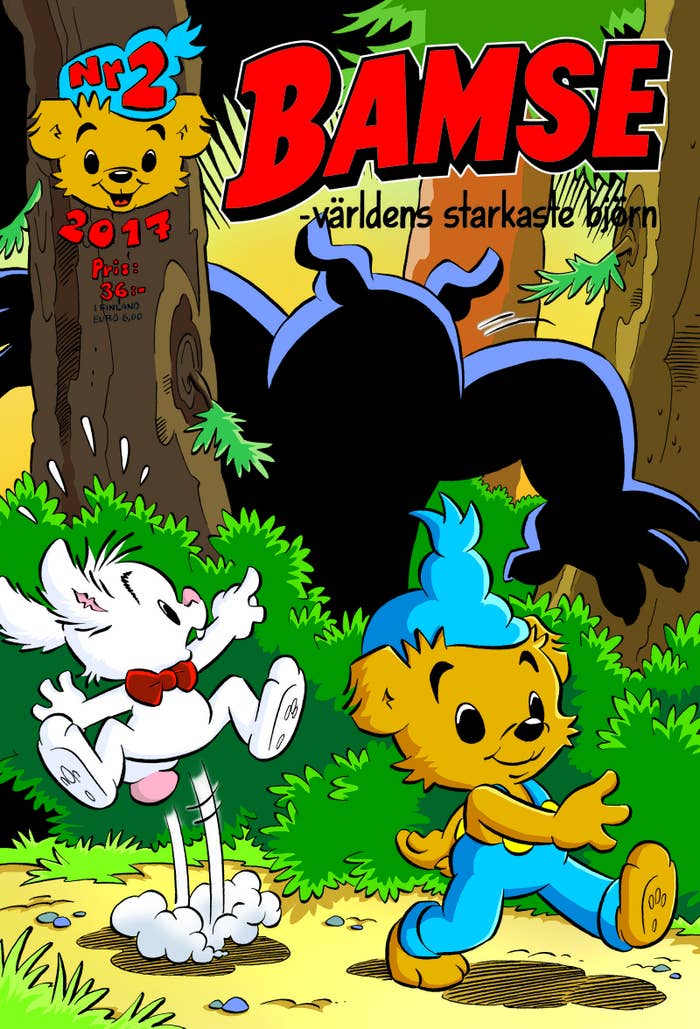 The bear gets strong by eating magic honey and goes on adventures with his friends, Little Hop the rabbit and Shellman the turtle.

In the upcoming edition, Little Hop sees what he thinks is a monster in the woods and starts spreading rumors about it. Borelius said Little Hop is "very fast but he's often afraid of things." In the end it's the bunny's wife, Nina Rabbit, who reveals the truth about his story. She's a journalist and she's the only one who's critical about Little Hop's information. But finding things out for yourself is a continuous theme in the comic. For example, Shellman the turtle is a skeptic and an inventor. "I don't believe anything I don't know" is one of his taglines.
The comic comes out every third week and, according to its editor-in-chief Charlotta Borelius, is read by over 100,000 kids. It was originally created in 1966 by Rune Andréasson, who never shied away from explaining social issues to kids. The team behind modern-day Bamse is carrying on those ideals.

Boerlius said the point they want to stress is that on the internet, anyone can write anything they like and publish it. "Information can come from so many different sources, you should learn that at an early age."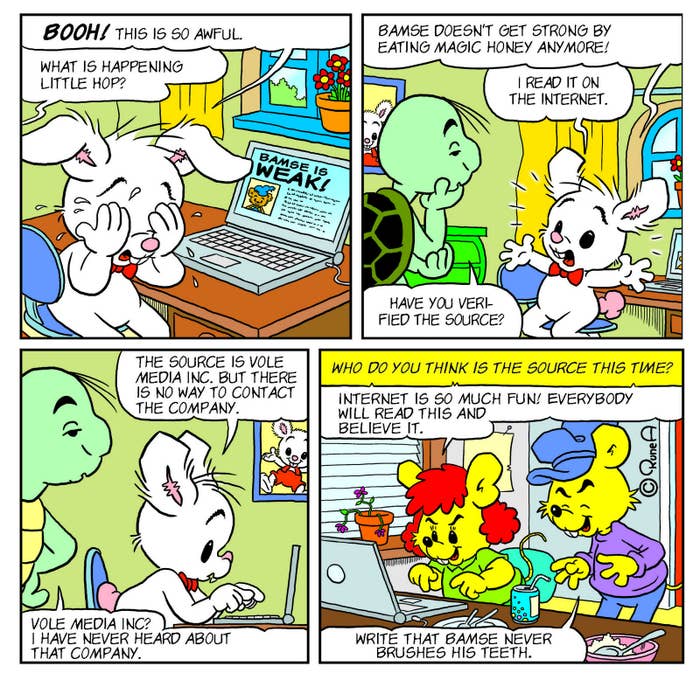 The idea came from a conference they attended last year in Malmö, Sweden. The theme was facts, lies, and conspiracy theories on the internet. But Bamse often tries to educate its readers by "teaching good values like fairness, non-violent solutions and tolerance," Borelius said.
Previously, the comic has tackled environmental issues, taxation, racism, gender equality, and alienation. Sometimes the topics spark heated conversation among fans. Borelius said when two females in the comic moved out together to the countryside, Bamse got a lot of attention.
"Some people were critical, but most people thought it was a good thing, to show different kinds of family constellations in the magazines," she said. "Everybody is not happy all the time but people care about Bamse and they react and that's a good thing, I think."