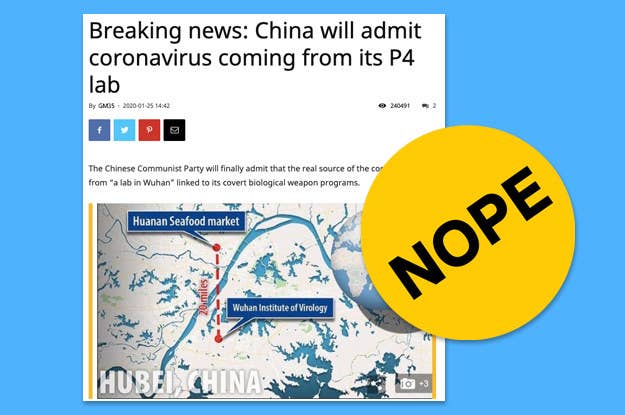 A website that published two false coronavirus claims, which painted China in a negative light, previously had a contract with former White House chief strategist Steve Bannon and was created by an exiled Chinese billionaire and critic of the ruling Communist Party.
On Jan. 25, G News published a false story saying the Chinese government was preparing to admit that the coronavirus originated in one of its labs. It did not, but the article still racked up over 19,000 tweets and 18,000 Facebook engagements, according to social tracking website BuzzSumo. The story was debunked by Facebook fact-checking partner PolitiFact.
The website also published a questionable document that fed a conspiracy that the Chinese military spread the disease deliberately. That document, which seems to have come from G News originally, has been popular on anonymous message boards like 4chan and 2chan.
G News is part of Guo Media, a project funded by Chinese billionaire Guo Wengui, also known as Miles Kwok and Miles Guo. He fled China in 2014 and has been accused of bribery, money laundering, and fraud by the mainland government. He has denied the charges, calling them politically motivated, and has become a vocal critic of Beijing.
In August 2018, Guo's organization signed what Axios reported to be a $1 million contract with Steve Bannon, former White House strategist and former chair of the hyperpartisan news site Breitbart. The contract required Bannon to make introductions to "media personalities" and advise on "industry standards," according to Axios. Guo and Bannon frequently appear together in videos on G News that attack the Chinese government.
Bannon declined to comment, and Guo could not be reached.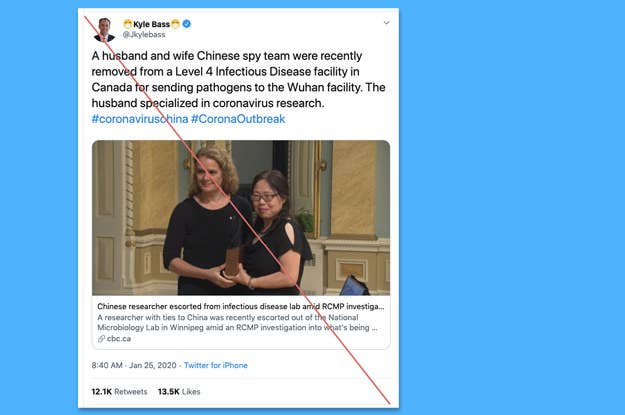 Another person connected to G News, hedge fund manager J. Kyle Bass, also spread a false coronavirus claim in a tweet. His hedge fund reportedly had investments that will increase in value if the Chinese economy fails, but he told BuzzFeed News he no longer holds "any Chinese equity positions whatsoever." Bass has remained a China critic, frequently echoing Bannon.
"A husband and wife Chinese spy team were recently removed from a Level 4 Infectious Disease facility in Canada for sending pathogens to the Wuhan facility. The husband specialized in coronavirus research," Bass tweeted, linking to a CBC News article that did not support his claim.
His tweet garnered almost 13,000 retweets and caused Canadian officials to issue a clarification denying that coronavirus was stolen from the Winnipeg lab. "This is misinformation and there is no factual basis for claims being made on social media," Eric Morrissette, the chief of media relations for Health Canada and the Public Health Agency of Canada, told CBC News.
When asked about his tweet, Bass said he had no plan to remove it.
"I am extremely concerned about the spread of misinformation about the coronavirus by the Chinese government," he said.
Bass is the chair of the Rule of Law Foundation, a nonprofit that runs banner ads at the top and bottom of the G News website soliciting donations. He said he had no affiliation with the site.
"I have nothing to do with G News or its content," he said. "Guo Wengui has no leadership position, operating control, or legal position with the Rule of Law Foundation."
Bass added that he hadn't "read any G News story. Period." He also claimed that the Rule of Law Foundation was separate from the $100 million fund started by Guo and Bannon called the Rule of Law Fund.
Aside from Guo's site sharing false information during the coronavirus outbreak, he has been a source of controversy since arriving in the US. According to Politico, he is involved in a legal dispute stemming from his alleged hiring of a private investigation firm to dig up dirt on Chinese nationals.
After being exiled from China, he has faced accusations of both financial and sexual misconduct, including a rape allegation from a former assistant. Guo has maintained his innocence, saying that allegations were politically motivated.