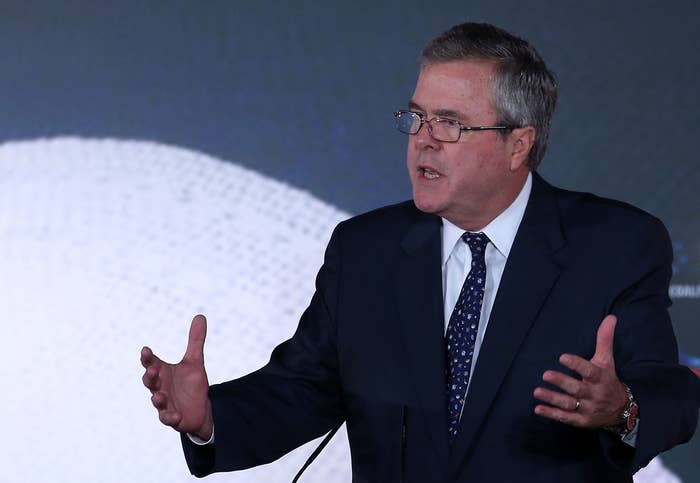 Former Florida Gov. Jeb Bush said Monday night he thinks the House will pass immigration reform next year, calling Speaker John Boehner "totally committed" to the effort.
"I think there will be bills passed," Bush said at a talk at 92nd Street Y in New York City. "It won't be one comprehensive bill. I think it will probably be in late spring, where there's a little bit of a window before the election starts in earnest. I hope so, I hope that's the case. I've talked to Speaker Boehner and he's totally committed to this, but he needs to find a way to get enough of the support."
Boehner said last week that he has no intention of going to conference on the Senate bill, effectively ending any chance that the House takes up immigration reform this year.
Bush said he thinks the major elements of the Senate's immigration reform, which passed in June, could be passed by the House as separate bills. He added that the main disagreement comes over immigrants who have already come to the United States illegally.
The measures in the Senate bill are "a pretty big price to pay for coming into this country illegally," Bush said. "I'm comfortable with that and I hope that the House gets comfortable with it as well."
Bush, who was discussing his book, Immigration Wars: Forging an American Solution, said that in general, he thinks immigration reform should be part of an economic strategy.
"I think a lot of people view immigration as, by supporting immigrants, you're taking away from me. And I would argue the opposite is the case," he said. "If we have this narrow perspective of 'We're not going to grow anymore and the pie is set and that's it, so I'm going to fight for mine,' we're doomed. That's it. Our country doesn't work well in a static kind of environment. Our country works well when it's dynamic and aspirational." He added that immigrants "aren't a drain on that, they're actually a catalytic converter for sustained economic growth."
Bush's wide-ranging discussion with Fordham law professor Thane Rosenbaum, director of the Forum on Law, Culture & Society, also touched on education reform, today's political climate, and the future of the Republican Party, among other topics. Bush, who has been mentioned as a potential 2016 presidential candidate recently, said the time is not right for him to make a decision on whether to make a bid for the White House.
That didn't stop him from lobbing a slight jab at Texas Sen. Ted Cruz, another oft-mentioned potential 2016 candidate, before praising the freshman senator's father. Rosenbaum asked Bush, who speaks fluent Spanish, whether the country would be in a similar situation if members of the Tea Party also spoke the language. Rosenbaum mentioned that Cruz does speak some Spanish.
"Not much," Bush replied, to laughs from the audience. "I'm not sure Ted speaks much Spanish. His dad speaks fluent Spanish — he's a Cuban immigrant, has a wonderful story to tell and a very powerful one."
Bush also praised Florida Sen. Marco Rubio, another 2016 hopeful, who he said "gets a lot of credit for kind of leading parts of the party towards" immigration reform.
Despite the talk of other potential 2016 contenders, Bush was coy with his own intentions. At the end of the discussion, Rosenbaum said Bush had "earned a lot of votes here tonight."
"Votes for what?" Bush responded.
CORRECTION (12:07 a.m. ET): Former Gov. Bush said Monday he believes the House will pass immigration bills next year, but not one comprehensive bill. An earlier version of this item included the word comprehensive in one description of that effort.