Bill De Blasio: "The People Of This City Have Chosen A Progressive Path"
De Blasio's landslide victory may have been anticlimactic, but enthusiasm for the incoming New York City mayor was high Tuesday night.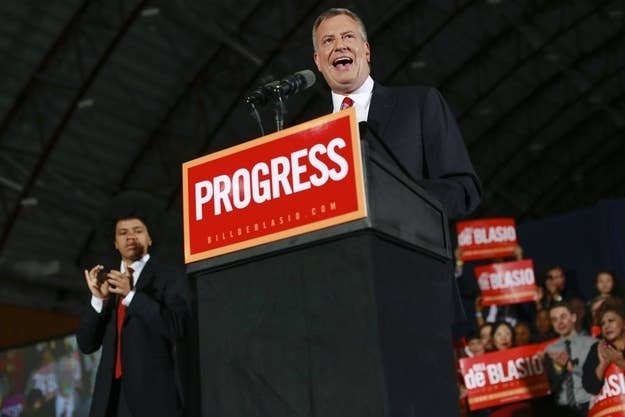 Standing in front of a bright red sign that said "progress" and speaking to a room packed with hundreds of supporters Tuesday night, Bill de Blasio touted the progressive ideas that led him to a convincing victory over Republican Joe Lhota in the race to be New York City's next mayor.
"Let me be clear: Our work, all of our work, is really just beginning," de Blasio said in his victory speech. "And we have no illusions about the task that lies ahead. Tackling inequality isn't easy. It never has been and it never will be. The challenges we face have been decades in the making. And the problems we set out to address will not be solved overnight. But make no mistake: The people of this city have chosen a progressive path. And tonight we set forth on it together as one city."
Since winning the crowded Democratic primary in September, de Blasio consistently held a large lead on Lhota in the polls. And in an anticlimactic finish to a general election that never really seemed in doubt, de Blasio's victory was announced on the screens in front of a nearly empty party before the doors were even open to the public.
Once the doors did open, however, a steady flow of enthusiastic supporters swarmed the Park Slope Armory YMCA, raving about de Blasio's victory.
"I am elated," said Connie Stewart, 61, from Brooklyn. "This has been a long time coming: a mayor who represents everybody and who understands what it means to live in this city and to have the opportunities that we really do deserve and need in this city."
In his victory speech, which lasted just under 20 minutes, de Blasio spoke about the same issues he based his campaign around: affordable housing, higher taxes for the wealthy to support universal preschool, better relations between communities and police, and others.
"His issues on schools, I think his issue on stop and frisk," said Henry Singerton, a 52-year-old from Manhattan, when asked what stood out to him about de Blasio. "And that this is, you know, this is a city for everyone. I think the housing is a problem and he's going to address that issue. This is a city not just for the rich, it's for all people for all parts of this country and I thank god that he has been speaking on that."
Others also said they were glad de Blasio was speaking proudly about his stances rather than shying away from progressive ideas.
"I think the tax to fund pre-k definitely (shows his willingness to do so), because it's very rare to see a Democrat be unambiguous in that sort of demand and not shy away from it under cries of class warfare and such," said Evgeny Krasnov, 24, from de Blasio's neighborhood of Park Slope in Brooklyn. "So definitely awesome to see a Democrat with a spine and I hope that that's the beginning of a trend."
"I'm just pleased that he won, I'm so excited," said Kazembe Batts, 48, from Brooklyn. "Usually the people that I roll with don't win. Usually the progressives don't win. But he won. I can't even describe how happy I am."
De Blasio will be the first Democratic mayor in the Big Apple in two decades when he takes office in January. He spoke Tuesday night at length about the greatness of New York City — past, present and future — as a place of opportunity.
"So I say to you tonight, the road ahead will be difficult but it will be traveled," he said. "Progressive changes won't happen overnight but they will happen. There will be many obstacles that stand in our way but we will overcome them. And I know this. I will never stop fighting for the city I love, the city we all love so much."