"The Americans" Showrunners Talk About "Humanizing The Enemy" In The Wake Of The Orlando Shooting
"It's at the heart of this show and it's a hard day to talk about these issues," Joel Fields said at "Breakfast with BuzzFeed" on Monday.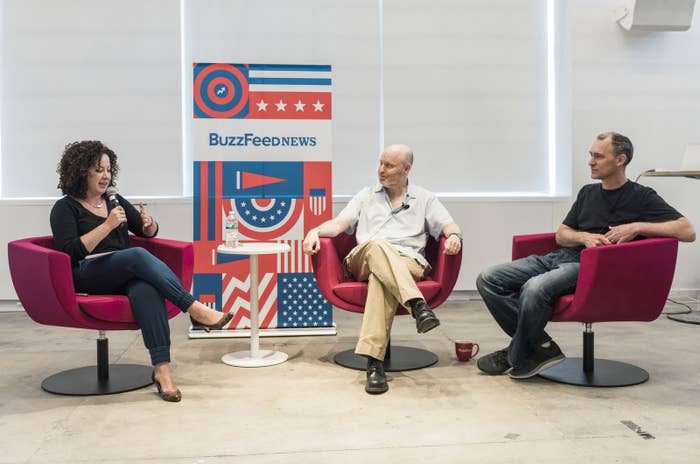 Less than 48 hours after the shooting at a gay club in Orlando resulted in 50 people dead, the showrunners of FX's The Americans, Joe Weisberg and Joel Fields, sat down at BuzzFeed's headquarters in New York to talk about their series, which centers on KGB officers (played by Keri Russell and Matthew Rhys) living in Washington, D.C., during the Cold War.
BuzzFeed World Editor Miriam Elder, who interviewed the showrunners as part of the new "Breakfast at BuzzFeed" speaker series, asked Weisberg and Fields about the challenge of "humanizing a group of people who were so long seen as enemies to the American people."
"It's at the heart of this show and it's a hard day to talk about these issues," Fields said. "But human beings even at their worst are human beings. Part of what we're exploring is the human nature of characters on the international stage and what it's like to be a soldier. It's not about what it's like to be a criminal. ... We've tried to explore what it's like to be behind enemy lines as a soldier and to be grappling with the moral complexity and pain that comes with being soldier, setting aside the right or wrong."

Weisberg added that "the whole idea of making the show was to look at the enemy and think about the enemy and think how they're not that different from you."
"The idea was to humanize an enemy and say that these people were not who we thought and were a lot like us in a lot of ways," Weisberg continued. "But that doesn't hold true for all enemies at all times."
When Elder opened the questions to the audience at "Breakfast at BuzzFeed" — which has also featured renowned HIV/AIDS researcher Dr. Anthony Fauci, former New York Times editor Jill Abramson, and civil rights activist DeRay Mckesson — one attendee asked how Weisberg and Fields handle killing off female and minority characters well, when other shows are being criticized for their approach. The audience member specifically referred to Season 4's execution of Nina (Annet Mahendru), a clerical worker turned KGB agent at the Soviet Embassy. "Well, we were lucky in that we had the KGB to learn from," Fields said of Nina's death. "Really, that scene followed moment for moment, down to the burlap sack, the way those executions were handled. It was very shocking, but it was true."
He added: "As much as we wanted to bring that character back to the United States, we really knew when she got on that plane a couple seasons ago that there would be no way for her to come back." Fields did say Mahendru's performance was "so powerful" that they extended her story as much as they possibly could, well beyond the originally planned two-episode arc.
When asked about the presence of black characters on the series, Weisberg said that "there a couple characters from Season 1 that we'd like to resuscitate," mentioning Gregory Thomas (Derek Luke), the former black militant whom Elizabeth (Russell) recruited, specifically.
However, Weisberg did hint that Season 4 might not have been the end of Martha Hanson (Alison Wright), who was shipped off to Moscow (by way of Cuba and Prague) in Episode 8. "Despite this horrible, traumatic thing that happened to Martha, in our view … she also sort of gained some strength and grew in a lot of very powerful, interesting, and important ways," Weisberg said. "So, if you ask us ... she has some potential to survive and possibly thrive [in the Soviet Union]." He and Fields wouldn't elaborate further.
Though Martha's fate remains to be seen on The Americans, which was renewed for a fifth and final sixth season on FX, Fields said they do have an ending in mind. Will that cover the fall of the Soviet Union? "That's redacted for now," he said.