The White House's Obamacare Fix Isn't Bringing Senate Democrats Together
Leary of political blow back over voters losing insurance coverage, moderate Democrats vow to move forward with legislative changes to the troubled law.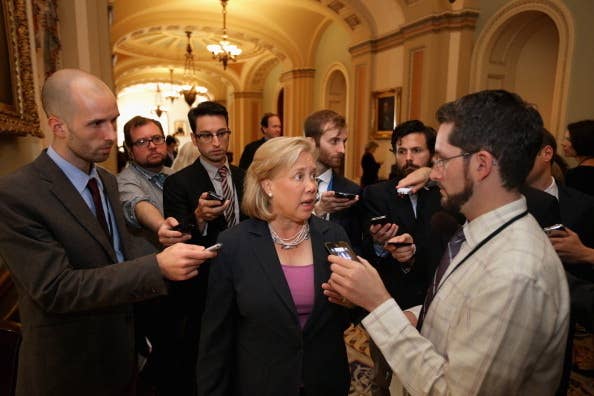 WASHINGTON — President Obama's announcement of a one-year "fix" to Obamacare is further splitting an already divided Senate Democratic conference, with supporters of legislative changes to the law digging in despite demands from their colleagues that they drop the issue.
Although the White House had hoped to quell a Democratic uprising with Obama's announcement that insurers would have the option of renewing existing plans for one year, backers of congressional action insisted they're not giving up.
"The president's announcement this morning was a great first step," said Sen. Mary Landrieu, one of several Democrats who have openly broken with the White House in recent days. But "we will probably need legislation to make it stick," Landrieu warned, adding that she has no intention of putting the breaks on her push to bring her bill to the floor.
"My legislation is intended to keep the promise. Period. Big stop," Landrieu said when asked if she would change the timeframe of her bill. "As soon as we can do that the better."
Landrieu's bill would allow those who have health care plans that don't meet Obamacare's criteria to keep their plans indefinitely.
The White House is keen to avoid any legislative changes, and the president's allies quickly fanned out in an effort to pressure Landrieu and others who favor congressional actions to drop the issue.
"I think it does the trick," Sen. Chris Murphy said of Obama's announcement. "I appreciate what Sen. Landrieu and Sen. [Mark] Udall have proposed but I think the president hit the mark today."
Sen. Barbara Boxer agreed.
"I think it's good. What [Obama is] basically saying is he looked at his promise and he looked at how they implemented it. There was a mismatch so he's fixing the implementation," she said.
Despite that pressure, some Democratic senators said they would prefer a two-year extension while others said one year was enough. "I think there's a lot of support for additional changes," Sen. Richard Blumenthal said.