WASHINGTON — The National Labor Relations Board ruled Tuesday that it will consolidate several labor complaints against a major cell phone service provider over the past several years.
The ruling will allow for a joint decision from the NLRB on T-Mobile and MetroPCS's alleged anti-union practices nationwide. There will be several months of hearings before a final ruling is brought down.
In the ruling, the NLRB outlined some of the practices the Communications Workers of America say are illegal.
The allegations include an "overly broad and discriminatory" employee handbook that bans employees from organizing and stresses multiple times the importance of keeping the contents of the handbook, as well as other various business activities, secret.
It further says certain managers interrogated employees about their union memberships and activities.
A spokesman for T-Mobile refused to comments on the specifics of the ruling, but issued a general statement to Buzzfeed.
"Because this is pending right now, we can't comment on specific accusations," T-Mobile spokeswoman Anne Marshall said. "T-Mobile looks forward to presenting all the evidence before an administrative law judge."
One manager in Albuquerque, N.M. is accused of telling employees they could not "high-five" if they participated in any sort of activity related to a union.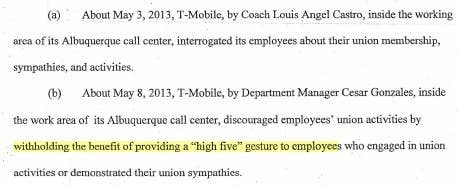 The ruling also said T-Mobile trains employees with a list that explains the "Top 13" ways to get fired.

Read the full ruling here: