Spending Bill Battle Pits House Democrats Against The White House
"If the president is lobbying, we do not like it. And we're saying to our members, don't be intimidated by anybody," said Rep. Maxine Waters.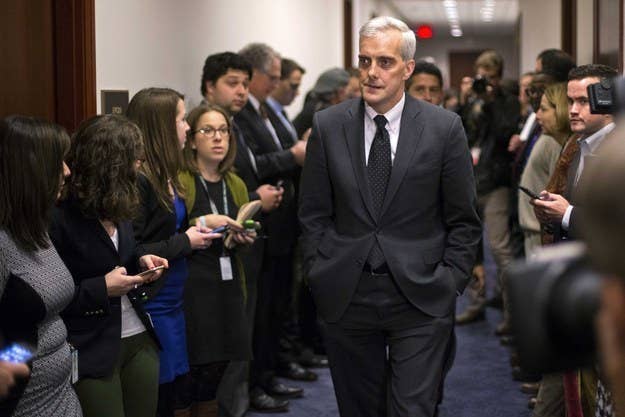 WASHINGTON — In a closed door meeting Thursday, with the deadline to fund the government fast approaching, White House Chief of Staff Denis McDonough called on House Democrats to vote for an omnibus spending bill that contains two key provisions many of them say they are against.
But Democrats who came out of the meeting and spoke to reporters said their minds remained mostly unchanged, and even that it angered them the White House was digging so deep into this issue at all.
"We're fighting anybody who is lobbying to vote for this bill," Rep. Maxine Waters said. "If the president is lobbying, we do not like it. And we're saying to our members, don't be intimidated by anybody."
The White House was making calls to both Democrats and Republicans Thursday to try and garner support for the bill.
Democrats are put off in particular by two key provisions they didn't expect to be in the bill — one that changes campaign finance rules and another that undoes a key part of Dodd-Frank.
Some Democrats have even laid the blame on their own party members in the Senate who helped negotiate the deal. The omnibus spending bill is a product of long negotiations between Senate Democrats and House Republicans.
"Senate additions of these last two items have raised some concerns," said Rep. Chaka Fattah, who serves on the Appropriations Committee. "What we want to see is the best opportunity to get the work of the Appropriations Committee done, and these two last minute items that were added had nothing to do with the work of the Appropriations Committee."
Rep. Jim Clyburn, who serves in a leadership role, didn't deny that House leadership is frustrated with the Senate when asked directly by a reporter, but said that "those responsible" for the two provisions should help remove them from the bill.
Sen. Elizabeth Warren, backed by progressive groups and labor unions, has been one of the leading voices to speak out against the bill. On the House side, Minority Leader Nancy Pelosi, who stands in line with the president on most issues, has also said she would not vote for the bill as it stands.
And with conservatives also withholding votes because the omnibus bill doesn't seek to defund Obama's immigration executive order, House GOP leadership need Democratic votes to pass the bill.
With the uncertainty surrounding the bill, there now appear to be two main options floating among members — either pass the long-term omnibus bill, or pass a three-month continuing resolution and do this all over again early next year.
Other Democrats simply expressed frustration with the entire process. Like Rep. Jim Moran, who is retiring at the end of this year.
"I think that this particular experience, as many others, have validated my decision to leave," Moran said.