Lyft Wants To Keep Even More Of Its Insurance Policy Secret Than Uber Did
The company is suing the city of Columbus, Ohio to keep its records private. Uber won a similar lawsuit last week.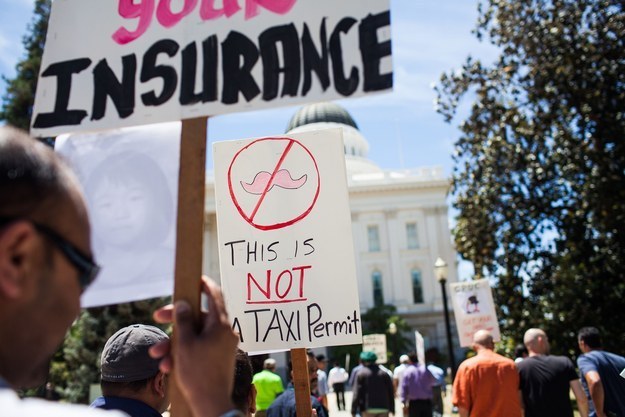 WASHINGTON — When do companies like Uber and Lyft have to insure the drivers who work for them?
That question has become a flashpoint for legislation and regulatory action this year, as the companies have gone to great lengths to protect these policies, going as far to claim they are "trade secrets."
Ride-sharing company Lyft is using a legal maneuver to try and stop the city of Columbus, Ohio from revealing any information about its insurance policy for drivers.
Lyft's request, filed Tuesday, comes just days after Uber won an appeal of its own. But its request is much more sweeping, officials say.
Uber requested, and was granted Friday, the ability to have three pages of the company's insurance policy withheld from the local news station that requested it. But city department of public safety spokeswoman Amanda Ford told BuzzFeed that Lyft has requested its entire policy remain private, as well as its application and all information about its drivers.
"We'll wait to see what the court says," she said.
Lyft's attempt to keep its policy under wraps is only the latest move in a larger lawsuit that's been going on since April, where Columbus tried to stop the company from operating altogether largely over concerns about its insurance policies.
In California, Uber and Lyft's home base, a controversial bill in the state legislature has been ground zero for the ride-sharing insurance debate.
California insurance regulators want drivers to be insured in what Insurance Commissioner Dave Jones described to BuzzFeed as the three phases of a ride — when the app is on and a driver is looking for passengers, when the driver connects with someone and is on the way to pick them up, and when the driver is actually transporting a passenger. Early versions of the law wanted Uber to cover up to $1 million for latter two stages and $750,00 when they had their app on but no passenger.
For a long time Uber fought the legislation, calling it in June a "back-room deal by insurance companies and trial attorneys to prematurely force the ride-sharing industry to fit their special interests."
But recently, Uber and Lyft announced a deal where they will have to pay just $200,000 in coverage once a driver turns on their app.
Uber and Lyft have had similar battles that ultimately resulted in net wins for the company across the United States. In Virginia, after trying to outright ban the companies, state officials instead compromised on a series of guidelines they would follow.
In Columbus, Uber still has to face court again to get a more permanent license to operate. That hearing is set for Sept. 9.
Ford, from the city's public safety department, said drivers have been "lining up" to get their licenses since the company's temporary permit was granted.