Democrats Know Getting Back The House Will Be Tough, But They're Cautiously Optimistic
House Democrats watched John Belushi's speech from Animal House to get pumped up for midterms on Thursday.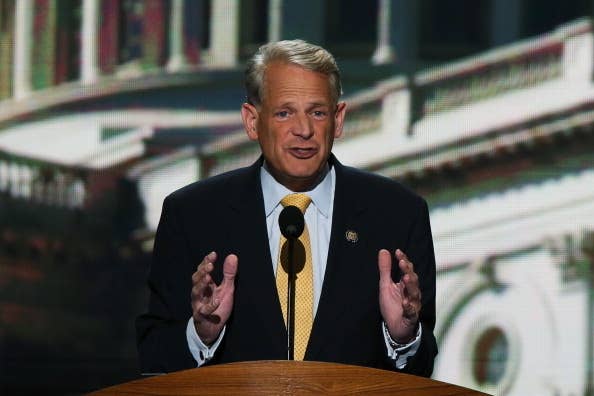 CAMBRIDGE, Md. — House Democratic leadership presented members at the caucus retreat Thursday with a tough but optimistic outlook of their chances to take back the majority in November.
Sources in the room during a presentation from Rep. Steve Israel, the chairman of the Democratic Congressional Campaign Committee, said he told members there is still a chance — if they can win the messaging war.
It would be quite a challenge: Most political experts say there's virtually no chance Democrats will take back the House.
"This hasn't been about cheerleading, it hasn't been unrealistic," Rep. Jim Himes told reporters. "I think Steve is a very hard-nosed chairman and he calls it like it is.
Israel showed members polling results that says they are winning on three "key" issues — raising the minimum wage, extending unemployment insurance, and not repealing Obamacare.
"He was not standing up and saying we're absolutely going to retake the House of Representatives. We're in for a tough fight, but it can be done," Himes said.
Democrats enter the retreat in high spirits after their recent win passing a clean debt ceiling and are looking carry that momentum into primary season.
Himes said Israel set the tone when he opened the meeting with a video montage of great fights in history, including John Belushi's famous rally speech from Animal House.
"The American people by big numbers agree with our positions on the issues and disagree with the Republicans on the issues," Rep. Steny Hoyer said a few days ago. "Whether you are talking about UI, minimum wage, immigration, investment in education, and infrastructure … and there are fewer self-identified Republicans than any time in recent history. That does not mean Democrats are overwhelmingly embraced, I understand that. But it does mean the atmosphere that exists is an atmosphere in which Democrats can do well. "
The DCCC is also still puffing its chest after a strong year in terms of fundraising. They outraised their counterpart, the National Republican Campaign Committee, by $15 million in 2013 with $75.8 million.
Israel also announced President Barack Obama has committed to at least six more fundraising events for the DCCC this year. While the fundraising seems to be going in Democrats' favor, Himes cautioned that outsides groups will still be pouring money into vulnerable districts.
"We're happy about the differential in our fundraising," said Himes, the DCCC's national finance chair. "But also pretty conscious of the fact there will be a war out there that could swamp a lot of what the party is doing."