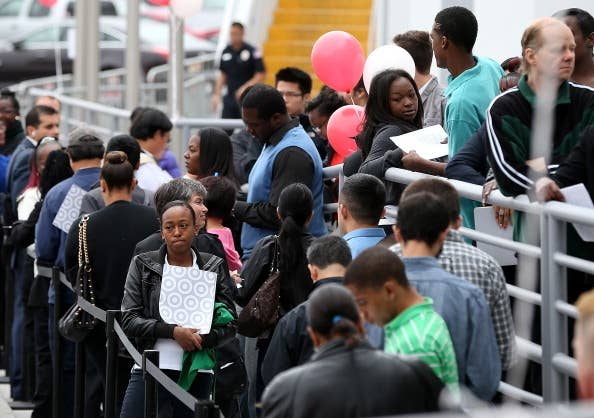 Nearly 72,000 people will lose unemployment benefits each week on average in the first half of 2014, according to new estimates released by House Democrats.
Roughly 1.3 million Americans no longer receive those benefits as of Saturday. In total, an additional 1.9 million Americans could lose their benefits in the first six months of the new year, according to the estimates, if Congress doesn't vote to extend the Emergency Unemployment Compensation program. Congress has voted to extend the program 11 times since its inception in 2008.
According to the Ways and Means Committee Democrats' estimates, Californians were affected most by Saturday's cutoff with 218,793 losing benefits. New York had the second most people lose benefits at 127,100.
Senate Majority Leader Harry Reid has said extending the Emergency Unemployment Compensation program will be the Senate's top priority at the start of next year. But House Republicans' opposition to supporting the program without a way to offset the cost could stymie that effort.
House Democrats have called for a three-month extension of the program, with no measure to offset the cost, so people can still get benefits while Congress debates the issue. The three-month extension is estimated to cost about $6 billion.
The Democrats' estimates break down by state how many people on average will lose benefits each week for the first six months of 2014.
California has the most current beneficiaries affected of any state per week — an average of 12,531. Texas will lose an average of 4,112 per week and Ohio at 1,877 per week.
"The clock is ticking each week for tens of thousands of additional Americans who are slated to lose their coverage and add to the more than 1.3 million people who have already been cut off from this basic assistance for job seekers," Rep. Sander Levin said in a statement. "Every day, the urgency increases for additional Americans looking for work and those who have already lost this vital lifeline."