Firefighters From Around The Country Set To Make Their Case To Congress
After a day-long planning session at their annual legislative conference, hundreds of union firefighters will take their issues directly to the Hill. Pensions, grant money, Obamacare.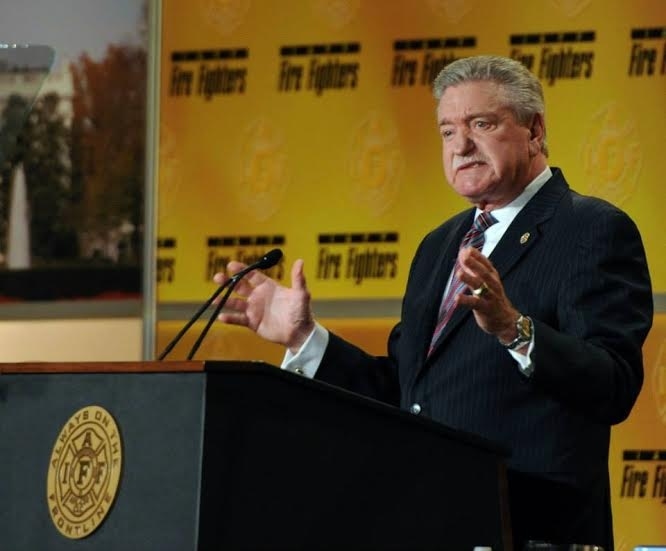 WASHINGTON — Hundreds of fire fighters will descend onto Capitol Hill Tuesday to lobby congressional offices on issues ranging from securing grant money to fixing the Affordable Care Act.
Armed with yellow messenger bags filled with pages of reference material, International Association of Fire Fighters members — who traveled from around the country for the union's annual legislative conference this week — will arrive by the busload for meetings with the staff of their local Senate and House representatives.
For the most part members of Congress will not actually be around for the meetings since they are in recess, but a large portion of union members have pre-arranged meetings with their staff.
On Monday, union leaders and lawmakers from across the spectrum spoke to roughly 500 IAFF members urging them to do all they can to not only lobby on issues that effect them directly, but to do all they can to get out the vote for Democrats in the upcoming midterm elections.
Between what amounted to stump speeches from politicians and pundits, including Republican Sen. Roy Blunt, Labor Secretary Thomas Perez, and House Minority Whip Steny Hoyer, union leaders explained what members should ask for from their elected officials and how they should go about it. Members were also given a binder containing more than 100 pages of information on laws that are in place or pending and what to say about them.
There are several issues the union will lobby Congress on, but the major ones are requesting additional funding for the SAFER and FIRE grants, working towards delaying or eliminating the Obamacare "reinsurance fee," and stopping certain legislation that would effect their pensions.
The SAFER grant helps pay for hiring and maintaining staff. The FIRE grant helps fund equipment, training and other needs. The IAFF is calling for $340 million for both, the same levels they were funded at this year.
But getting anything passed will be tough in an election year, when an ill-conceived vote can cost a vulnerable lawmaker a job.
With that in mind, the Obamacare change and the pension law will be particularly tough sells to the Republican controlled House. Most of the focus will go to the SAFER and FIRE grants, which have seen bipartisan support in the past.
"I think it's fair to say we're not going to get any pieces of the Affordable Care Act fixed through Congress," IAFF General President Harold Schaitberger told BuzzFeed. "It's just not a realistic chance with the way Congress is currently made up,"
Hoyer was put in an awkward position for his speech Monday — he had to follow a presentation on what the union perceives as flaws with Obamacare, which he and his fellow Democrats will have to vehemently defend in the lead up to the midterms.
"The problems that were presented are accurate, and we ought to deal with them," Hoyer said. He added that the law is "largely very good," and pivoted the blame to Republicans who won't allow for changes to the law aside from full repeal.
While unions almost always support Democratic candidates, Schaitberger stressed it's the values and issues of a candidate, not political affiliations, that will determine union support.
He pointed to North Carolina Sen. Kay Hagan, a Democrat he referred to as "one of our great double crossers" because of her vote against a collective bargaining bill, as an example of a politician who had lost union support.
"We need to keep a worker friendly, middle-class friendly, Democratic majority in that chamber," he said. "But as critically important as the majority is, we have to be true to our principles and we have to hold everyone accountable."
Schaitberger promised that Hagan wouldn't receive "one damn dime" from the union. At that, the packed assembly hall stood and cheered.