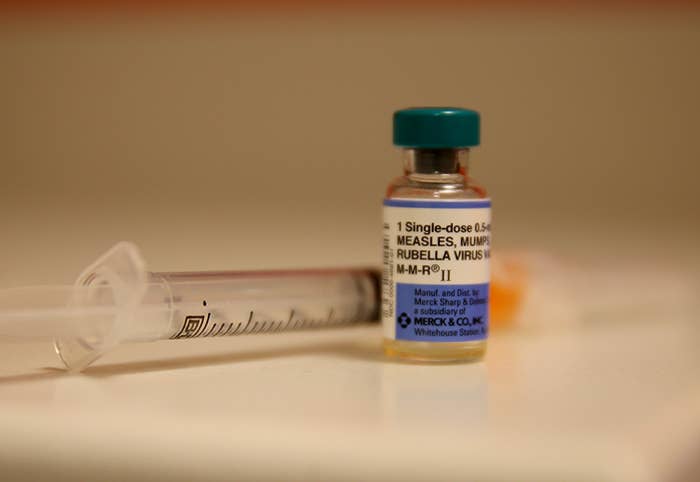 WASHINGTON — Democrats toed the line Tuesday on whether parents should be able to exempt children from vaccination for philosophical reasons — something the state of California allows.
On Wednesday, though, Sens. Barbara Boxer and Dianne Feinstein called on California to reconsider the state's religious and philosophical exemptions on vaccination.
"We think both options are flawed, and oppose even the notion of a medical professional assisting to waive a vaccine requirement unless there is a medical reason, such as an immune deficiency," the senators wrote in a letter.
"While a small number of children cannot be vaccinated due to an underlying medical condition, we believe there should be no such thing as a philosophical or personal belief exemption, since everyone uses public spaces," Boxer and Feinstein wrote.
Earlier this week, when asked by BuzzFeed News, several liberal lawmakers unequivocally said parents should vaccinate their kids. But when pressed further on the state laws that allow parents to skip vaccinating their children if they have a medical, religious, or "personal belief" reason not to do so, their answers became less clear.
Democratic Rep. Alan Lowenthal, who represents the California district where many of the recent measles cases have been found, said he supports vaccination — but he doesn't think anyone should be compelled to vaccinate.
"I'm not sure we should mandate all children to be vaccinated. I have difficulty sometimes with mandating, but I certainly think children should be vaccinated," he said. "I strongly support vaccines, it's a public health issue and we need to have 95% of children vaccinated to really keep this from coming back. Measles was under control and I strongly support people vaccinating their kids."
California Rep. Maxine Waters said parents shouldn't be mandated to vaccinate their kids — but if they make that choice parents shouldn't be able to send their children to public schools either.
"If parents refuse vaccines they should have a right to do that, but they don't have a right to put others at risk," she said.
Others would not address the issue of the personal belief exemptions, which have been tightened in California in recent years, though not eliminated (parents must see a health care provider before deciding not to vaccinate).
In a statement emailed to BuzzFeed News, California Democratic Rep. Loretta Sanchez focused on educating people about vaccines, but avoided directly saying whether personal belief exemptions should be allowed.
"It is critical that we educate our families on the importance of vaccinations," Sanchez said. "The first step in stopping the spread of disease is ensuring you have access to the right information to make informed decisions. I look forward to working with my colleagues and my community to do just that."
On Wednesday, Feinstein and Boxer called for a reconsideration. On Tuesday, Boxer called for some sort of review to make sure children are "protected," but sidestepped directly commenting on the law.
"A broad review by appropriate federal, state, and local public health agencies is called for to make sure all children are protected from diseases like measles, a highly contagious respiratory disease that can cause pneumonia, brain damage and death," Boxer said in the Tuesday statement.
An aide to Feinstein didn't respond to BuzzFeed News' questions on Tuesday, but instead pointed to a statement the senator made last year.
At a Brookings Institute event Tuesday morning, House Minority Leader Nancy Pelosi said while she thinks everyone should be vaccinated, she was "sympathetic" to parents who don't want to their children to get them — and mentioned autism in connection with the process.
"While I'm sympathetic to the concerns and I've spent many, many hours and have tried to facilitate conversations with families who have had concerns about vaccines and how it affects their children be it autism or otherwise," she said. "It is a public health issue and the fact is children should be vaccinated."
Spokespeople for California Attorney General Kamala Harris, who is running to replace the retiring Boxer, declined to comment Monday in response to BuzzFeed News questions about vaccinations.
Of those BuzzFeed News spoke to, Democratic Rep. Matt Cartwright — who represents another state with a philosophical exemption, Pennsylvania — was the only one to outright reject his state's law. Pennsylvania allows vaccine exemptions or "on the basis of a strong moral or ethical conviction similar to a religious belief."
"I think opting out of vaccines is backward," Cartwright said. "You may quote me. [The state law] is not enlightened."
Similarly, Rep. Ami Bera, a California Democrat who is a physician, said the state should move toward getting parents that don't have a medical or religious reason not to vaccinate their kids, to do so.
"We should be pushing for full vaccination," Bera said. "[There are] rare circumstances — religious belief or health concerns. Outside of that everyone should be moving towards vaccination."
Ruby Cramer contributed reporting.
This story has been updated to include Boxer and Feinstein's call for the end to the personal belief and religious exemptions on Wednesday.